Puppies Adopted
This is the page where we show you those puppies who have left us to find their own homes. Fortunately for us, their people have been kind enough to send us pictures of the happy puppies with their new families. Please enjoy these pictures and send us your own pictures of puppies you've found on our site!
We drove from Lubbock to pick up our Leonard. He rules the roost at our home. We have another schnauzer and they love to play together. Calvin & Christine Carter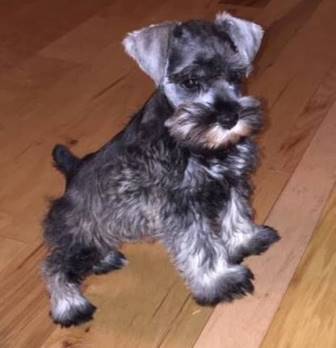 Hi Anita my name is Randy Minnick we purchased Lucy from you, she just got groomed and wanted you to see how pretty she's become, she is so feisty, she thinks she's the boss no fear at all. We love her and want to thank you, we tell her she's a Texas Tee lol. Attachments area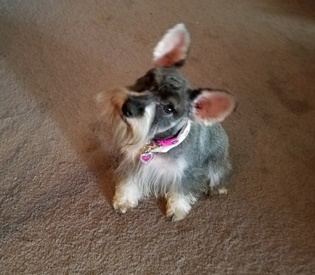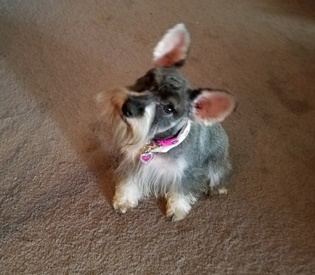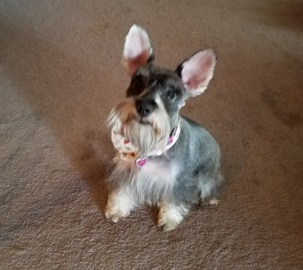 I cannot thank you enough for my precious toy poodle Mandy (Tali). She has brought so much joy and calm to my life. You were so patient with me in answering all my questions. She was nervous when I got her as I think the trip to Montreal was overwhelming for her but it did not take too long for her to get adjusted. I found that as time went on her personality came out more and more. She is always trying to please me. Penni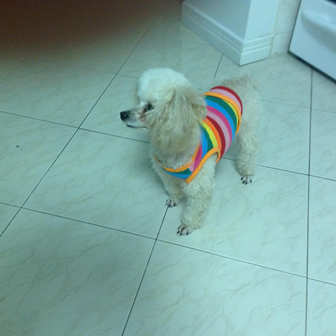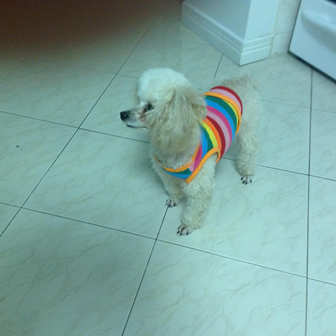 Hello! I wanted to tell you that Lily had a great first night! She slept all night and she's feeling really comfortable. She already learned where her food and water bowls are and she hasn't gone potty on the floor either. She's been running and playing like a fluff ball! She's so sweet and she has already brought joy to my life! Bichon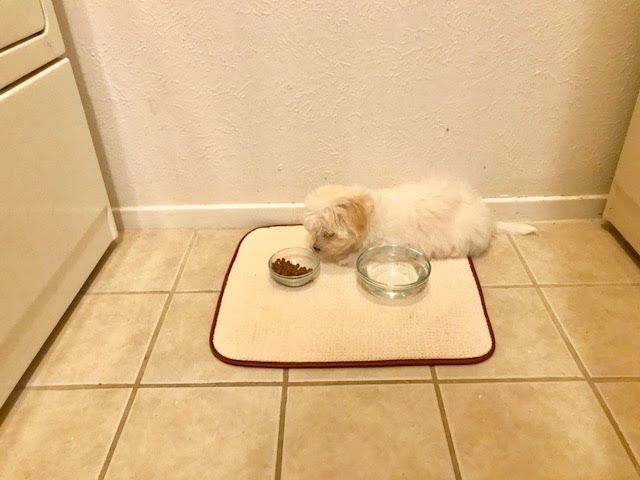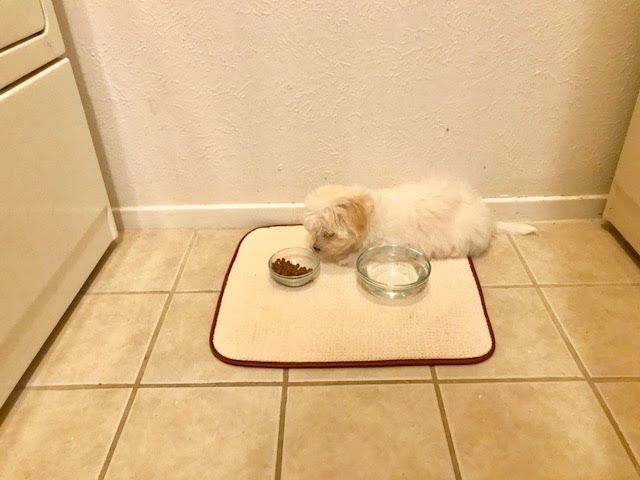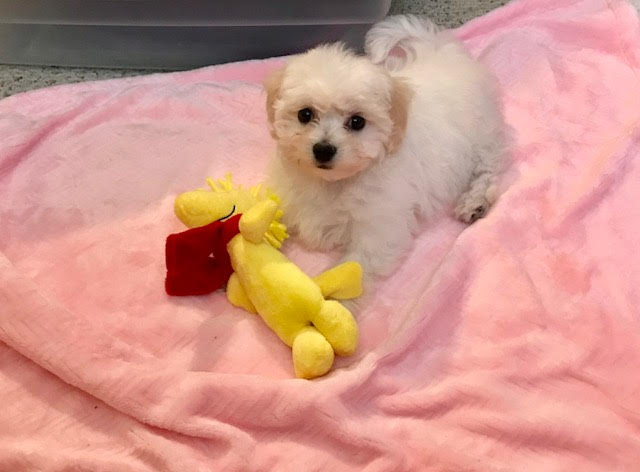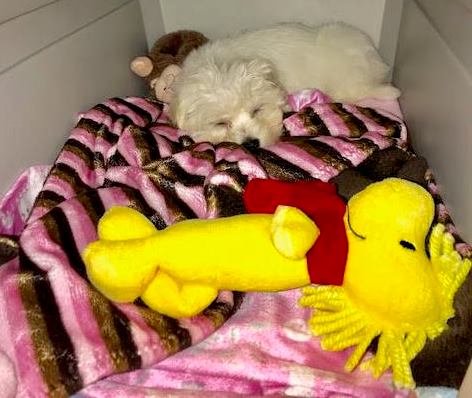 Hi Anita! I just want to thank you for Lily! She is the love of our lives!!! She and her now sister Gracie have become best friends! I will tell everyone about Puppies For Love! Thank You!! Debbie Miller (Poochon)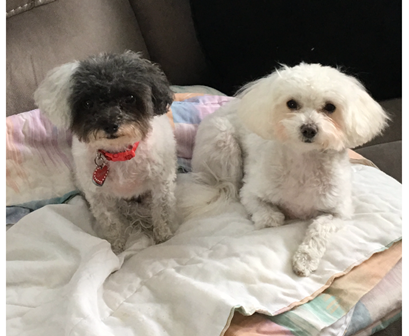 Thought I would send you Hope's (Claire) picture. She is a very pretty and special girl.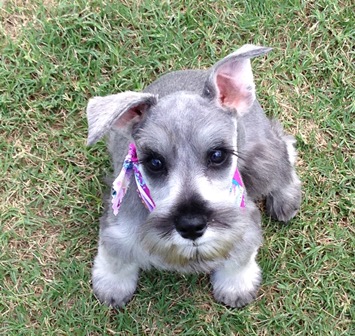 Anita, I told you I'd send you pictures of my boy Goose (from 11/24/16 litter) when I got him in the field. He's been such a good dog with a great drive for hunting and also has such a sweet demeanor! He's so loved! Thank you, Conner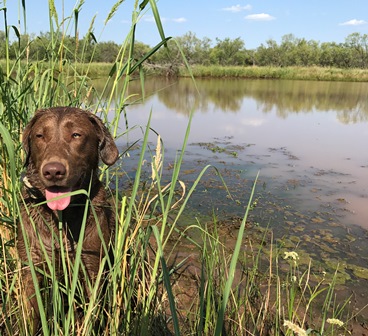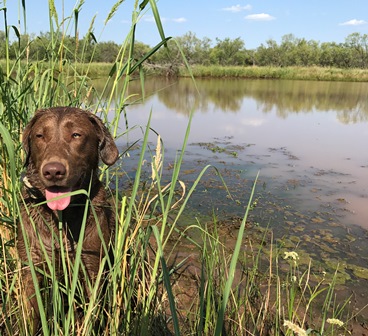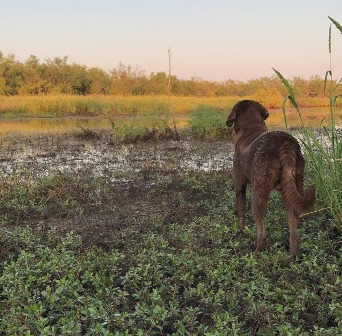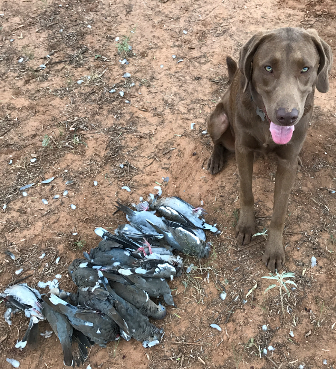 We drove from Chattanooga, TN (13 hrs) to pick up our precious Abbey. The minute I saw her I was in love. Anita loves her fur babies & it shows. I don't buy from puppy mills, I want babies that come from loving homes. It was a long drive, but worth it. I spent two weeks talking to breeders & am so glad I came across Puppies for Love. I highly recommend Anita' s babies & would definately make that long drive again. Thanks again Teresa Handley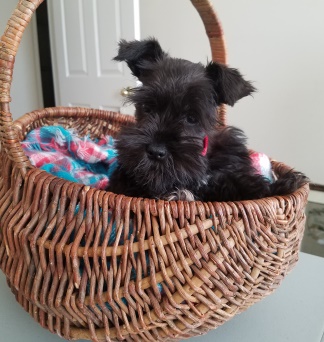 Mi Ki I got my puppy Radar (now Windsor), from Anita in September. When we arrived at the airport to pick him up, we were thrilled! He has far exceeded our expectations! From the moment I took him out of his crate, you could tell he'd been loved and cared for. He immediately fit right into our family, potty trained, happy-go-lucky, and just an overall amazing disposition. I am already saving for another puppy from Anita. She has been so supportive and attentive in answering all of our questions, etc. I think I've told her at least monthly, how happy we are with Windsor! Donna Schneider, CT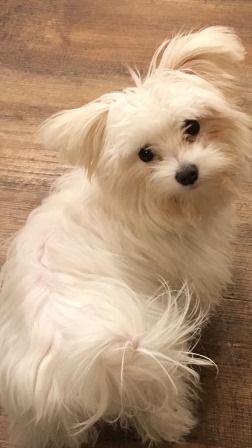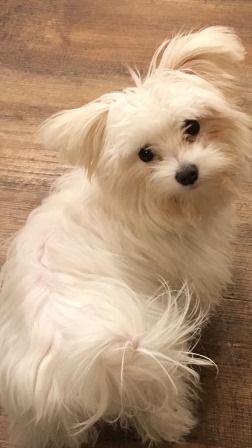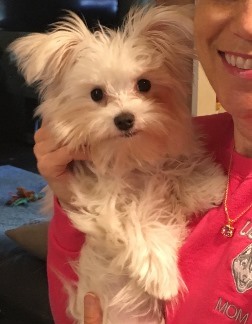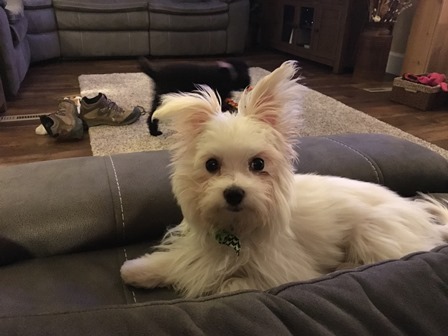 Hi Anita, We are attaching some pictures of Dak at work and play. He recently celebrated his first birthday. He is a hard worker in his comfort job and a hard player when that service harness comes off at the end of the day! Pam and Nat Moore See Dak's News Report Below! Famous little pup! Shihpoo Dak. Copy and paste the link below to your browser to view. http://www.kten.com//story/33440772/local-dentist-office-brings-in-comfort-dog#.WCT2Ovrf7cc.email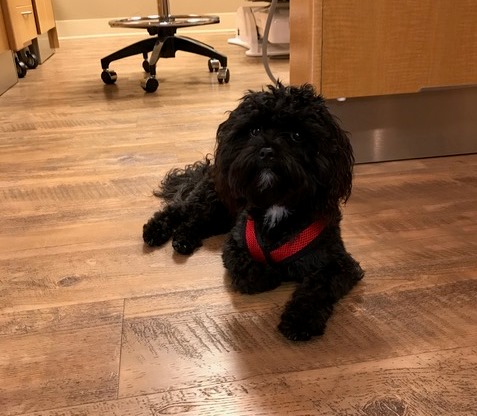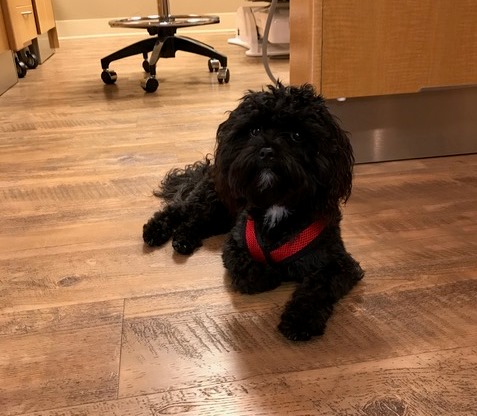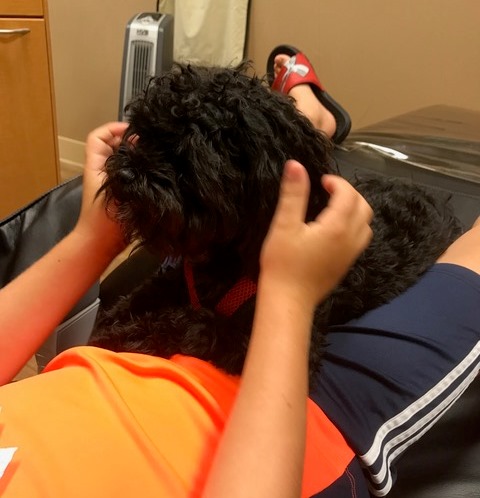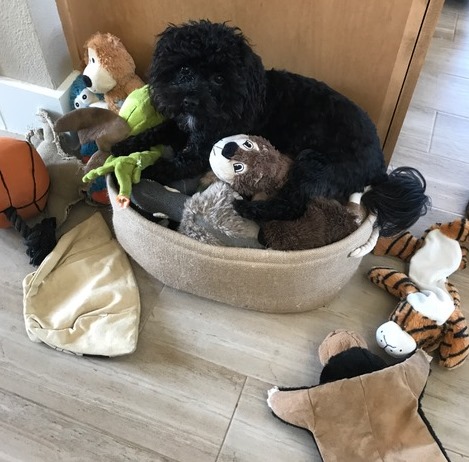 Hello Anita! This is Jade Cahill, my mom Melissa Cahill and I purchased Gus (Kobe) Mi Ki from you a couple months ago and I just wanted to thank you so much! He has been such a great addition to our family and we are truly in love with his goofy personality and adorable charm! He is one special pup and loves adventure!! Thank you! Jade & Melissa Cahill!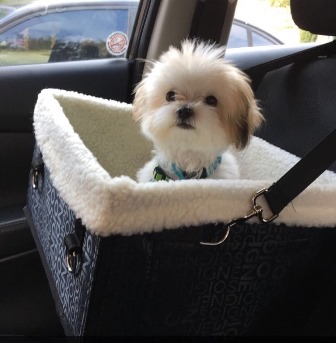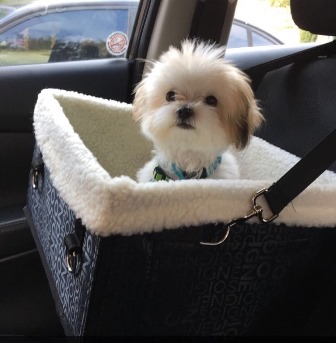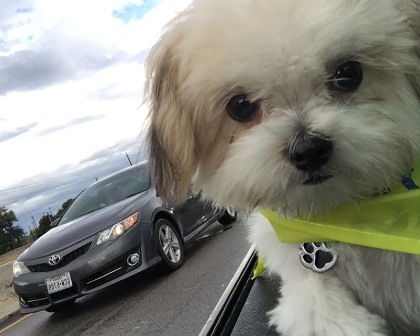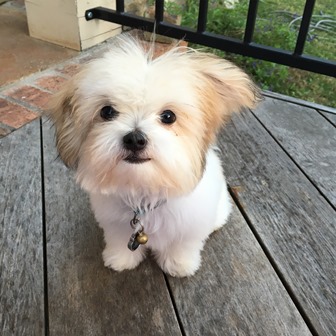 Hi Anita... Ten years ago I lost my Dad and my Husband only 32 days apart. I felt so empty and broken. I'm not even sure how but one day I came upon your PuppiesforLove website online. There I fell in love with a 4 month old chihuahua named Maria. You assured me all would be okay and before you know it our little girl was flying from Texas to New York. She has been the best thing to happen to me from day one. She taught me that my broken heart could love again and we have been best friends ever since! My girl Zoey is the sweetest, most gentle chihuahua I've ever met. Five years ago I received another gift from heaven. A wonderful man who loves me and Zoey. I just wanted to thank you because if it wasn't for my little Zoey I don't know where I would be today. Sharon Gosman Attached are two pictures. The first is Zoey when she first arrived and a recent one. My pretty little girl 💝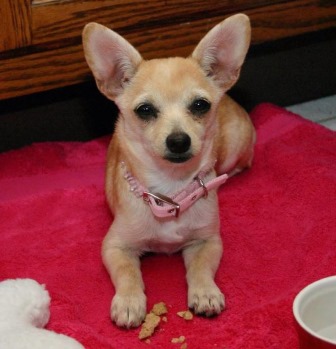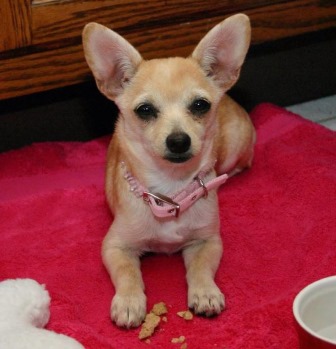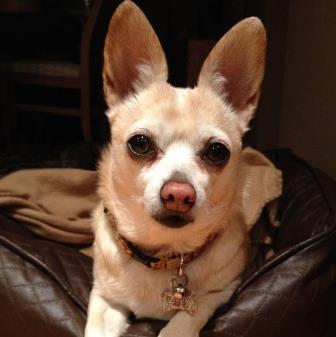 Siena Biewer Hi Anita I just had to email to let you know you need to add to your site that your puppies have just the most amazing personality. Siena makes me laugh every day. I have never lived with a dog that is so dramatic. She is not adapting very well to the winter weather so much of our walks are her inside my coat. Even with her wearing boots & a coat. She knows she's spoiled and has me wrapped around her paw. The picture is Siena & Imogen on top of the desk while I work on the computer. Apparently we need to do everything together. Hope you have a great Christmas
Maltepoo Breed: Hi Anita it has been about one year since we have adopted manny (now gus) from you. Words cannot describe how much we love our little guy and we wanted to thank you for helping us bring him into our lives! From day one he has been a very mellow and happy dog I don't think he has a mean bone in his body. Gus has great temperament toward to every person and every dog he meets. Although it's been a year it feels like Gus has been in our family for a lifetime so thank you again for bringing him to us!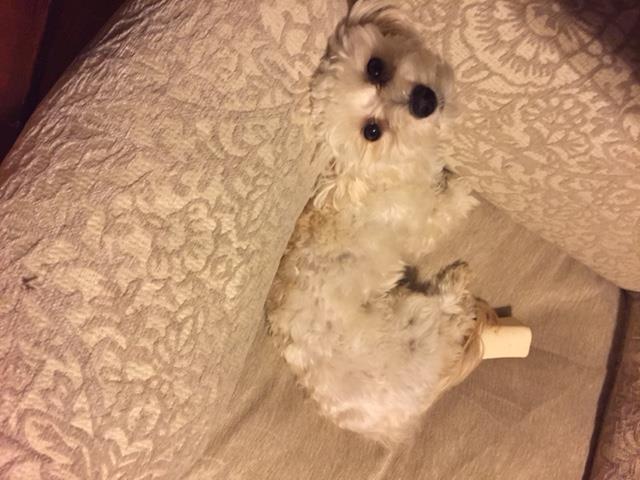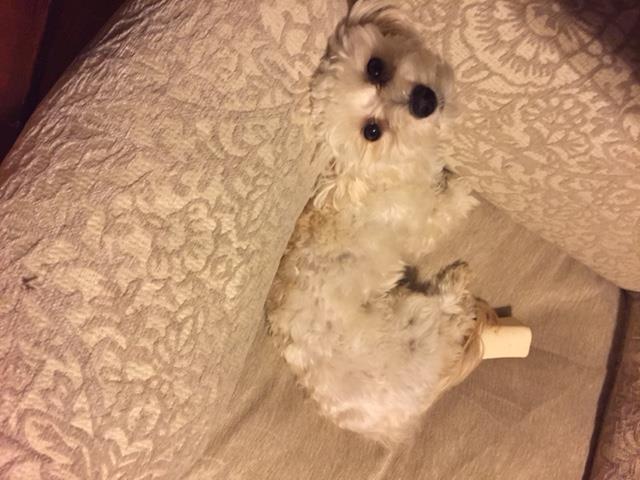 Schnoodle Breed: Hi Anita, This is John McDonogh. Michelle and I wanted you to know that we are so happy to have this little girl in our family. We renamed her Daisy, and she's such a member of the family already. She is a smart little puppy and is catching on quickly in her new environment. You did a great job of getting her started for us. Thank you! We will send you a picture a little later on too. Thank you again for this darling puppy. Sincerely, John and Michelle McDonogh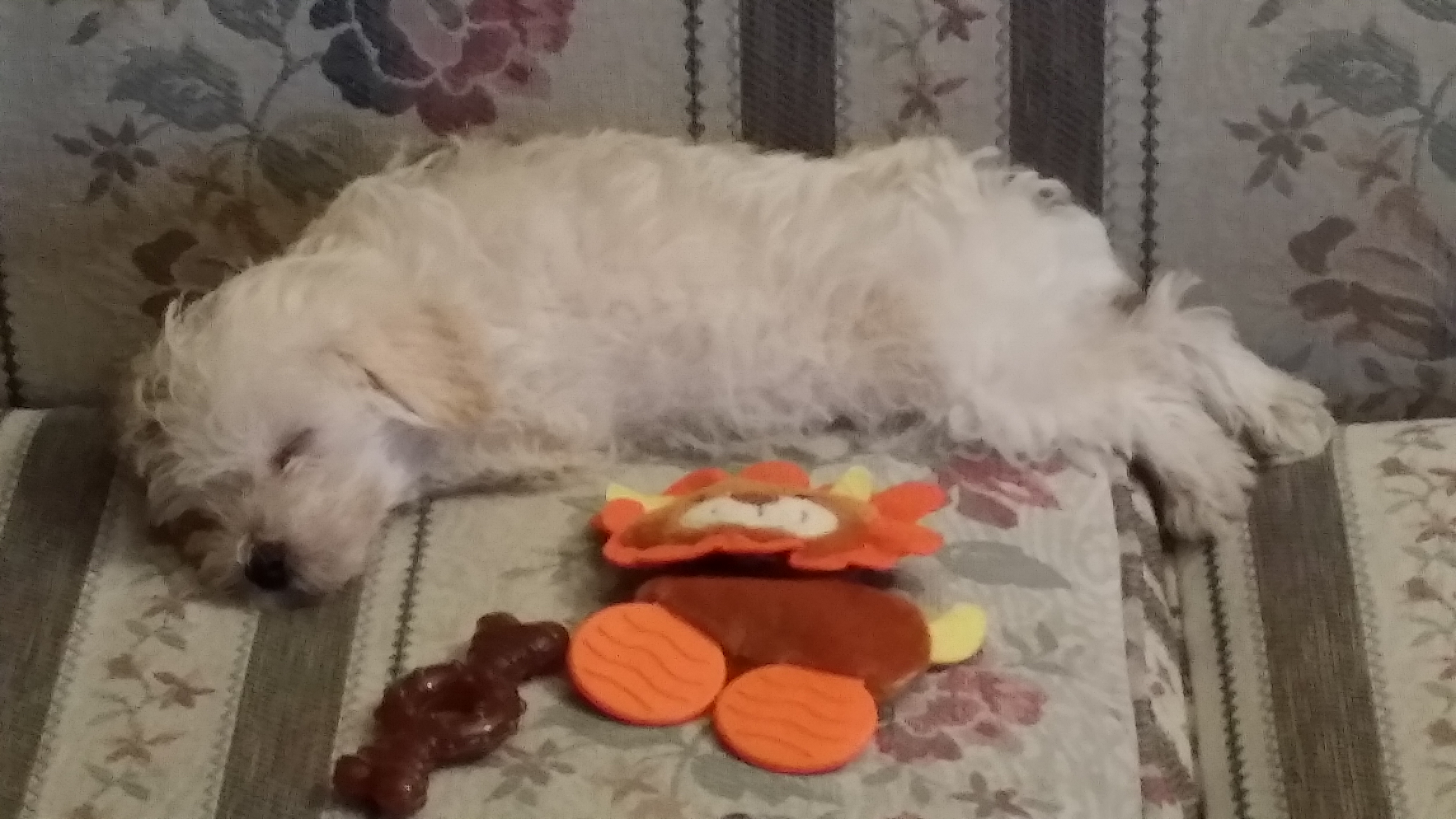 Mi Ki Breed: We are so grateful for you bringing Jaylynn into our lives. As you may recall, my mom's health was failing when we were considering adopting her. To say Jaylynn was and continues to be a G-dsend and that her place with us was fated is beyond an understatement as the coincidences are too numerable to list here including why we kept her name. From the moment she came to us from the nanny, she has delighted everyone she encounters and brings joy wherever she goes. Her intuition is uncanny and she and mom instantly bonded with a love that is only dwarfed by the short time she had with mom. Even mom's Drs were impressed - not an easy feat. She knew when mom's condition was changing and alerted mom and us. She would bark or pull at mom's dressing gown to wake her and encourage her. Just love in the purest form. Unfortunately, mom sadly did pass but Jaylynn has been the "glue" keeping my dad, my sister, my nephew and myself going. Dad even said the other day, "she is the reason to get up in the morning." Think someone said in one of their posts that you can see their puppy smile and am convinced Jaylynn does! She is so smart and loving - just as you indicated this breed would be. I believe you are humble, though, as everyone who meets her says you deserve credit as her breeder since the formative early time and socialization while with you is key. She still surprises dad when she barks and "talks" to us. She is mimicking us too...using her front paws in the same manner as we use our hands. She will reach out and put her paw on our hand or face. Clearly, she has become one of the family and can't imagine what life would be without her! She has not met a stranger either. Even admitted non-dog lovers, melt when she is around. She is a magnet for positivity and has helped dad meet tons of folks in our building and everywhere he goes with her. We feel blessed she has "chosen" us. Again, you have our collective heartfelt appreciation. Cheers, Kim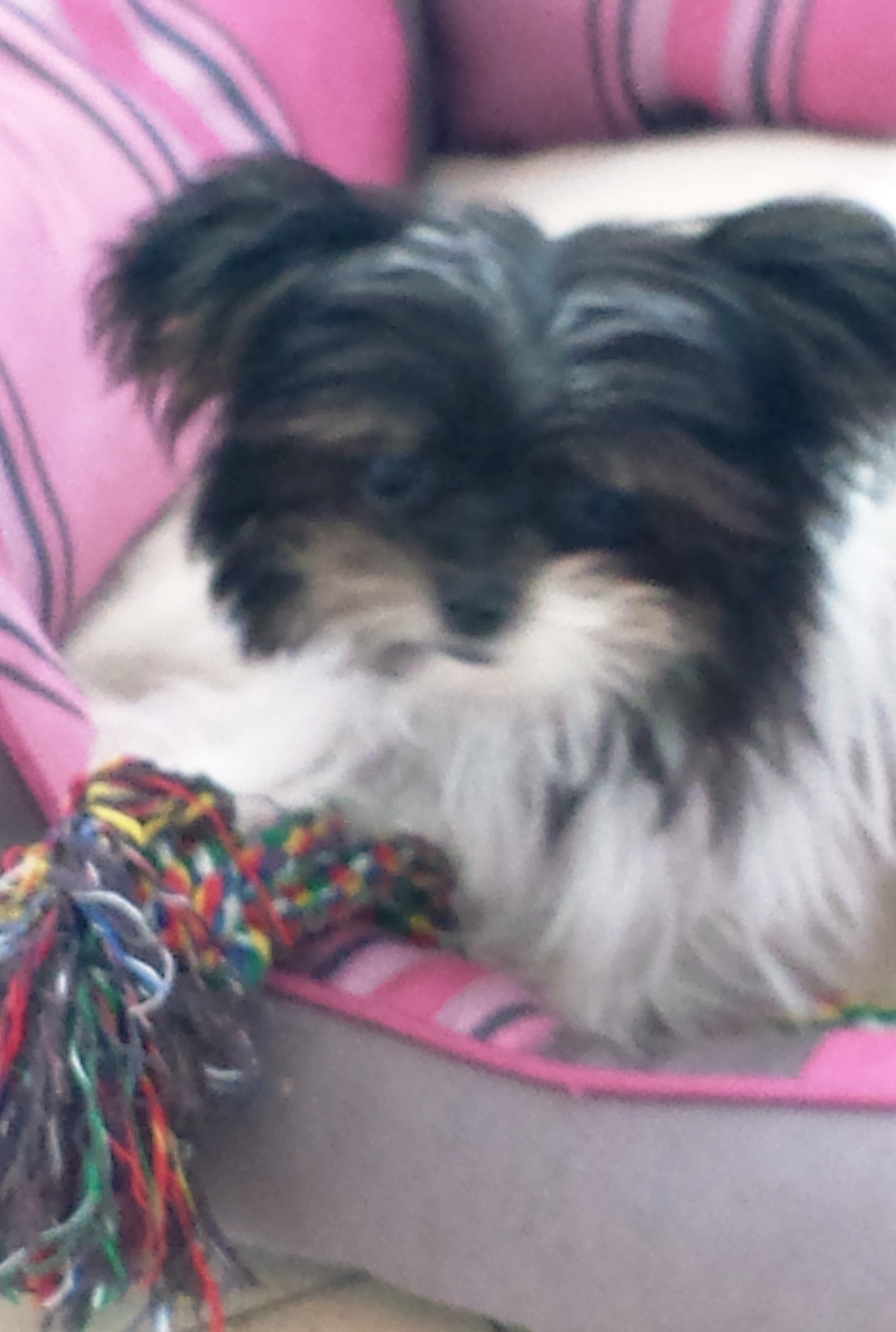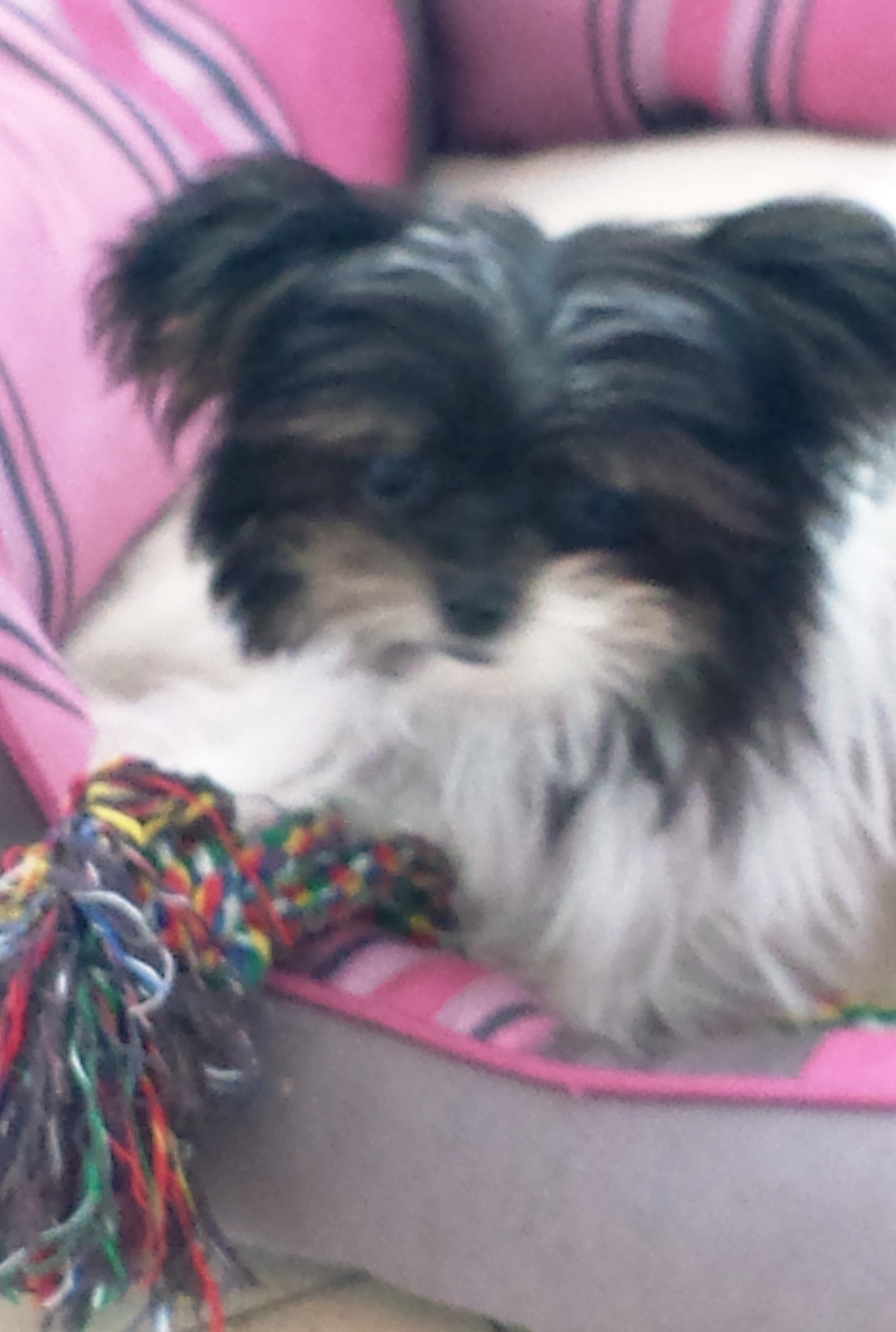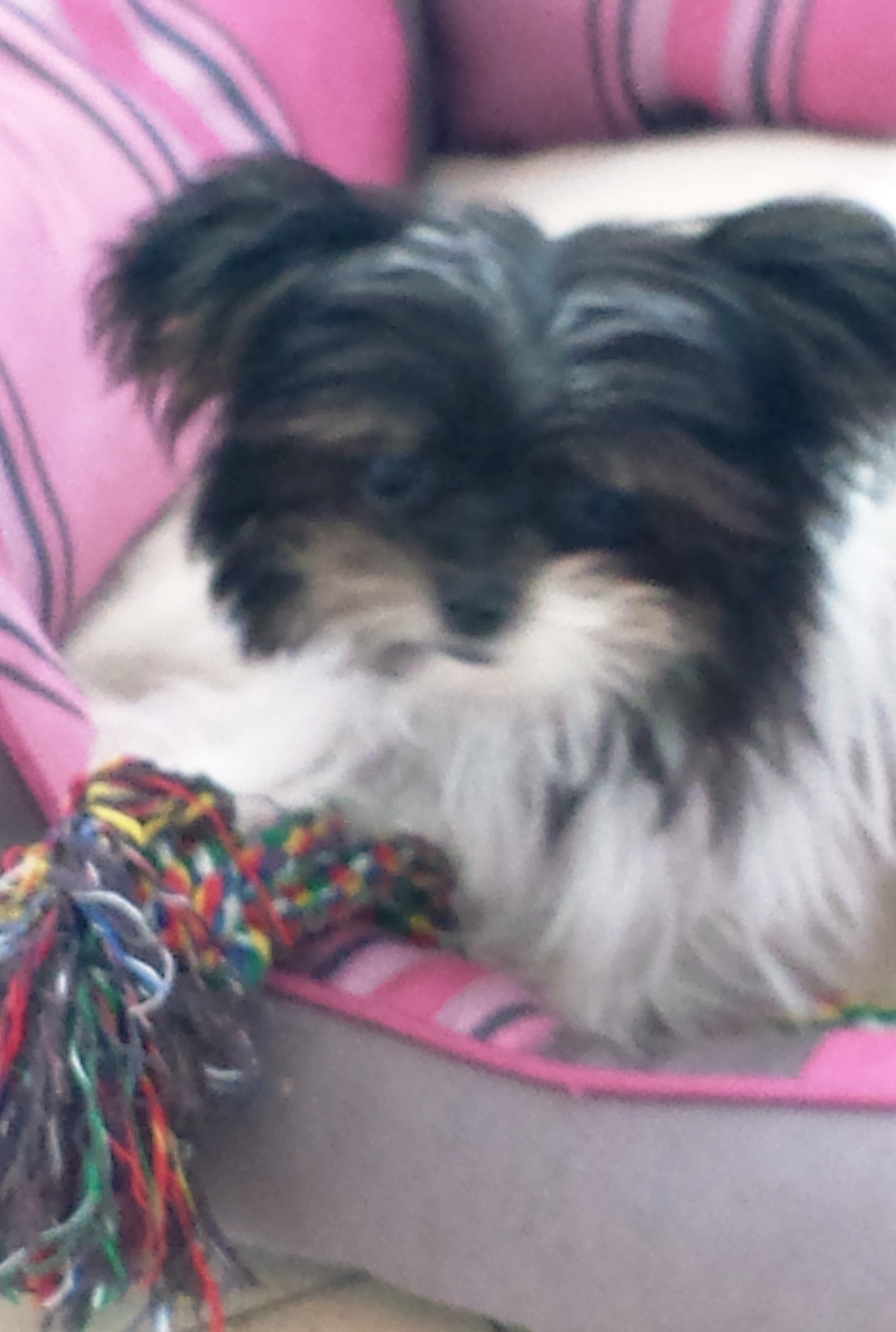 Anita, I wanted to share with you….we bought "Shovi" from you 3 years ago in 2011 and just recently had her professionally photographed with my daughter who's now 6. They are BEST friends and I can't imagine a better dog. Everyone in the neighborhood knows Shovi and she doesn't require a leash! She runs in the greenbelt and LOVES creek by our house. It's not quite Sangar, but Frisco at its best! I have been meaning to write you for some time as this dog's temperament is one of the best I've ever seen. My friends ALL have Labs and they cannot believe how awesome she is. This was a pup from your son's dog maybe? Mother was Kelly's Athena I think? In any event, I just posted this on Facebook and thought you'd enjoy as well. Thanks again for a great addition to our family and feel free to post this on your website for future customers!!! Caroline Sands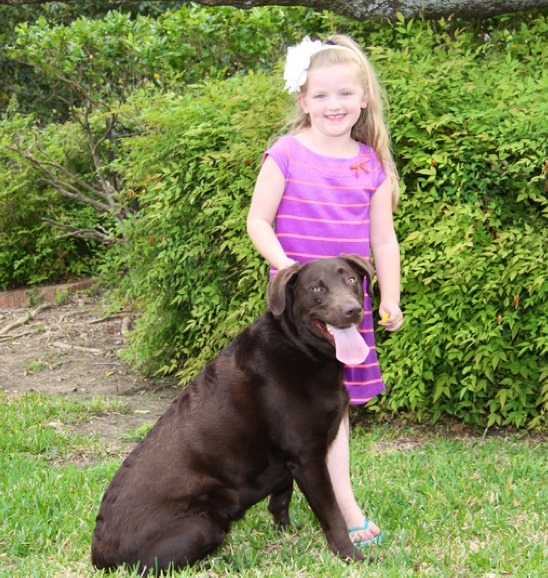 Coton de Tulear Breed: Hey Anita! I just wanted to send you this picture of Francoise now that she is starting to get that beautiful Coton hair in.... It seems to grow longer over night now. Everywhere I go she draws a crowd ... she has SO MUCH personality it amazes me every day . She is the happiest little girl - from the day I picked her up from the Nanny at the airport - to this day .... She is a bundle of joy. I am almost sure that there are times I actually see a little smile - when I am playing with her and she's on her back- she looks up at me and I can see all of her teeth- she is smiling! Speaking of teeth? Wow - this cutting teeth chew down has been something . Sometimes when I am distracted on the phone with customers I feel something Going on at my feet.... She is chewing my slippers - AND MY FEET Are IN THEM! So cute so funny. Thank goodness I discovered Kongo toys --- they are the BEST and safest chew toys. The picture I took this morning before we drove away from visiting with my Dad. I took their picture ... And then tried to put her in the car. He didn't want to let go of her . He just loves her- He let's her run all around in the house - and my Dad normally does not allow animals in the house ( germaphobe). Francoise is so well mannered and a joy- so she is Queen of his house when we are there. I also want to thank you for responding to me instantly when I told you Francoise had eaten something (Outside I thought ) and became very sick- throwing up etc. I watch everything she does and eats. I never dreamed what made her sick was a sponge I Let her chew up- I did not think it would hurt her - and I never saw her swallow any - yet after you asking me questions - you quickly figured out that it very possibly could have been the sponge! THANK you for always being right there when I call u in desperation - or if I just have questions solving my " having a Puppy" situations concerning her. You always know the answer - as you would - because you have been doing this for a long time.It means SO much to me. Also your insight helps my vet- know where to start looking when I have an emergency such as this sponge... You are the #1 Breeder in my book and many other people's too. I still feel so Lucky to have Found you. I hope you and your Family have a very Happy Holiday. Many thanks, Paula Qualliotine December 19, 2013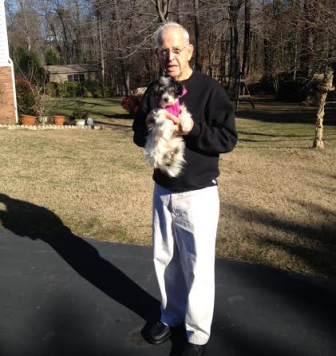 Hi Guys just wanted to stop by so Levi could say hi he's almost 2 and he brings us so much joy. He loves to play and play and he's the best in protecting his sister kimayah. We love him sooo much.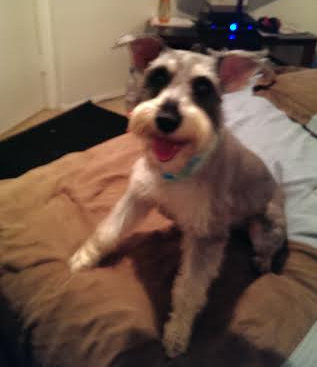 We just LOVE her.Shes 6 months old today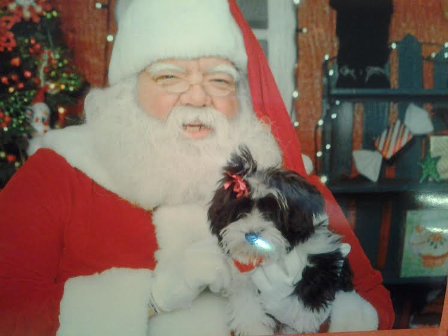 We have had Schnoodle Mylo who was up for adoption about a month ago after losing our beloved Kira our Bichon/Husky mix. We are delighted. He has adjusted to his forever home sooner and better than we expected. He is a bit of a scoundrel (as all Schnauzers are) and yet he desires to please. He fills our house with puppy antics and even our cat likes to play with him. He and our Jack Russell Jaki play together and Jaki has never played with another dog. They race through the house growling and playing!!! Somewhat lacking in confidence and very shy when we got him, his confidence is gaining leaps and bounds and can now accept discipline without being crushed because he knows he is loved no matter what. We are so happy we found this unique little pup through Puppies For Love.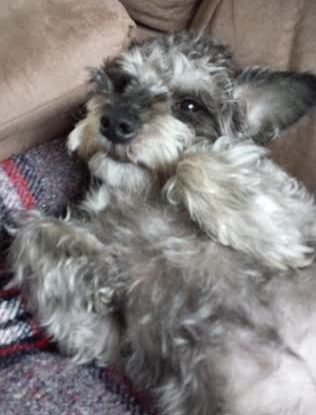 Schnoodle Breed: Hey Anita , It's been a while but I knew I wanted to let you know how (AXEL) now known as Tucco is doing.Well where to begin ?First off the service you provide is impeccable. Everyone that questions me about Tucco I redirect them to your website and tell them that it's totally worth it From the moment i saw him on your website i knew he would be mine , and sure enough when i got him i knew i had made the right choice .He was so tiny when i first got him , he quickly became attached to me .He had separation anxiety for two months but he quickly got over it .Since then we have relocated to Manhattan. He loves going on his long walks at the park and running with me . Although he is not as social ,little by little he is getting better with other small dogs . He was easily trainable and knows how to "sit" "stay"and "roll-over". He never barks and follows me like a shadow . He is very strong and stubborn along with being a doggy bone hoarder :) Tucco now weighs around 10-12 pounds , he is the fastest in the park and the biggest trouble maker .Tucco loves people he is the friendliest dog i have ever seen which makes our walks during the fall a bit longer since everyone wants to pet him. He has the cutest teddy bear face and brown eyes.His head and legs have the silky poodle hair while the rest of his body has wiry schnauzer hair. Ive had him for about 5 months now and he is fully house broken* no more wee-wee pads.I also have traveled with him on flights . . . . not a peep.I get compliments on his behavior everywhere we go but he came to me this way and all I did was love him. I have not used a crate since the day i picked him up at the airport , so he tends to go a bit crazy at the groomers and they give him all the attention ;) He has easily become my best friend , and I'm so happy he is a part of my life . Thanks again Anita Best Regards Dali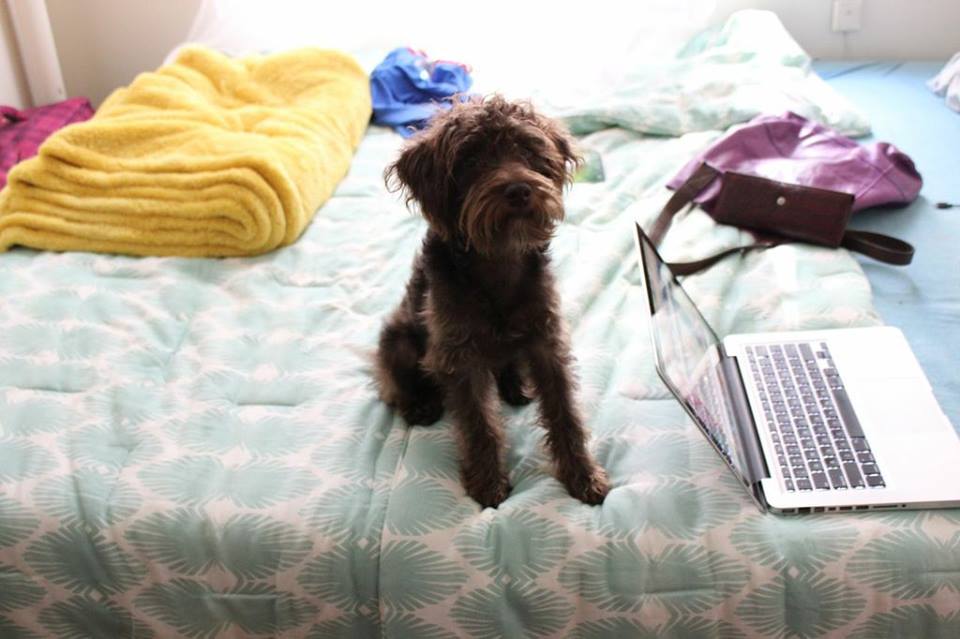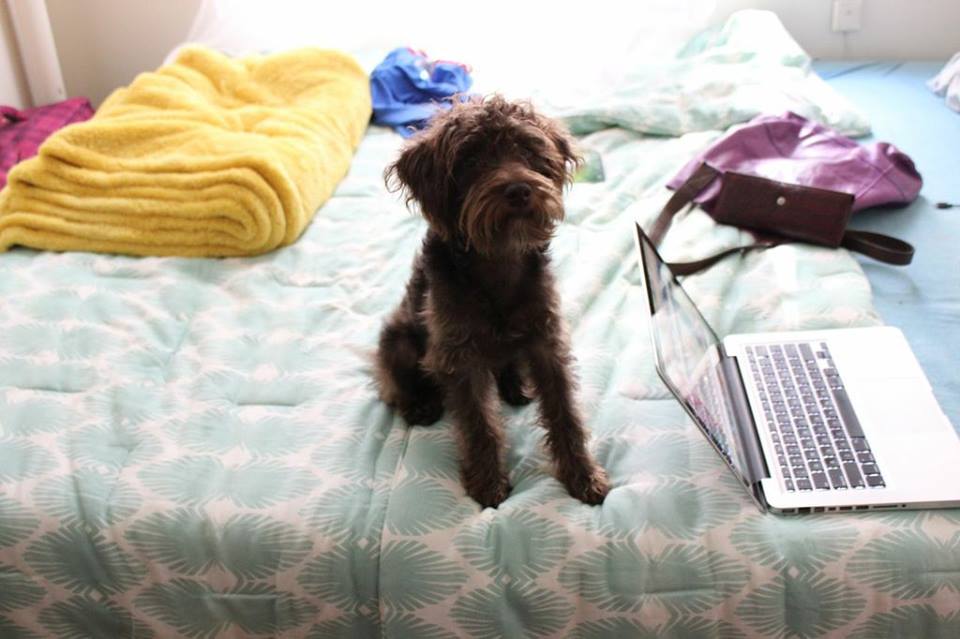 Coton de Tulear Breed: Dear Anita, How could I have ever known that just by clicking onto your website my life was about to change - in a way so joyful it is hard to put into words. As you know- the loss of my dog Hercules 3 months ago left me devastated- a grief that was even hard for me to explain. He was my constant companion - we were always together. I felt so very sad. Then when everyone started asking me if I was going to get another dog Not only did I not Want to replace him- I just knew there was no way I could ever find another dog that I would love as much as I loved him. That all changed the minute I saw your company name" Puppies for Love Companions for Life." Those words were exactly what I wanted yet thought I would never find. Then when I clicked on your website - there she was - Teensy (now named FRANÇOISE) I could not take my eyes off of her picture! I had exhausted myself by researching different breeds, breeders, rescue shelters, and had given up and decided I would just not get another dog. Yet I was so intrigued by the Coton de Tulear breed that I previously had never heard of - yet their size was larger than I was accustomed to- as Hercules was only 8 lbs - easy for me to pick him up and go- everywhere. So I did not think it was possible for me to get this wonderful breed of Coton I had discovered. Then late one night I decided to look again at the Coton breed information and that is when I saw your website. And that is where I saw a Coton that was the perfect size for me! I could not believe it! Then, from the moment I spoke with you on the phone - I knew without a single doubt - I had found a very special Breeder and the perfect breed of dog for me and she was also the perfect size. Anita when I spoke to you - you were totally different than any of the other breeders I had spoken with - you instantly picked up on everything I was feeling - the conflict of still grieving yet searching for another "Companion for Life". I hope you know how much I appreciate ALL the time you spent corresponding back and forth with me- guiding me through the process - listening to everything I said- never putting any pressure on me to make a decision until I felt 100% comfortable in doing so... You answered every question I had about every breed of different dog - You have the patience of a Saint. If all of that wasn't enough- what you did for me after I decided to adopt Teensy is what really makes you #1 in the breeder world - I don't know of any other who would say yes to what I asked of you.... I asked you if I adopted Teensy- would you keep her until I was absolutely ready to take her- and without even a second of hesitation you said yes! And then as the weeks went by you never called me to ask- when do you think you will be ready- are you ready- You waited for me to call you and say - I am ready. The whole process of adopting FRANÇOISE was so easy and stress free for me - because YOU HANDLED EVERYTHING. You even handled the flights -the Nanny that flew with her here to NC- all of her papers- shots- Avid chip, food- everything was done perfectly by you and without any calls back and forth - you just handled it. That made the whole experience even MORE special to me. In addition, the fact that at my request you spoke with my Vet about Francoise before she flew - puts you at #1 with a Gold Star. Having Francoise in my life has put joy back into my heart. You can see in everything she does and how precious she is - she was born into and cared for by very special people .... THAT is you and your family Anita. She is so smart and loving and HAPPY- I LOVE her!! I still can't believe she is real.... Yet, she certainly is- And with ALL OF MY HEART ANITA ❤ I THANK YOU SO VERY MUCH. Paula Q October 3, 2013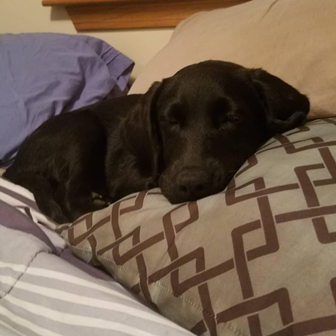 "I am so happy to have my two Cotons from "Puppies for Love"! I have met Anita, her son, Brandon and daughter-in-law, Ting, and could not have asked for nicer or more helpful breeders. I consider them to be outstanding in their concern and care for their pups and would highly recommend them. The puppies are well-socialized, healthy, and sweet natured. My puppies were hand-delivered to me, because of their desire to see that they were well-adjusted and going to a good home. Thank you for a wonderful experience. Kathy Powell Fredericksburg, TX
Shorkie Breed: Happy Holidays, Anita! Hope all is well for you and your family! Just wanted to thank you for all the joy you've brought to our family in the form of a little pup. Mitzi is perfectly healthy, happy, and adjusted to life in Florida. My parents' lives revolve around this little pup. Mitzi stories monopolize our phone conversations. She truly is like their little granddaughter. Last week, they went out and bought a dog car seat for Mitzi! And now, Mom sits in the back seat with her! :) I look forward to visiting them over the holidays. I won't be surprised if a chair is pulled to the table for Mitzi to enjoy Christmas dinner with the rest of the family! :) Take care and please know, Anita, you make a difference. Merry Christmas! Steve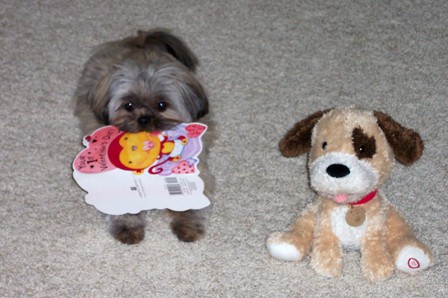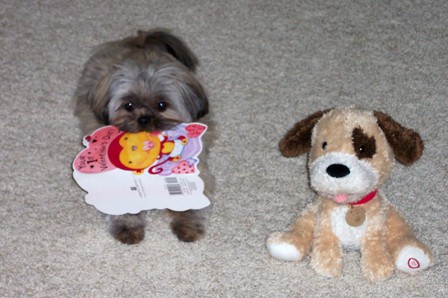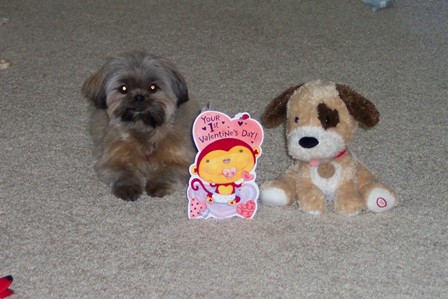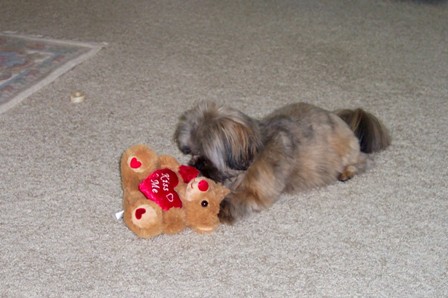 Hi Anita, Just wanted to let you know how Beau is doing. I picked him up on Christmas Eve day and have been in love with him from the moment you put him in my arms. What a JOY he is!!! He became attached to me very quickly (and me to him) and we are having so much fun. He slept all night in his crate from the very first night and never made a sound. His training is going great; he is doing stay, leave it, come and sit. He is about 95% potty trained on his pee pads and he eats well. Watching him play is so much fun and he does this \"super dog\" run every so often through the entire apartment, it is hilarious to watch. He loves all of his toys and really enjoys going out for long walks. I now own every toy, blanket, water bottle, leash/collar and pet treat known to man. My new favorite place to shop is at pet stores (with him at my side)!!! My 3 nephews are having a blast with him and he loves and enjoys them very much too (so does my Sister). My vet was very impressed with the great job your vet did on the neutering and Beau healed so quickly and never really bothered the \"glued\" area. She also declared him very healthy and in wonderful condition. Finding your web site was the best thing ever. I appreciate all your wonderful advice (and patience with all of my questions), having him neutered for me, getting him so far along on his crate training and pee pad training and for making him such a wonderful and loveable little guy. I tell everyone to be sure and check out your web page and how wonderful you all are to work with, it has been such a joy to know and meet you. If you ever need to use me for a reference, please don\'t hesitate to do so. Thanks again for everything and for loving and taking good care of Beau for me until he became mine. Dianne (Beau\'s Mom)
Hi Anita! It has been a little over a month now since you sent us our sweet baby Puppy. We love her so much! She brings joy not only to us, but everyone she meets. She is so tiny and sweet. We can not thank you enough for everything you did for us. She is my little buddy. She loves to get dressed up, and goes with me just about everywhere! To anyone considering buying a puppy from PuppiesForLove: I can say that you are in the best puppy hands ever! I researched and spoke with so many breeders and different websites. Anita was the ONLY breeder that I immediately trusted and felt comfortable with. She sent me the healthiest puppy ever, and everything I needed to care for her. She educated me on teacup puppies and fully prepared us for our new baby! She also offers the coolest option: Anita not only flew my Puppy from Texas to Michigan, but actually sent a Puppy Nanny on the plane to keep her company and care for her. We felt so good knowing our Puppy was being cared for on the plane. Thank you Anita! Sincerely, Erin, Puppy, and Family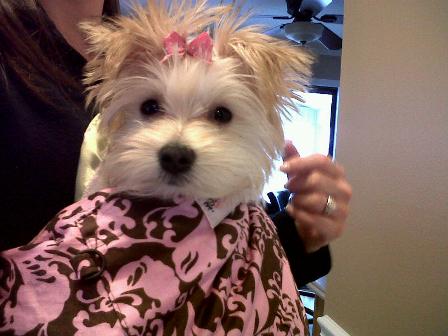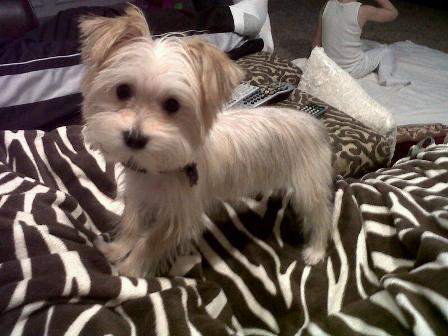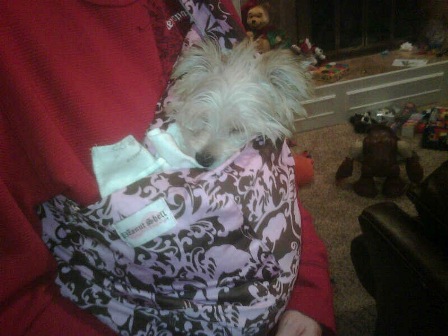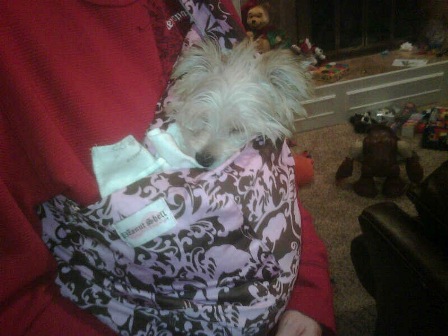 Two sisters living happily ever after in Lafayette, LA!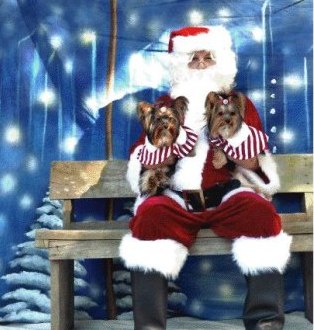 Two brothers hanging out at home!! They are so cute and happy together. We are very happy! Maher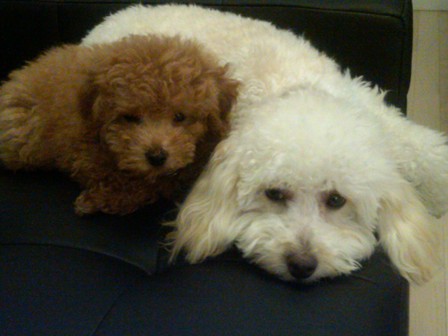 8/15/2010 Hi, Cody (Tartar Jr) is great!!! He begining to explore all the house. He´s doing really good with the pee pad, he only has 2 accidents. We´re very happy to have him. We love Cody!!!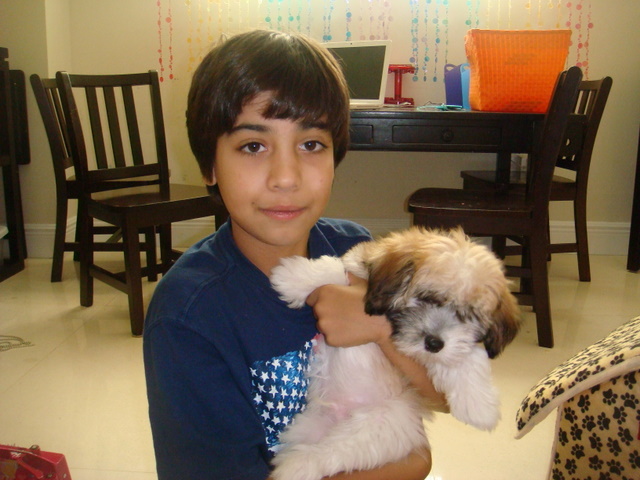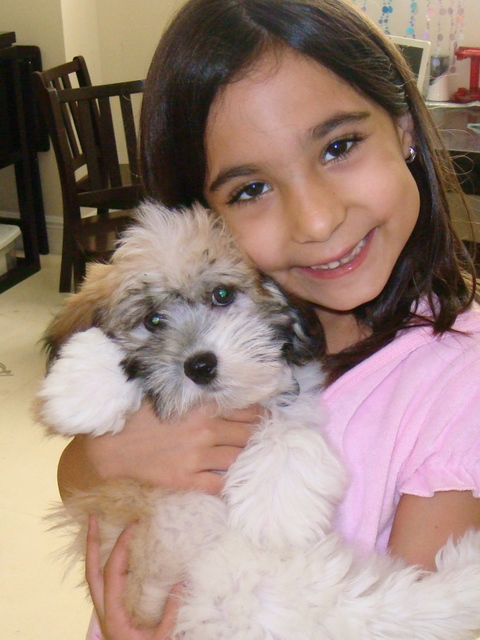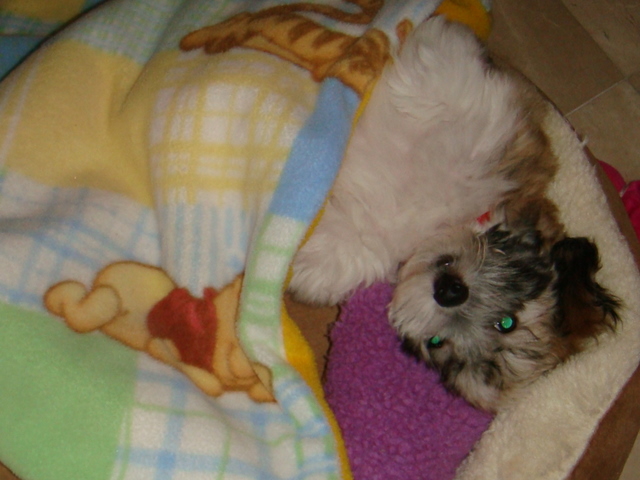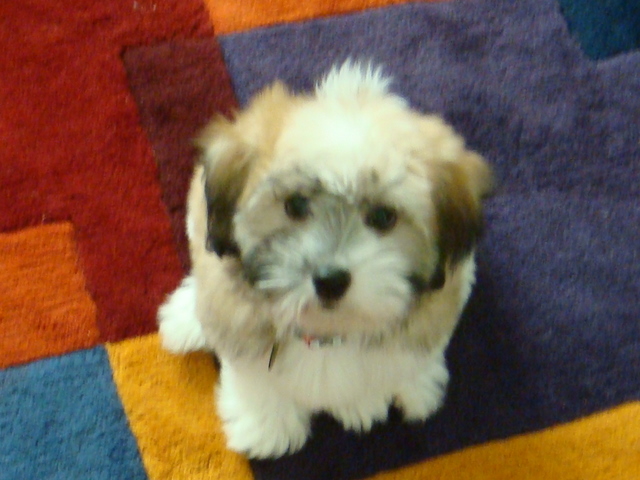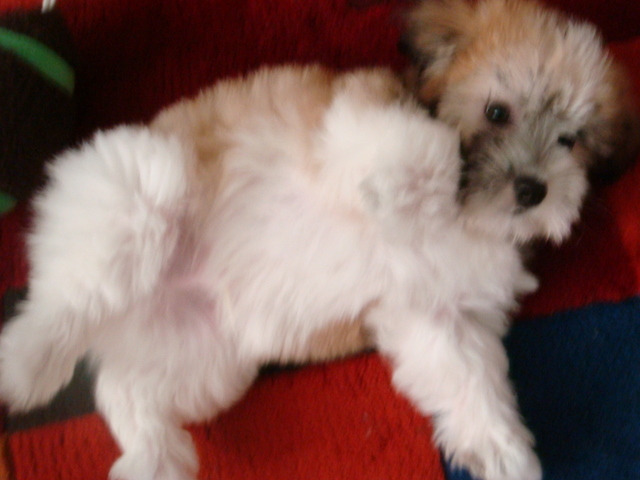 Hi Anita, We can not thank you enough for all you did for us. It has been one week since we brought Bailey (formerly known as Tiffany) home. She is such a pleasure. She is sleeping through the night and doing great on her wee wee pad. Bailey is so lovable and playful not to mention extremely adorable. We are so excited that she is a part of our family now. We all love her so much :) We will keep you updated as she gets bigger. Thank you, Don, Kristen, Ryan, and Tyler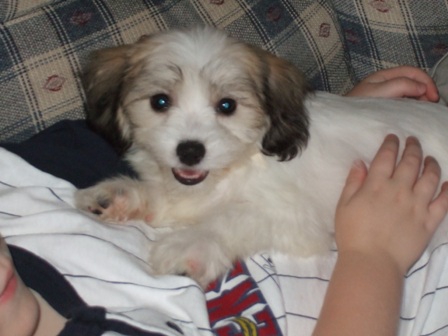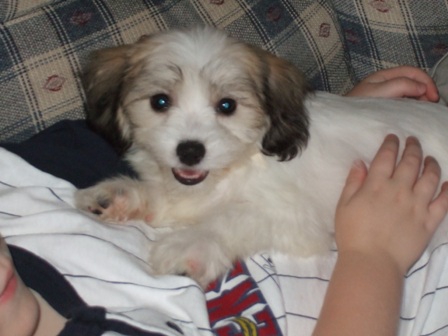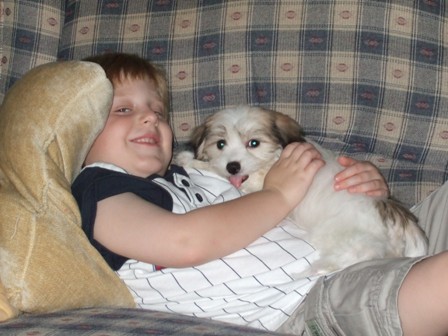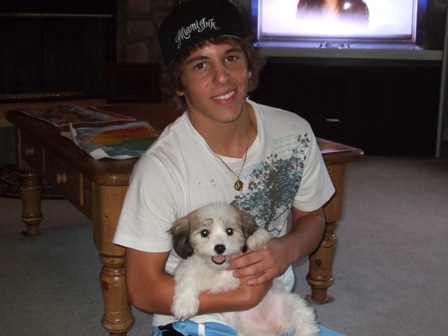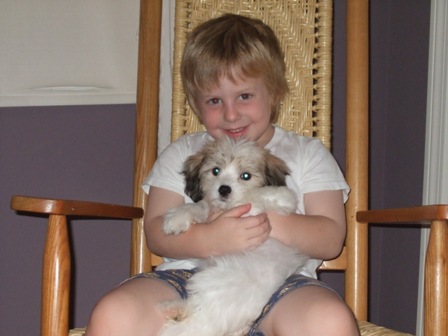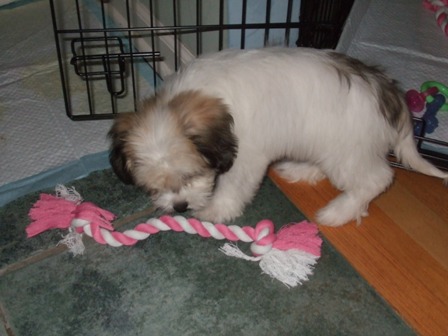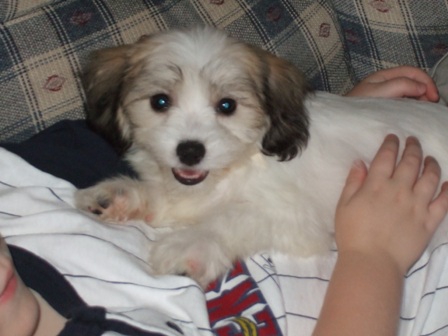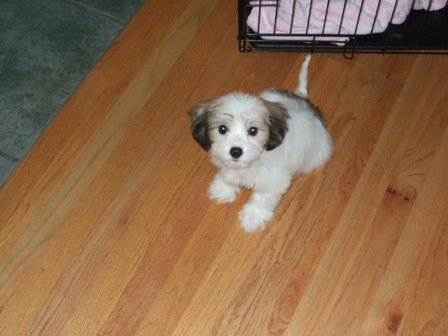 Hey Anita, I just wanted to give you an update and some pictures of Noah! He is doing wonderful, once he got comfortable he started to show us his personality and he is a bundle of joy. He loves to get right up in your face and give a lot of kisses! He really is a great dog and i love spending every minute with him! Thank you again, Chelsea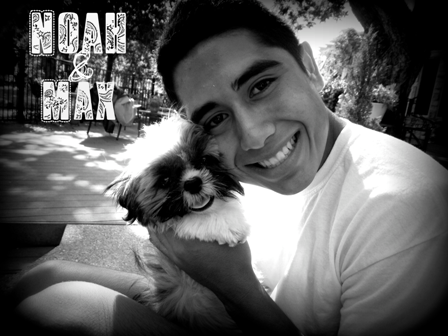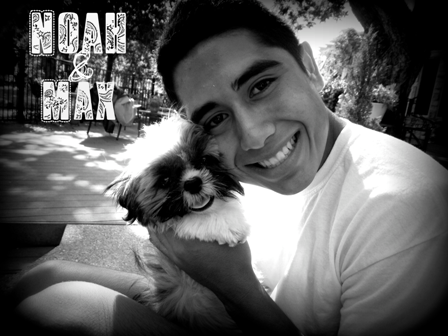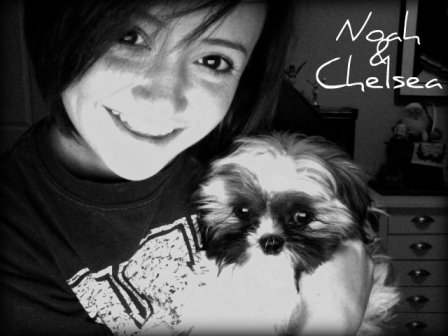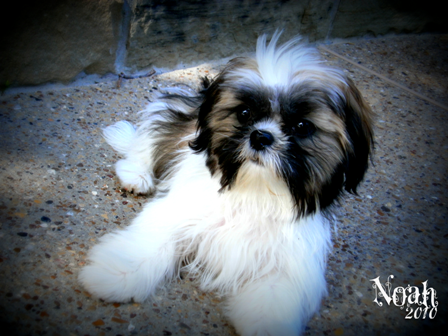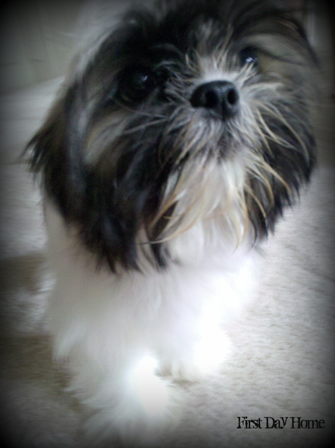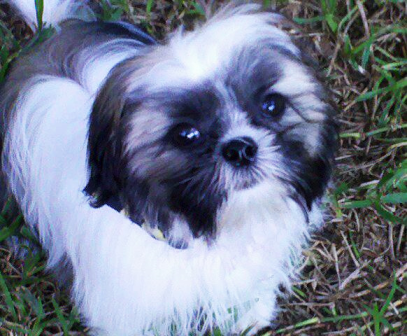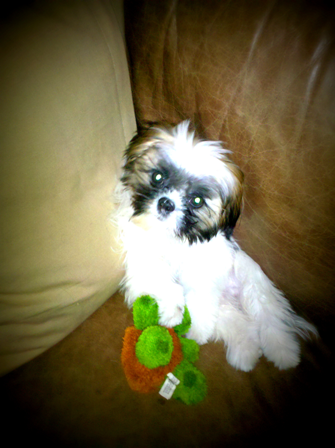 Hello Anita and Kevin! Bruce(formerly Brotan) and Sirius(formerly Foxi) are the complete joys of my life! Bruce is not quite sure what to think of Sirius yet, but I'm sure that he'll warm up soon. I just wanted to thank you guys again for the adorable puppies. Sirius got a little car-sick on the way home yesterday, but he is just fine now and in good spirits. Sirius does nothing but follow Bruce around, and whine if Bruce does not want to play with him at that very moment. It's very cute, and I can't wait to watch them grow up together! Thanks again, Amy Marie Polk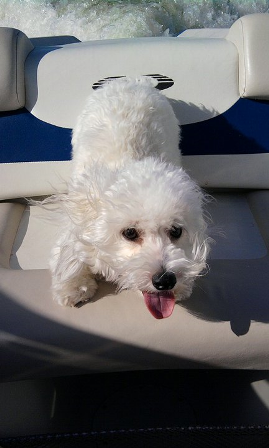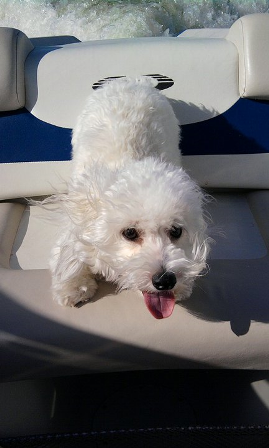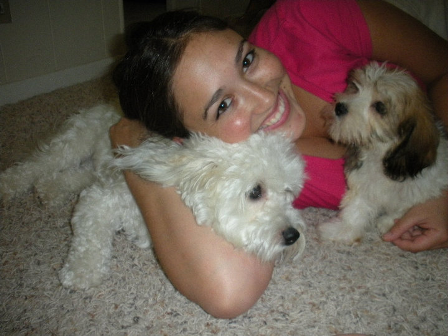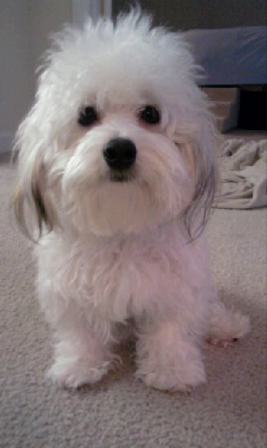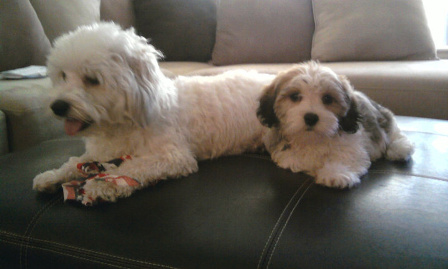 Hi Ting and Brandon, Here is the update on Passi's first month with us, I cant not explain how much we love this little one. Well our first month started with lots and lots of shyness and she also seemed afraid of every noise or fast movements, we figured it was all due to the stress caused by her flight and/or her rabies shot plus the new enviroment, etc. she is showing a lot more confidence lately, specially during this past week. as for everything else she is doing great, eating her food, going potty outsiede (as long as i fallow her schedule... if i dont she has accidents hahaha... we go out every morning at 7am, 12pm, 4pm, 8pm and 11.30 pm and she does GREAT if we stick to it haha she still has to learn how to let me know but im sure she will get it pretty soon. On another note, i cant believe how smart she is, she already knows how to sit, lay down, lay on her side and roll over, she knows what "lets go home" means as well as "look what i got" and "go get it"... she likes to ignore me sometimes but i am sure she knows what im saying hahaha i just wanted to tell you that we are very grateful to you guys for this little bundle of joy, she is cute, smart, healthy and just adorable. we couldnt be happier. she is definitely a handful but i wouldnt want it any other way. she makes us smile since the moment she wakes up till she goes to bed with us at night. -Ty & Jeff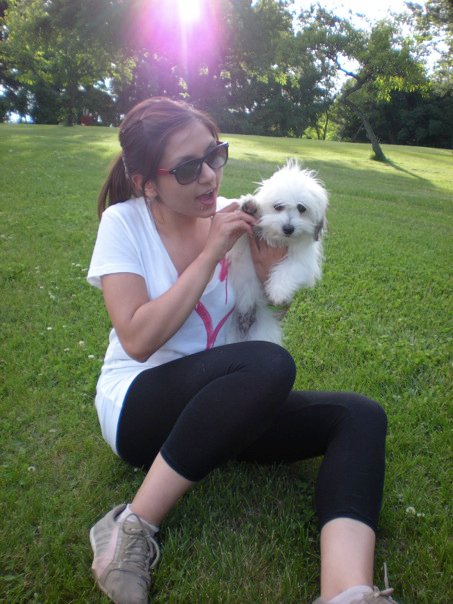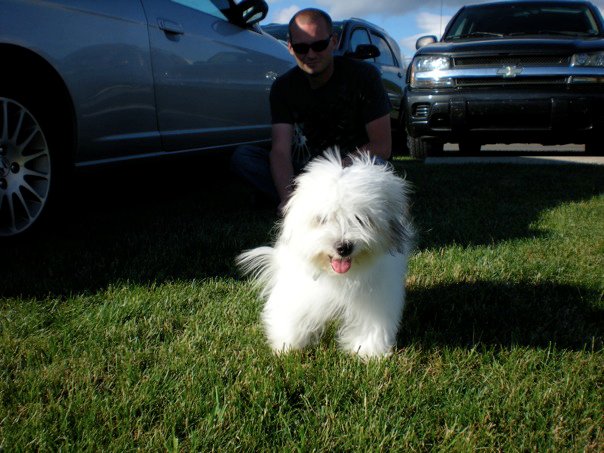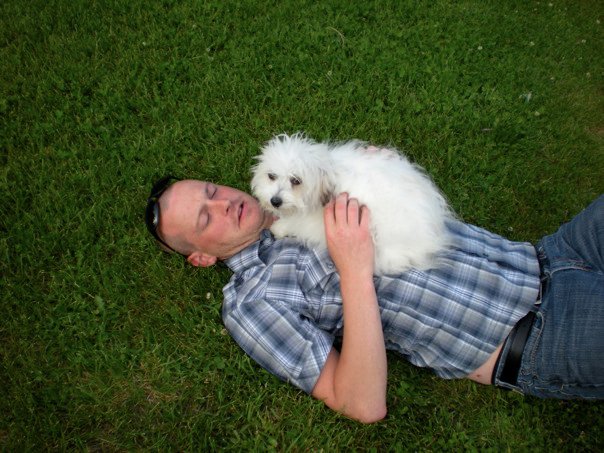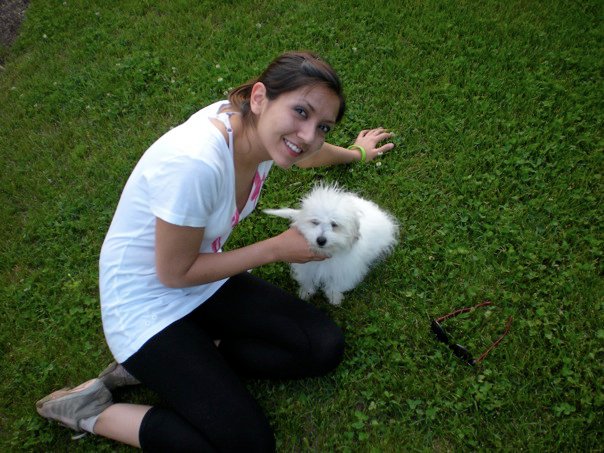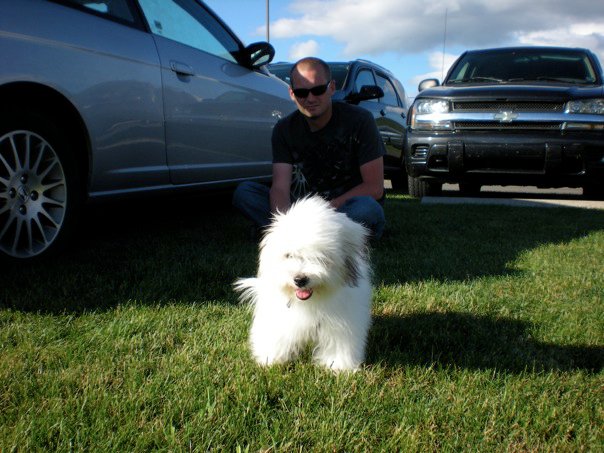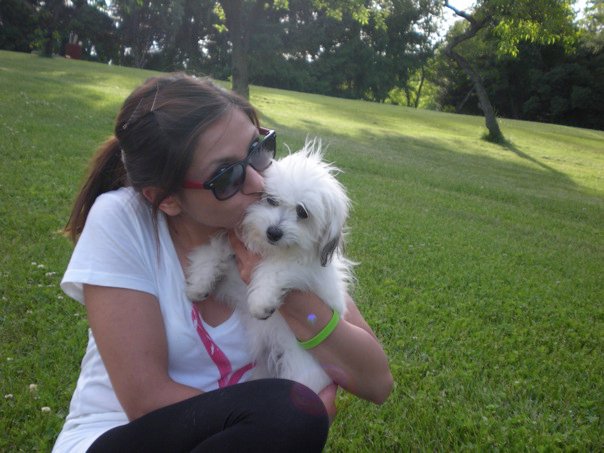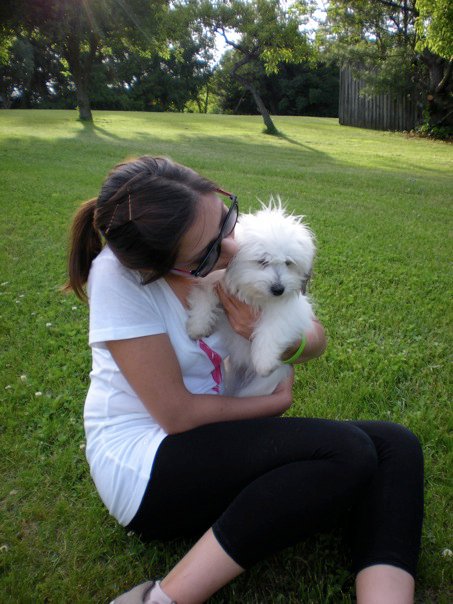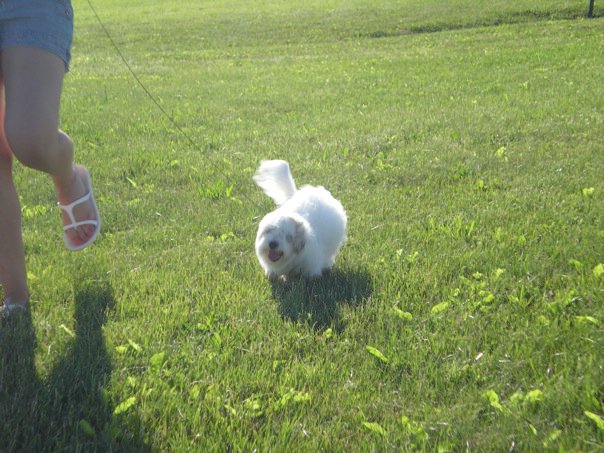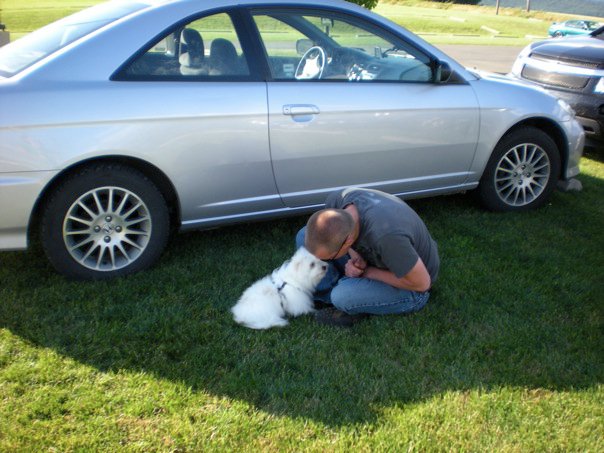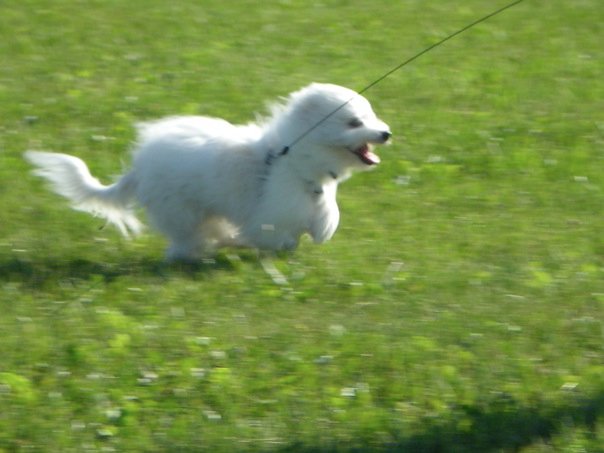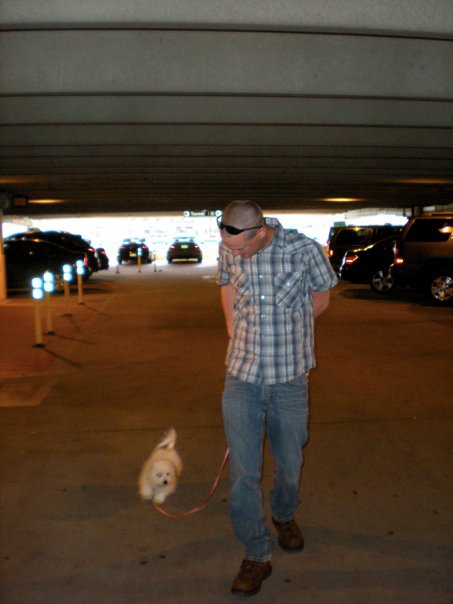 Hello Brandon & Ting, we just wanted to let you know that Monte is doing great! Monte enjoys his car rides to & from preschool to pick up his pal (AKA are son). The preschool children all love Monte too. My family has always been big animal lovers & my siblings all have lots of dogs. They are now Monte's best friends & he has many play dates. Everyone that knows Monte always comments on what a wonderful, smart & loving puppy I have. I love Monte's disposition and how trusting he is. I have never owned a dog that would lie in my arms like a baby or fall asleep on his back. He is so cute!!! I can't picture my life without him. I'm a stay at home mom & was grieving over my Siberian Husky. I was so lonely when my son was at school. Now I have lots of company and entertainment. Thank you so much!!! Love, Heather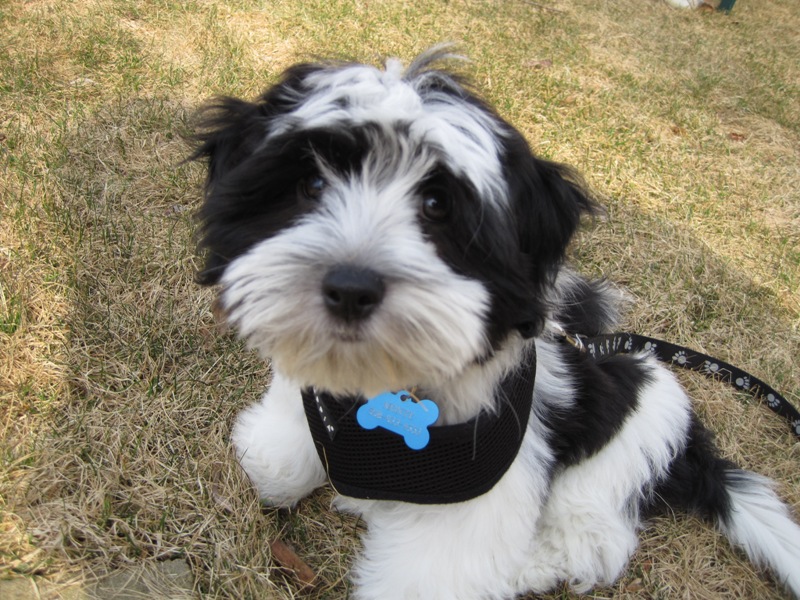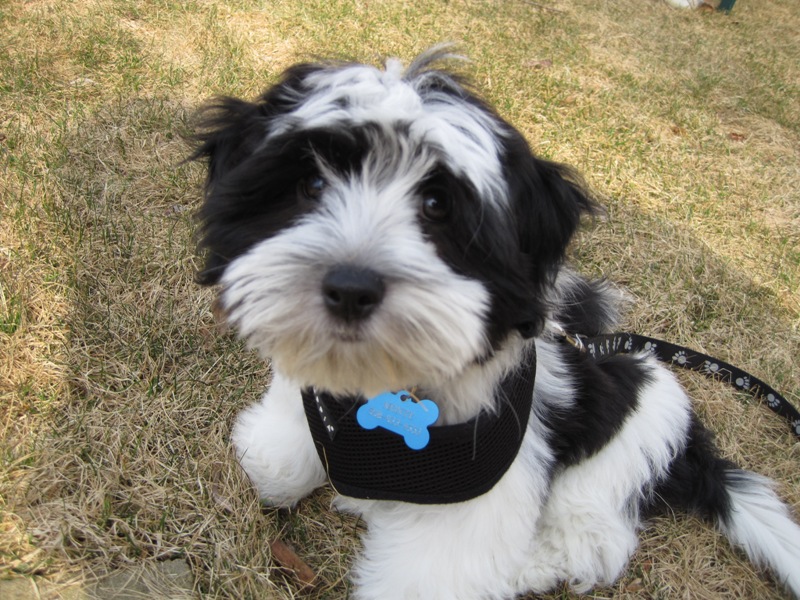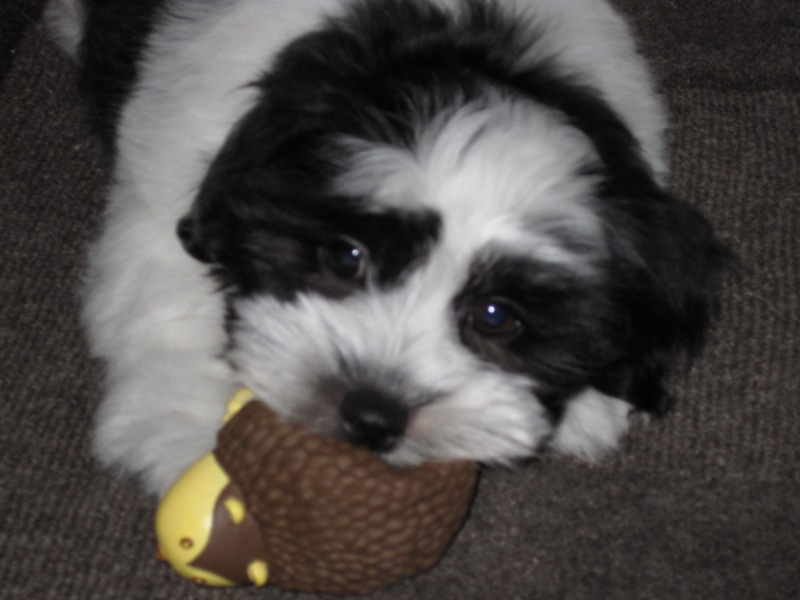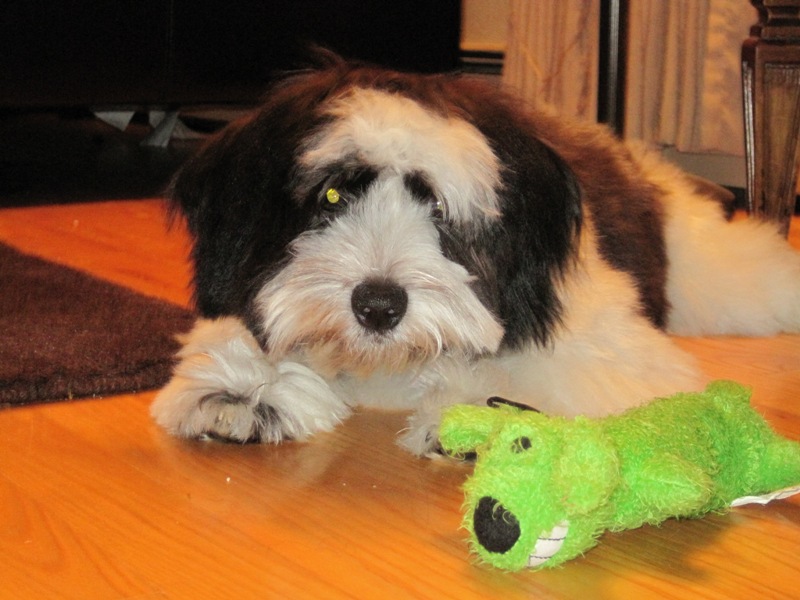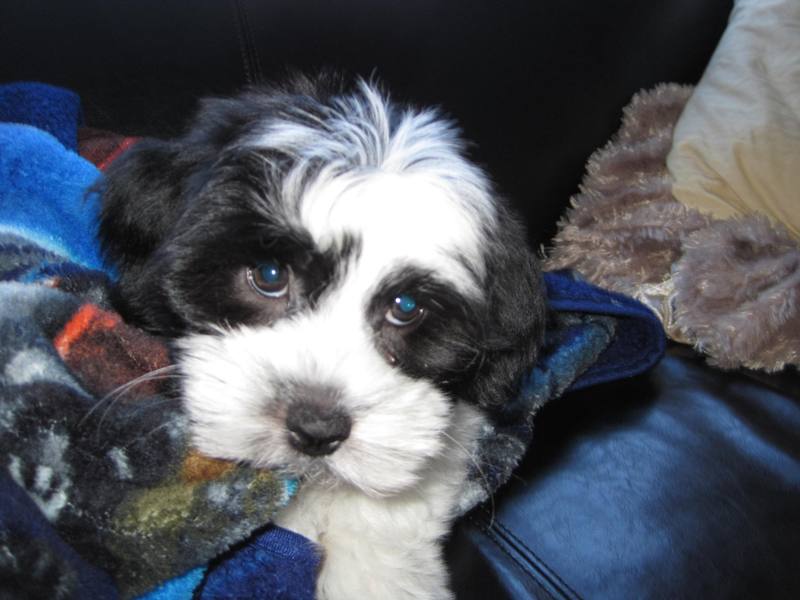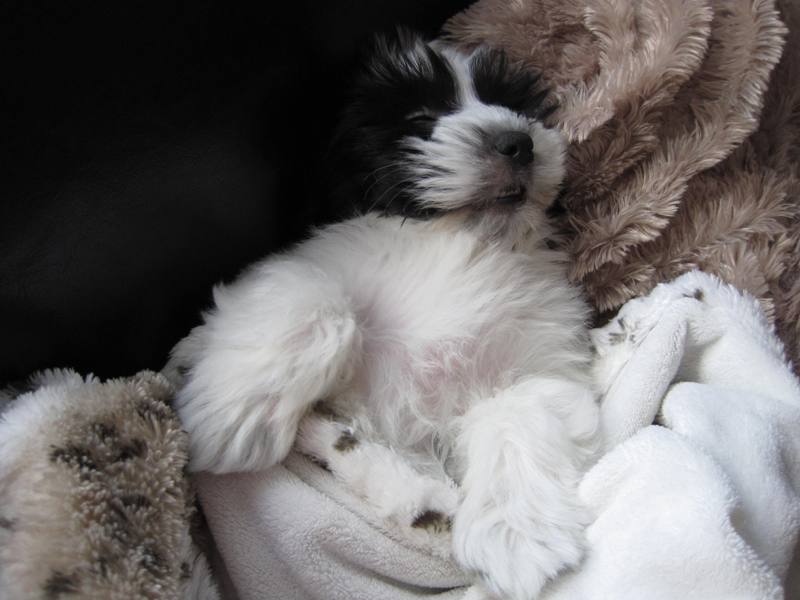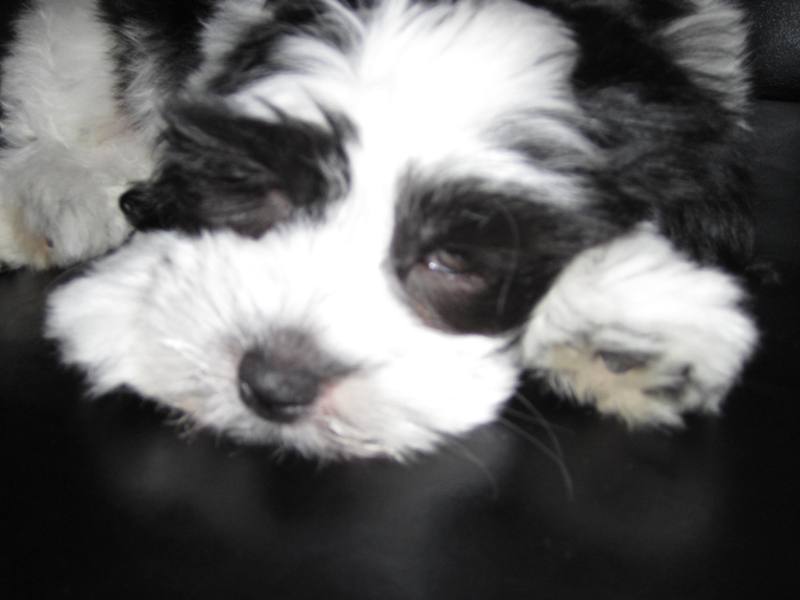 She is just sooo sweet. She slept in my arms last night :) Izzy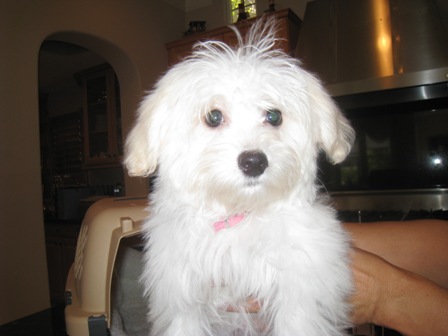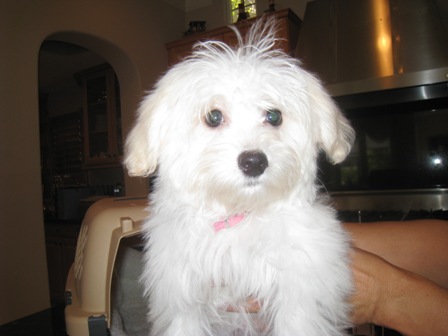 Hello:) I just wanted to write you and give you a quick baby Macie update:) She is doing wonderful:) She is still a complete bundle of joy and I love her so much:) She's still so tiny:) Last time we went to the vet she weighed 1.7lbs:) She has already found her favorite toys and her favorite sleeping places:) We are still working on the potty training, but she's doing so well and so very smart:) Thank you again for this wonderful lil baby:) I hope you're having a great week, and I will keep you posted:) Krystal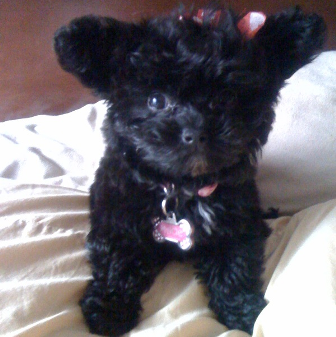 Well, here's the first pic of Murphy (chewy) in his new forever home! He perked right up after he ate a bit. All is going great so far! Thanks again for such a sweet boy! Susan Lynn Fridrich
**Formerly known as Togarashi** We finally named him, after much debate :-), and lots of thoughtful consideration, "Odus, and we call him Odee". He truly came into our home at the right time, as he has provided alot of comfort and love during some really difficult moments. We are finally getting our feet back underneath us, and I had he and Pookee outside yesterday while I was planting some flowers, they were playing hard, running, and barking, so I grabbed the camera and took some quick shots of them together. I'm glad that you like them! Thanks again, he is alot of fun, we love him alot, and so does Pookee!

Thanks again, he is sooo funny! He loves to sneak into the laundry room, grab a sock and run back underneath the kitchen table with it :-). He and Pookee play tug of war with the socks, and by the end of the day, I am usually picking up 5-6 socks from around the kitchen and living room that he has played with. This morning he had everyone laughing as he was chasing Pookee around the pool area, and he has figured out that if he stops in one place he can rest and catch her, all the while she has been running full blast. Smart boy, for sure! Always has a smile on his face! Thanks again!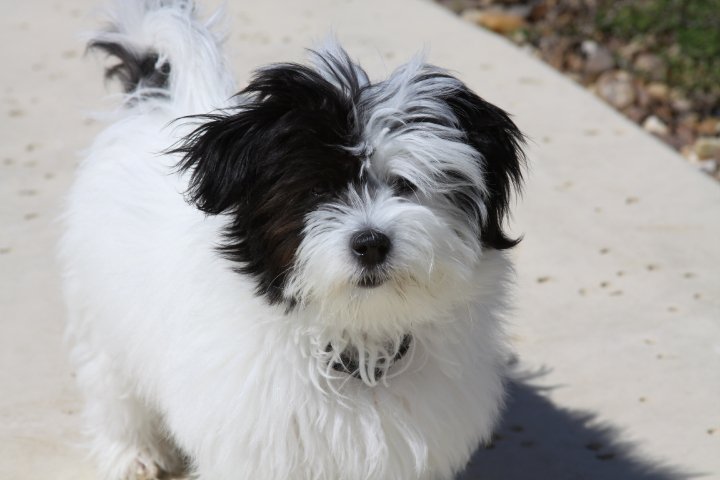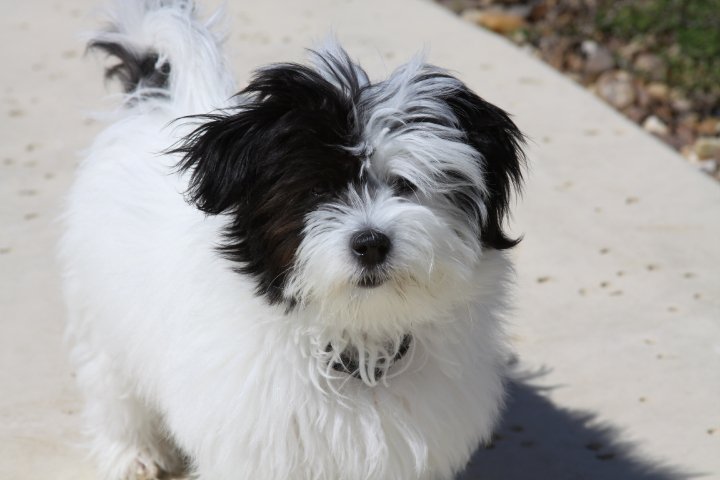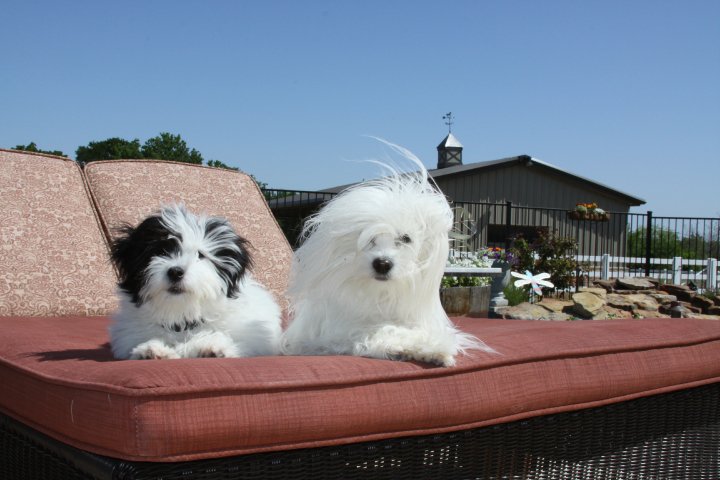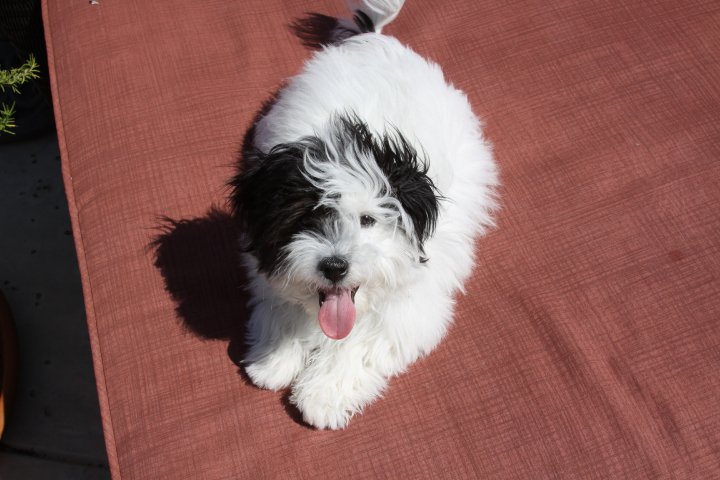 Hi Anita! We just wanted to tell you how much we ADORE our little Muffin (i.e. Muffy as we call her). She is the cutest little think!!!!! So full of personality and oh so sweet!!!! She has been the best puppy ever! She came to us almost completely housetrained and is even making our other two (Coco age three and Tara age five) go outside more! She is the sweetest little thing. She loves all her new clothes! She has been properly socialized and loves to meet new friends!!!! She is even friends with Tara and Coco already!!!! She could not be a better baby. She snuggles every night before going to bed and even has a favorite toy already! You have been amazing to work with and one of (if not the best) breeder out there for small dogs! If we ever decide to get another puppy we will for sure go to you!!!! You come highly recommended and all of our friends and family know where we got our Muffy! We will be sure to send you pictures as she gets older. Thank you sooooooo much! April and Melanie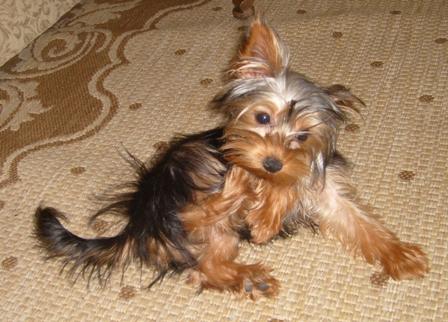 **Update 8/2/2010** Updating on Lana, she is soo full of energy and very very playful. She is getting really smart as well, she now knows commands such as lie down, come, high five and she also knows how to twirl while standing on her hind legs. Next, we'll teach her how to play dead and roll...

**Update 5/12/2010** Lana turned 5 months today and time has gone so fast....she has been losing her baby teeth lately...(finally she wont have those sharp owner-nipping daggers haha). Naturally, like any parent, we would've liked her puppy period to have lasted longer....now we will start to deal with a teenage pup : )

Hello Brandon, Ting and Anita..... Melissa and I wanted to send some pictures of Lana and give you an update on her. It's been almost a month since we got her and we've had such a wonderful time. She makes us laugh all the time, specially these past couple of day since she discovered she can bark....but the funny thing is that it's an awkward, funny puppy bark and she doesn't do it a lot so it's not annoying. We have finally taught her how to sleep all through the night (since she had a nasty habit of waking everybody up at 5am to play...and of course, we couldn't resist), so that's a plus. Overall, she seems to be having a good time and I can say the same thing about us....we are totally happy having her. Here are some pics...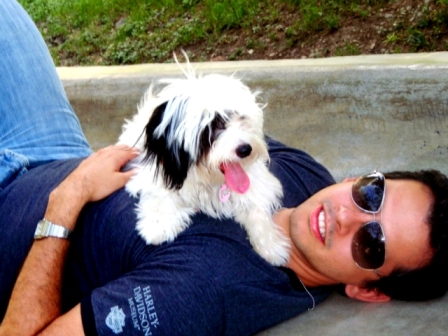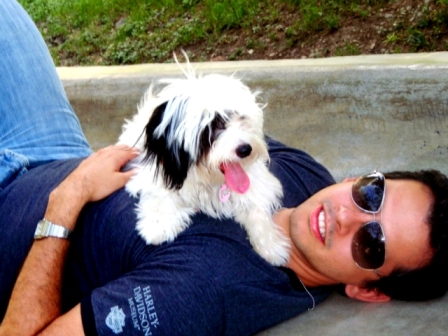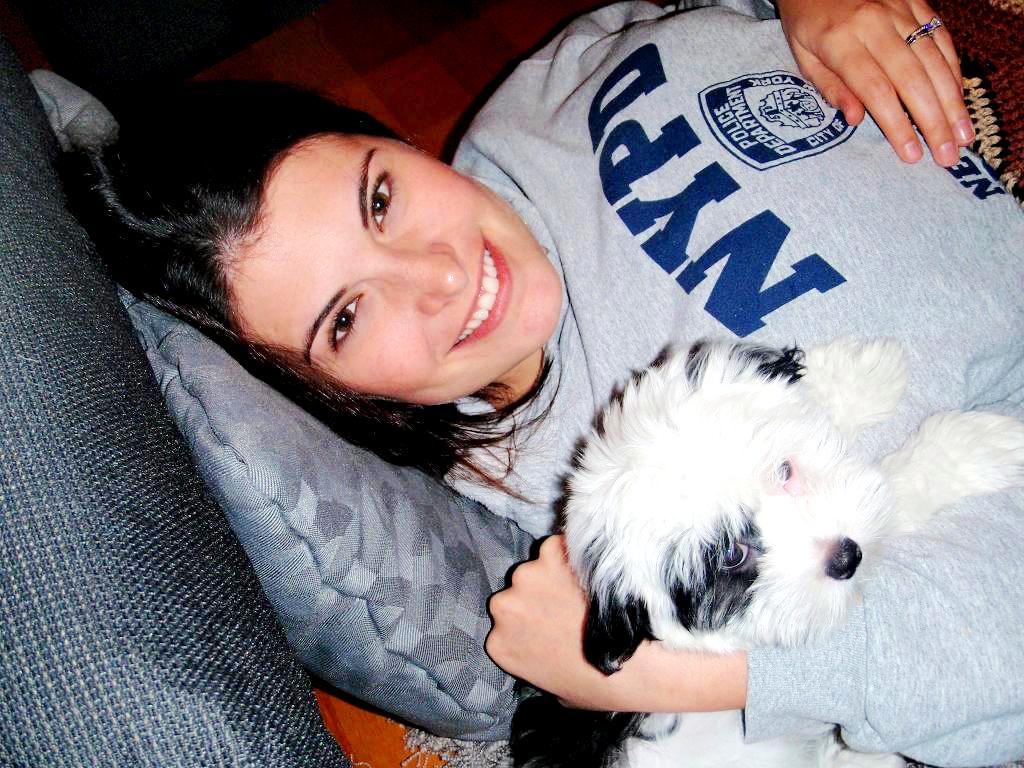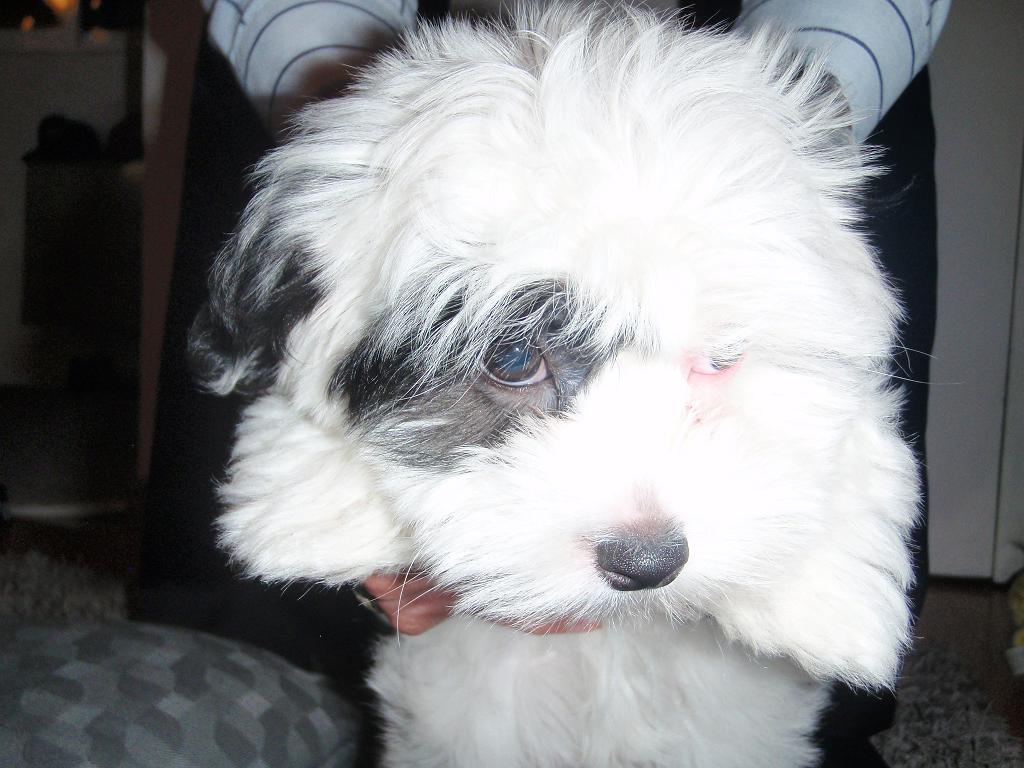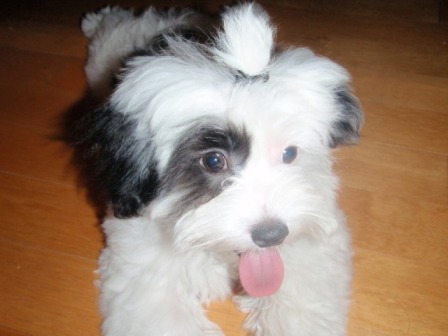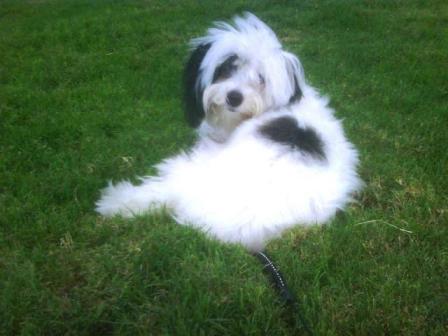 Hi Anita, I bought a morkie from you last Year and I loved him! Best dog I ever had. I trained him and he is so smart. I trust you with the breeding so I was hoping in the near future to purchase another Morkie male from you. Please keep in touch with me and let me know! Jenny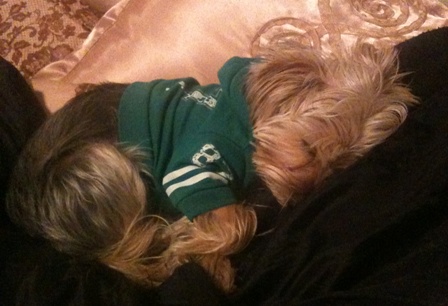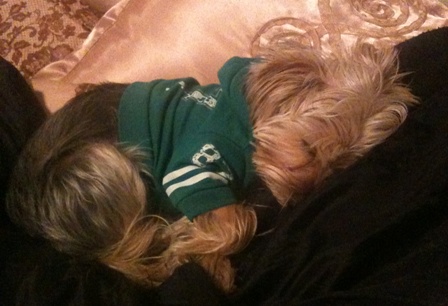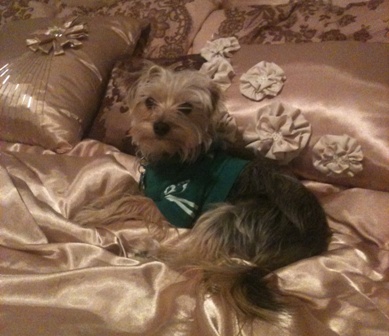 Hi Anita Heres a little update on Ashton. We just love him to death. He's exactly what we were looking for..I really appreciate all your honesty and help in making his arrival to his new home. He gets along great with all my babies and loves sleeping on the bed with us. I am taking him in the car so he gets used to going bye bye. If you need a reference please feel free to ask I would buy another puppy from anytime. You have a great pet nanny also, I wish I had one also as I won't ship in the cargo hold, I think its too traumatic for these little guys. thanks again ALI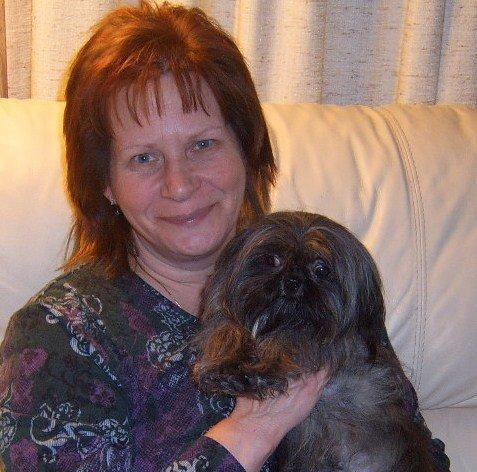 Anita, a little over 4 years ago we adopted our Shih Tzu from you. You had named him Brandon but we renamed him "Oreo". I just wanted to thank you for all the joy he brings to our lives every day! Rich is retired so Oreo is fortunate to have someone with him most of the time. He is the love of our lives! Cheryl Cook from Pittsburgh, PA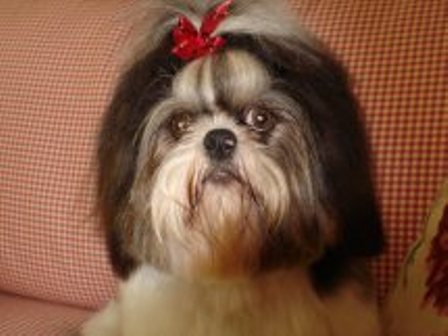 Hi Brandon and Ting, Lana is still getting up and she seems to be very punctual at that.....she likes to play, jump around and run all around the house exactly at 5:00 am every morning....we're starting to get bags under our eyes but we cant help waking up and playing with her (although we know we need to stop doing it so she learns to sleep). Anyways, everything is excellent and we're really enjoying her. We will be sending photos soon, right after her first grooming. Bye
Hi Brandon and Ting: The appearance of a cold, snow covered world was a surprise for the little dog! She seems to be adjusting fine. I\'m taking her to the groomer, vet, dogpark and dog fitting room which is the place that she will get boots and a snowsuit. Thank you for everything, I love her already. Shar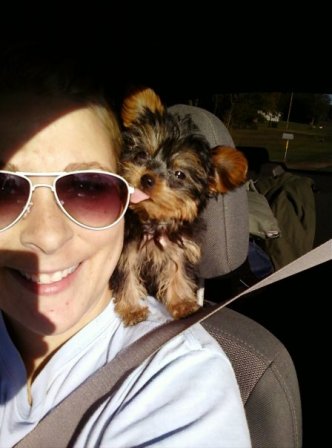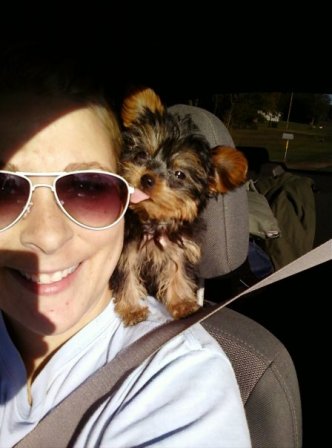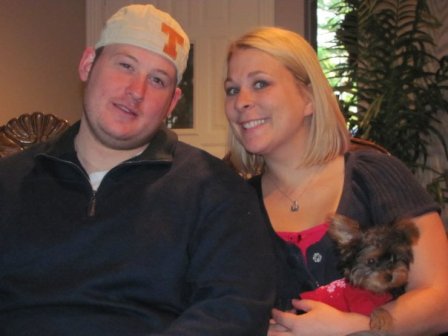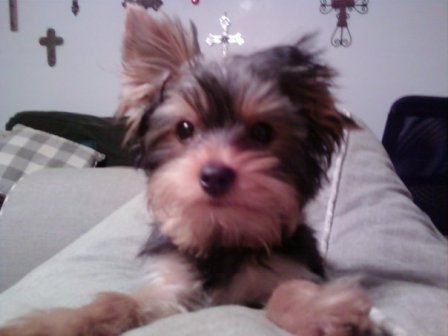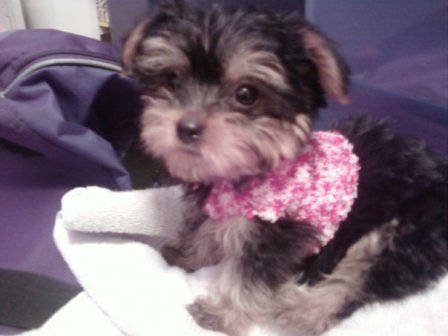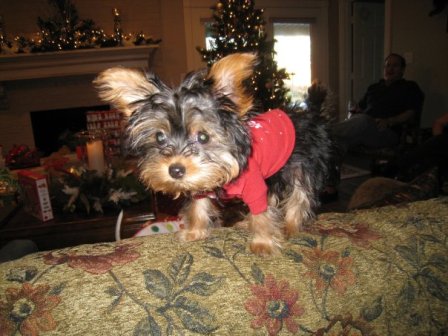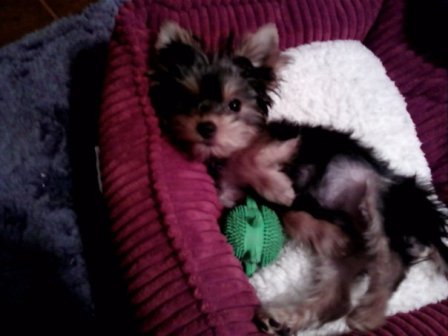 Hello Anita, We simply adore our new puppy whom we have renamed, \"Zuri\". The kids could not stop looking at her and kissing her when they first saw her. She is doing very well, and is getting used to us and her new home. We have \"baby proofed\" the house, and got her a pink cozy bed, super soft baby blankets, and baby toys. I think she has everything she needs. She comes up to us when she wants to be snuggled or held and loved. We couldn\'t be happier with her. She is such a good and sweet little puppy. You would not even know she is in the house. Also,I bought this great 20\"X20\" canvas bin as a car basket for her to ride in. She loves riding in the car with me when I take the kids to school and pick them up.I put the car seat belt around it to secure it on the sear next to me. I put one of her cozy blankets and stuffed animals in it. She snuggles up in it and usually falls asleep while riding as I keep my hand on her, and petting her . Are you missing her? I can imagine you would be. Just know she is fine, and being loved and adored more than I can express to you. My mom and aunt drove in today from New Orleans to see her and brought her three precious little cable knit sweaters. They said she was the cutest, tiniest thing they had ever seen.I have been keeping a sweater on her all day and night since I brought her home to keep her warm and secure. It\'s like wearing a little blanket during the winter. I will continue to keep you updated. -Giovanna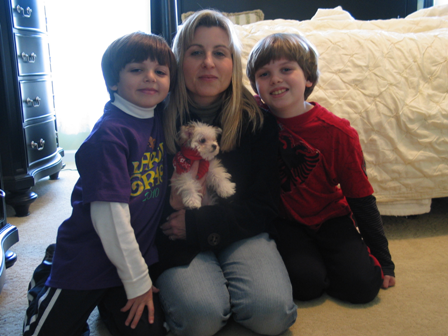 Hi Anita...We adopted "Christopher" who is now "Neiman" a little over a month ago from you..He is such a wonderful little guy. He's getting acclimated well. He's already housebroken and spoiled rotten! I wanted to tell you that we'd like another blenheim from you whenever you have a new litter! Please keep us in mind and thanks for our awesome puppy! Dee and AJ
Anita/Brandon, Thank you so much for Myrrh, he is a little love bug. My grandmother was very excited and cried! She is already bonding with him. Here is the first pic. More later, I promise. We are going to keep his name, but it will be Murphy and we will call him Myrrh. Thanks again, Melody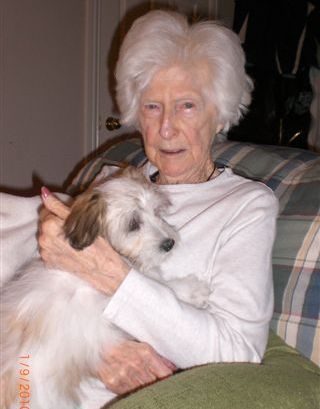 Anita: I wanted to send you a pic of Katy. She is such a joy and gets along beautifully with my other chi's! I was worried she would not eat well because of the transition but she hasn't missed a meal! She went to work with me today and played with my co-workers and then napped in my lap until it was time to go home. As i write this, she has had her dinner and is running and playing with the rest if the chi pack! I will keep in touch! Kay Newyear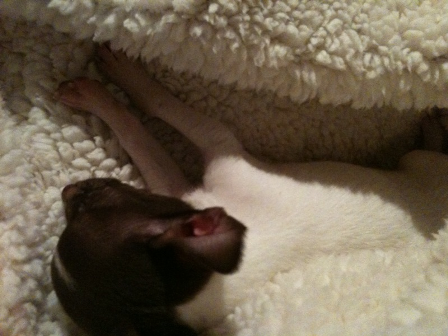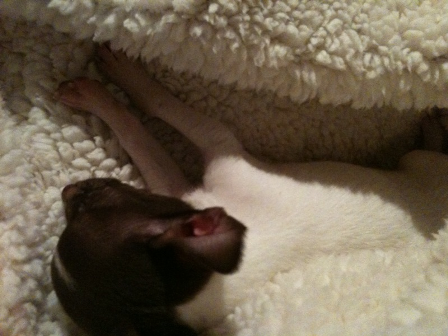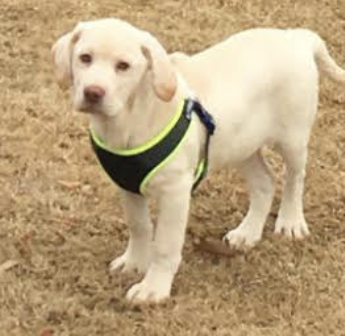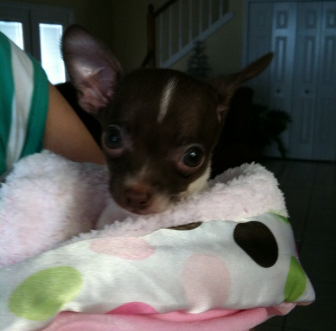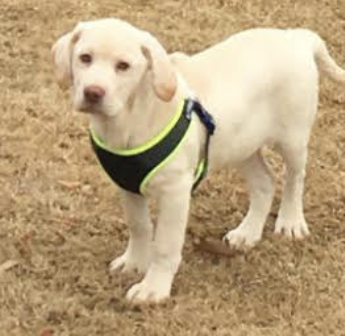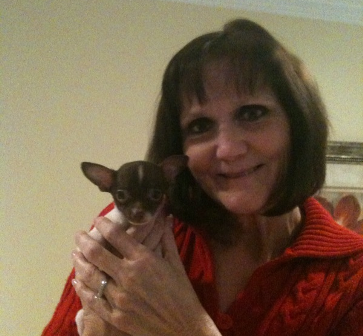 Hi Anita, I just wanted to send you some pictures of my little girl. She is such a sweethart and is very spoiled, but I'd have her no other way! The pics range from shortly after we brought her home in July, through Christmas of this year. I hope you breed some miniature Boston's soon, my Mom would love one! Take care and Thank you so much for your services, Nikki Mead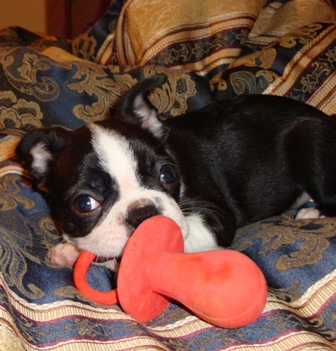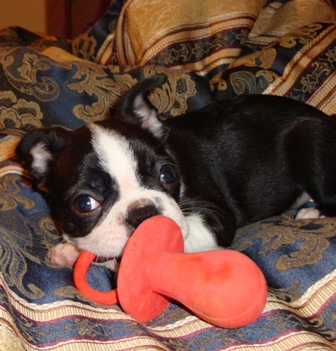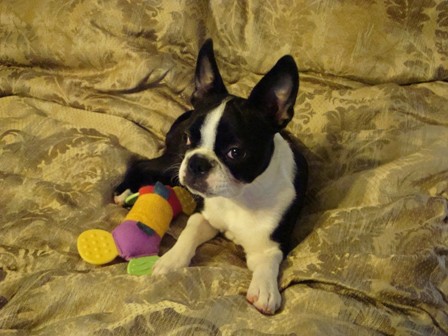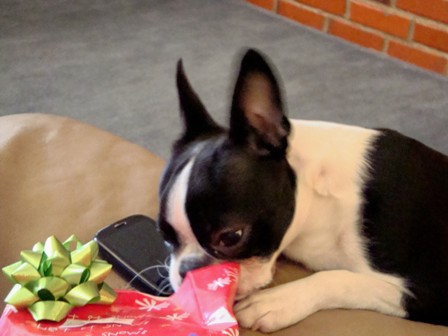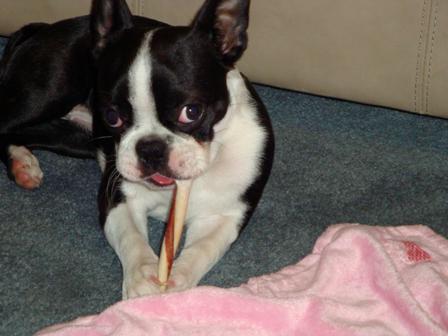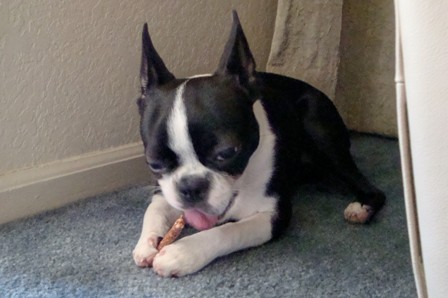 Hi Anita. Just wanted to let you know Molli "Marcie", (we named her Molli) is doing wonderful. She is the most lovable and adorable dog ever.. We really do love her. She is sleeping all night in her crate and goes in it herself as soon as we say Night night.. She is a true joy. Here is a picture of her with Santa.. Thanks so much.. Jim and Anita Dalton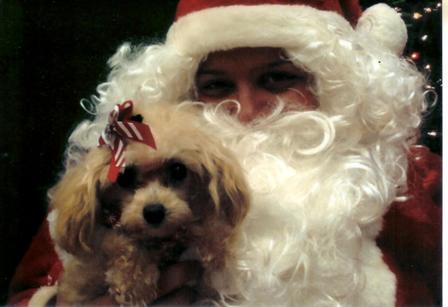 Hi Anita, How are you? Just wanted to let you know Ariel is doing well and getting bigger as we speak.lol Thanks again for delivering her to me. She is such a sweety pie and very smart to be so young. Ariel is doing great. Everyone loves her and she is very smart. She sings a tune when we bark with her and she is very obedient. We are so in love with her. She\'s my little daughter. I\'ve attached a pictures of her. Enjoy! -- Dominique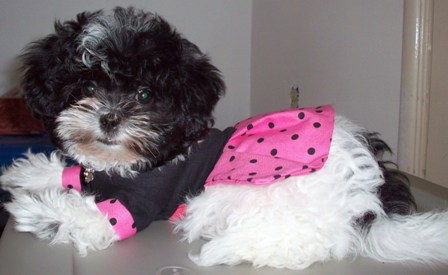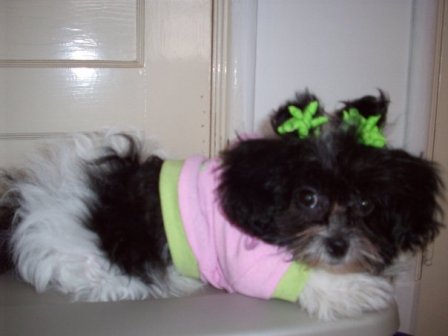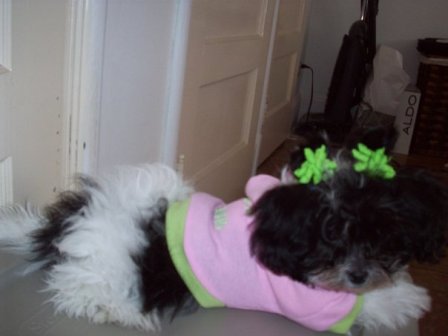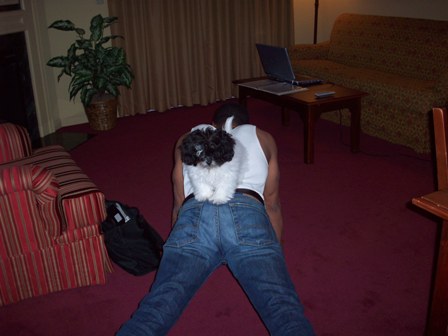 Here is a picture of "the boys". They are such a mess and so spoiled. Cookie is crazy and Jaxs is sweet and shy. Cookie is getting better. He just turned two so he's calming down a lot and Jaxs will allow everyone in the house (including the kids) to pet him. The other night my brother was over watching football and the kids were outside playing. Jaxs actually jumped up onto the couch wanting my brother to pet him. That was a "wow" moment. They are both just doing great and complimenting one another quite well. Thank you, Teresa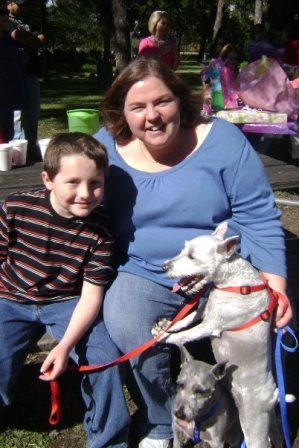 Hi Anita, Tobbie (Mikey) is awesome! He is doing great at our home.I LOVE him very much.He is the perfect puppy! Well he's not a puppy any more! He is now 8 months old :) and soon he will be 1 year old!!! Thank you soooo much for this gift that you gave me! He doesn't like taking pictures Even though I have over 100 of them! Here's some to show how he's doing Thanks, Diana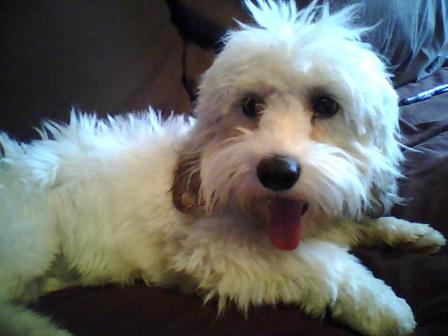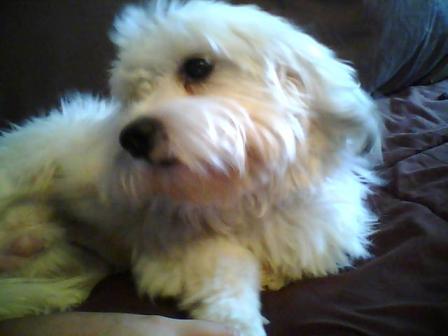 Hi Anita, Just had to give you an update! Tucker (aka: Jetta) and Jasper are doing great in their new environment! Our entire family of five loves them both so very much. They are precious... Tucker is (just as you described) very curious and active, and Jasper is just as sweet as he can be....the epitome of a perfect puppy! They both bring alot of joy to our family, and for this we are thankful! It is obvious you created a loving, trainable environment for them. Feel free to use us as a positive reference for any future / prospective buyers. I will send a photo soon! Kind Regards, Gail Huber
Maltipoo.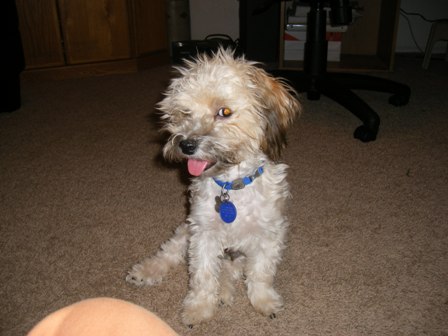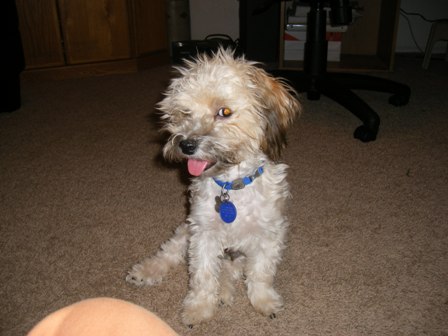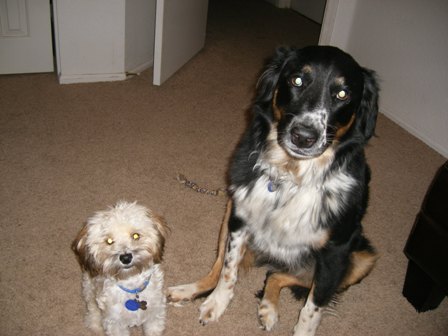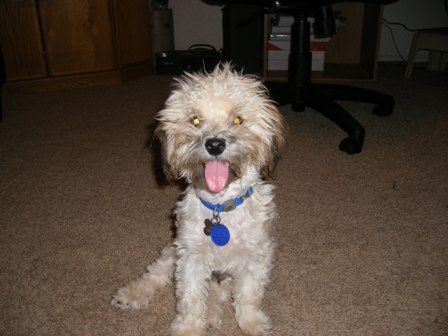 Hi Anita- I wanted to share some photos of Sadie the Bichon Frise I got from you on July 1. She's now 5 months old and a wonderful puppy- so loving and playful- She loves our Keeshond too. Laura Nettleship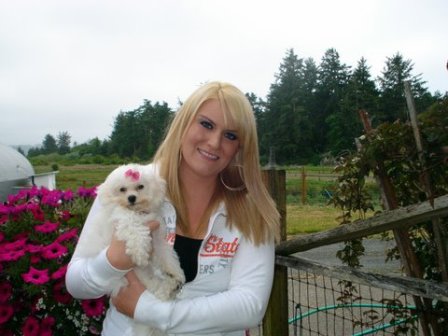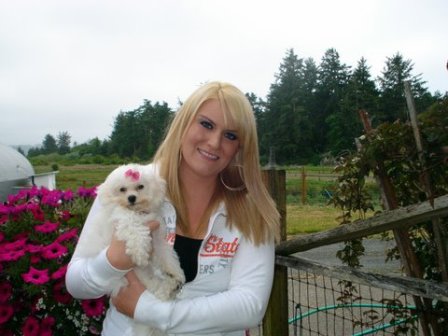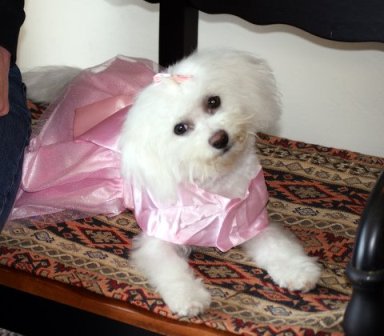 Maltipoo.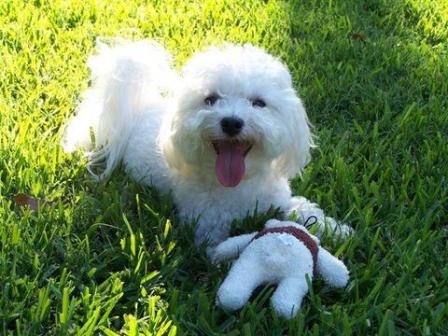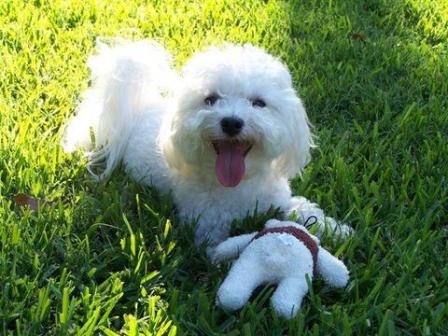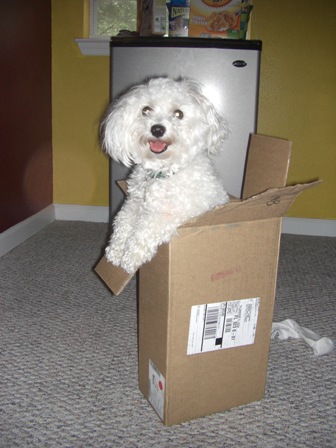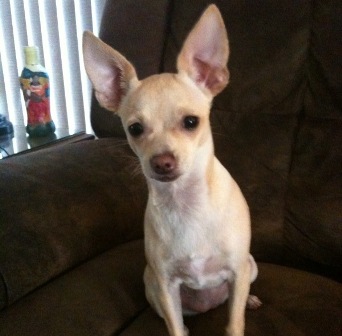 anita the baby(tiny) is doing great@ the vets twice now and I have two more appointments set for the 3 weeks each. He is so careful with her shots, says she is doing great and what a personality, she loves the other dogs and cats, but I let her play at times with the chihuahua Bellla that I have. I received the papers and I'll send more later. Love that puppy , Julie Sertl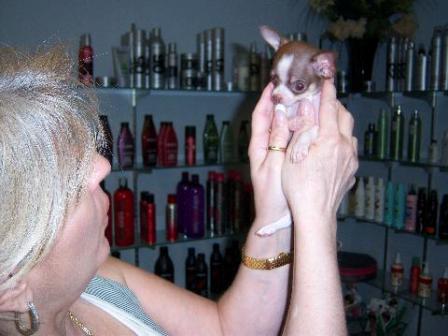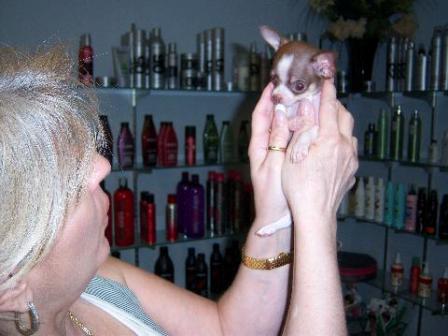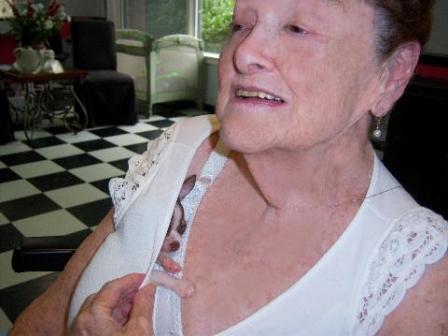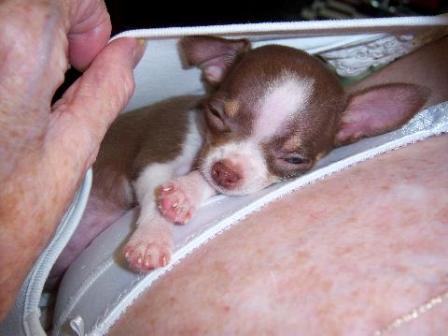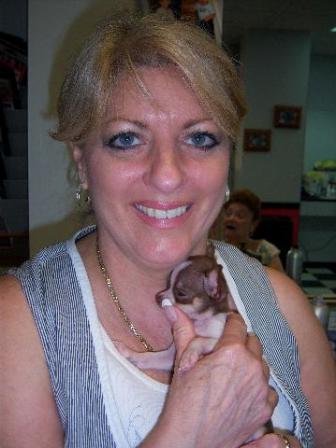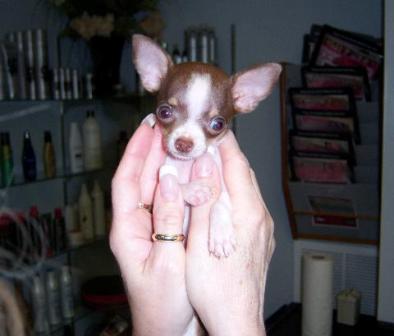 Hi Anita, I thought you'd like an updated picture of my lil baby Neiko. He is the most precious thing on the earth. He's learning how to go potty where I want him and smart enough to remember when I even forget. He gets in and sleeps in his crate with no problems. He's eating. He even got his first groom job and did wonderfully. I sent you a picture to see how much fun the groomers had playing with him and his ball of fur. I told them I wanted him to remain fluffy!! He went to the vet and she said that he is in excellent shape. I hated to hear him yelp when he got his microchip put in, but he bounced back when she brought out a wet food treat. He is a snuggle bunny and I just loooove it. You did a great job raising him and giving me a wonderful first experience with my first pet as an adult. I was a little nervous at first, but lil Neiko is a joy to have in my life. I'll keep in touch for sure. Cheryl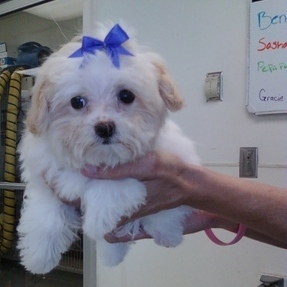 I was having so much fun with her yesterday. I love her!! she is soo cute and smart! thank you again : ) Sami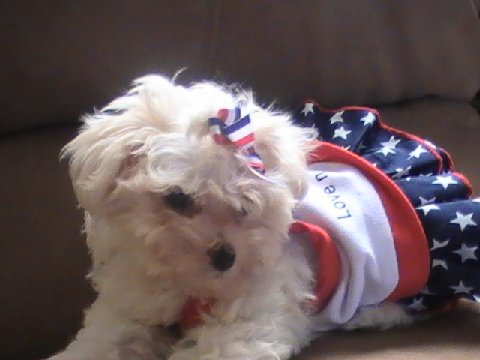 Hello! I wanted to check-in and email you some pictures of Walter (formerly known as Nemo the poochi)! It's been almost a year since I've picked up the little guy, and he's brought so much happiness and joy to my entire family. My two sisters and I are all single, and we now each have a dog to suffice my mother with "grandpuppies". Wally has been a wonderful companion, with a charming personality making friends wherever he goes. At his one year check-up, he weighed just over four pounds, as you had estimated. I travel for work quite often, and sometimes Walter joins me and is well behaved on planes and in hotels! Thank you again for your help in my puppy decision - I am beyond certain that I made the right one and this little guy is definitely loved! Thanks again - Suzy Suzy Bass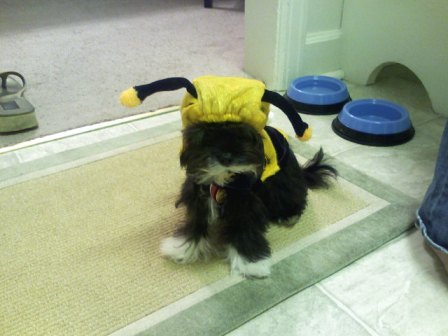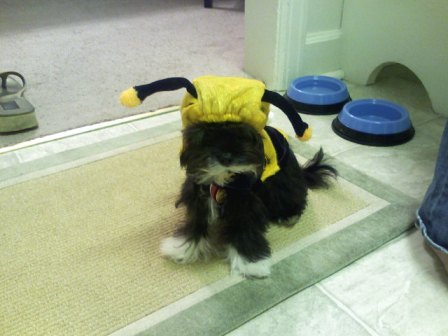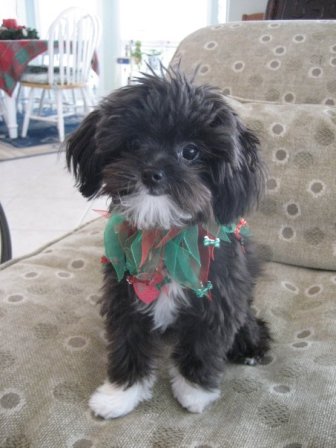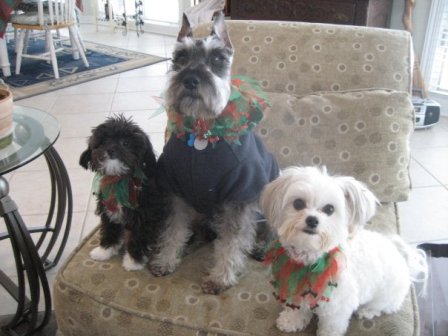 Good Morning Anita, Jutta is absolutely nuts about the new puppy. We took him to Philadelphia yesterday afternoon so our granddaughters could see him. They live in Los Alamos NM but were in Philly for an Irish Dance competition. Everyone just thinks he is the cutest dog they have ever seen. Our younger granddaughter Lizzy wanted to take him home with her. Hi Anita! I never wrote you since I got Ricky for my birthday. There are no words to tell you how PERFECT he is!!! Pure joy with fur on! HaHa! With the other Havanese (Luci, also from you) they are like twins and they just play all day & romp and then "poop out" together. One was great but two is just awesome! If possible everyone SHOULD have two because it's twice the joy. We never thought it could be SO WONDERFUL! Getting another one was the frosting on the cake. THANK YOU EVER SO MUCH! Jutta Hypes
Hi Anita! The puppy is so beautiful and lovely!!! Today in the morning she arrived home. She will be the queen of the house. Thanks for all your services!!! Regards. Jaime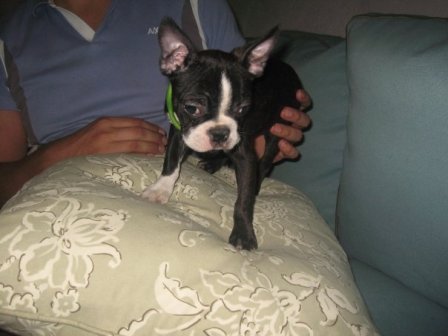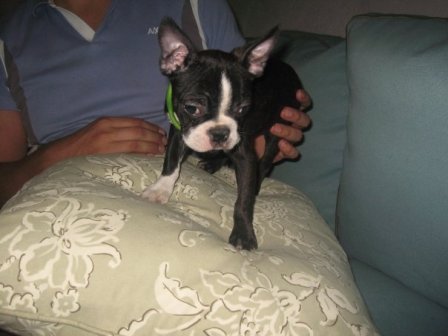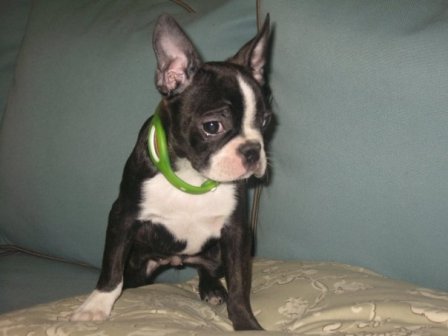 Anita - just wanted to let you know the girls are doing great (Teena and Tasha). We named them Darcy(black/white one) and Dolly, hope you don't mind. They are a lot of fun and were a great hit at the Vet's and all our friends. We are enjoying them very much. The Vet said they are fine and that your records and apparent care were great. They had their first "puppy cut" yesterday and look really cute. Latest pictures attached (taken 5/17). Thank you Gary and Linda Cantrell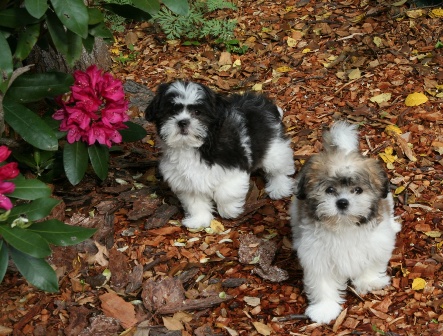 Another photo of Mae! Doing great.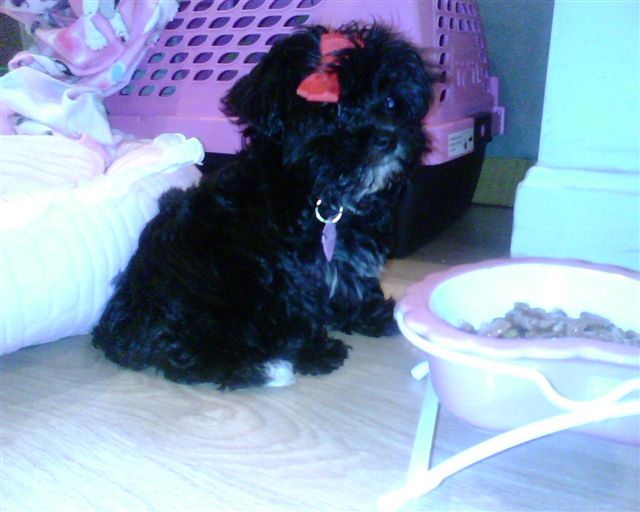 Hi Anita, Here are some PICs of Rosie ... she's quite pretty everyone in Sea Cliff says "Wow she's beautiful!" ... her coat is like black velvet. She also has a great personality and has become very friendly with all the neighboring dogs. She hides her toys among my shoes, sleeps on her back between Lenore and I ... and sits in picture window virtually all day. She's a JOY!! Thanks ... if you need a reco count on us! Noel Ilberg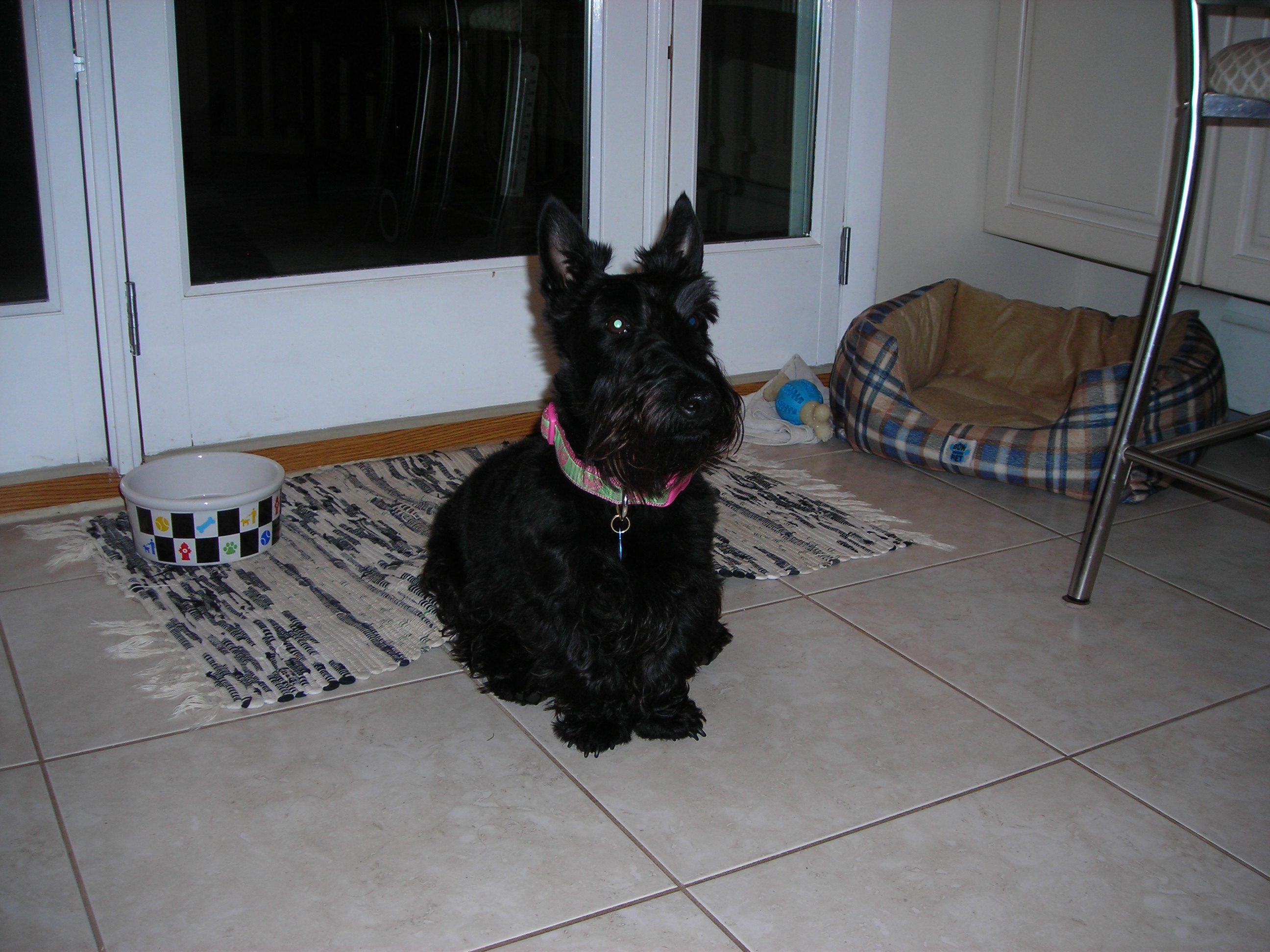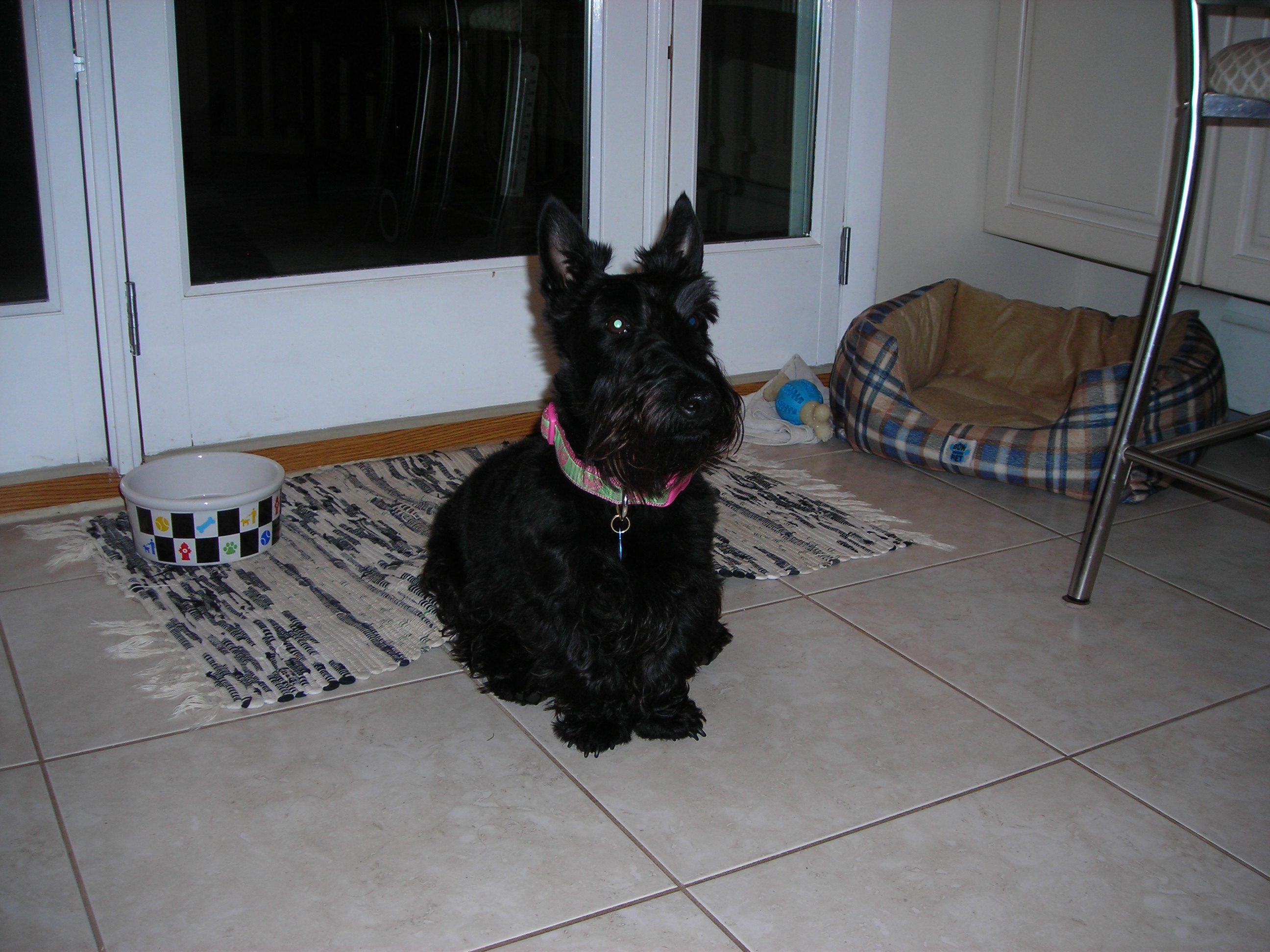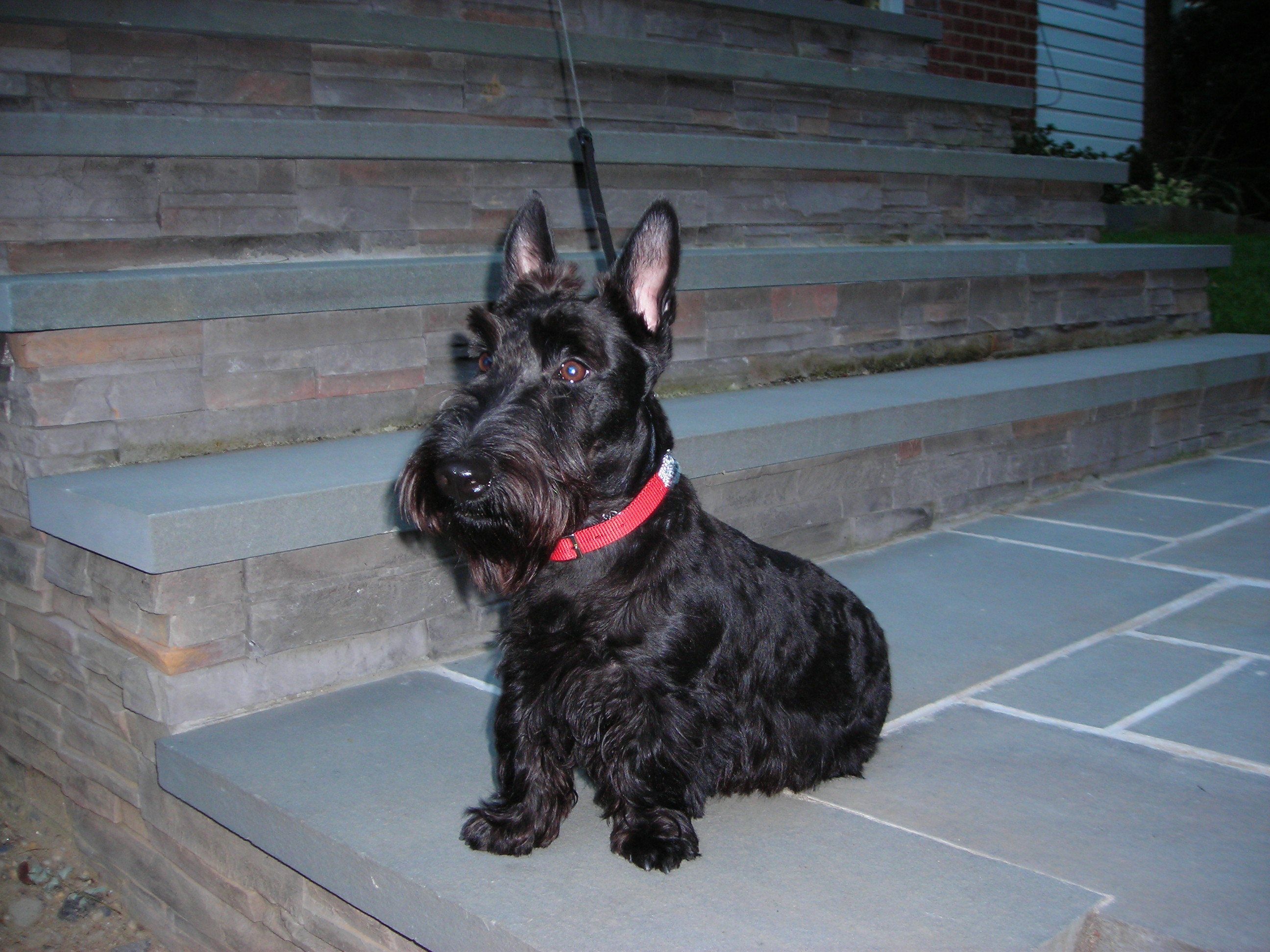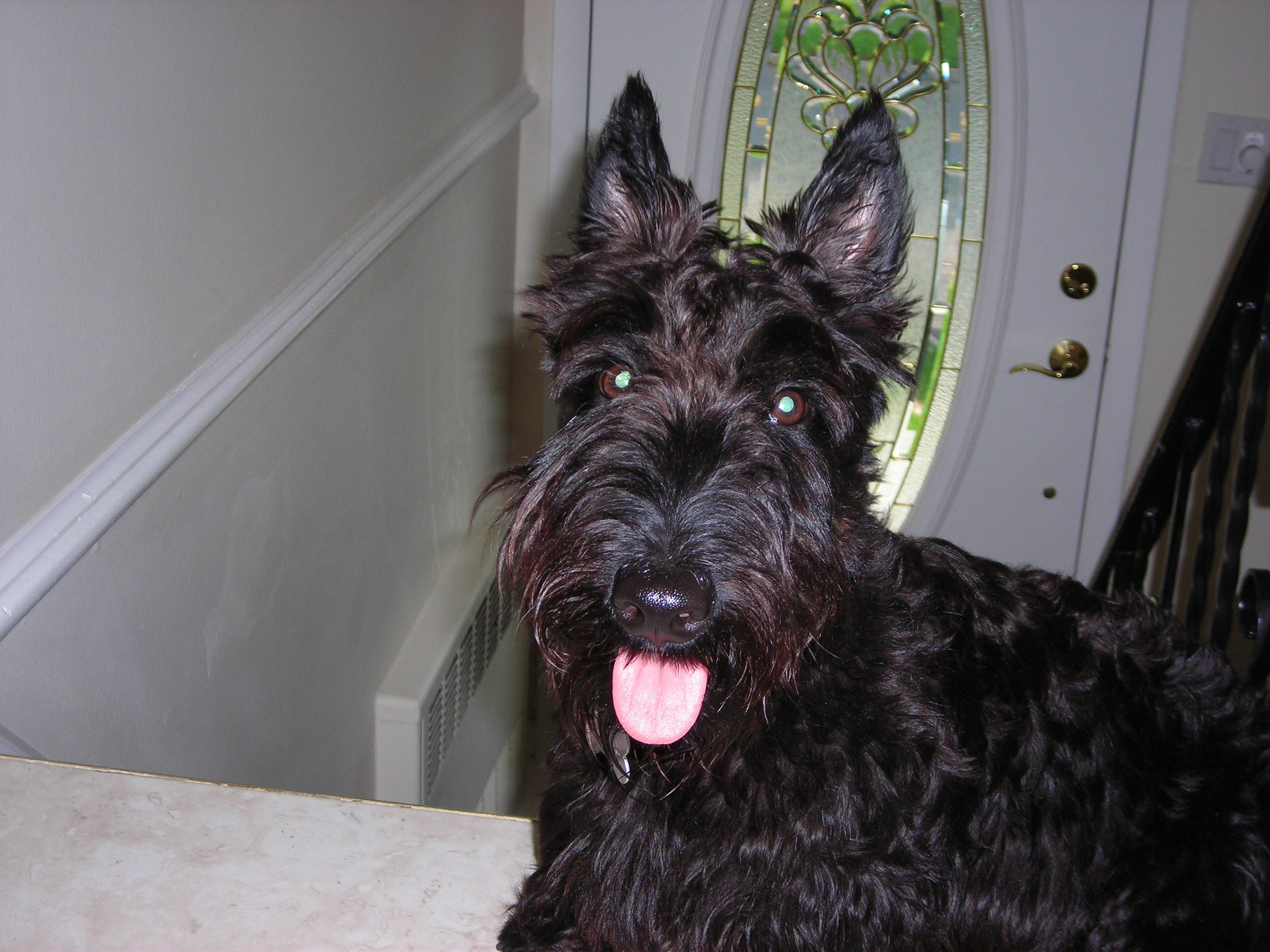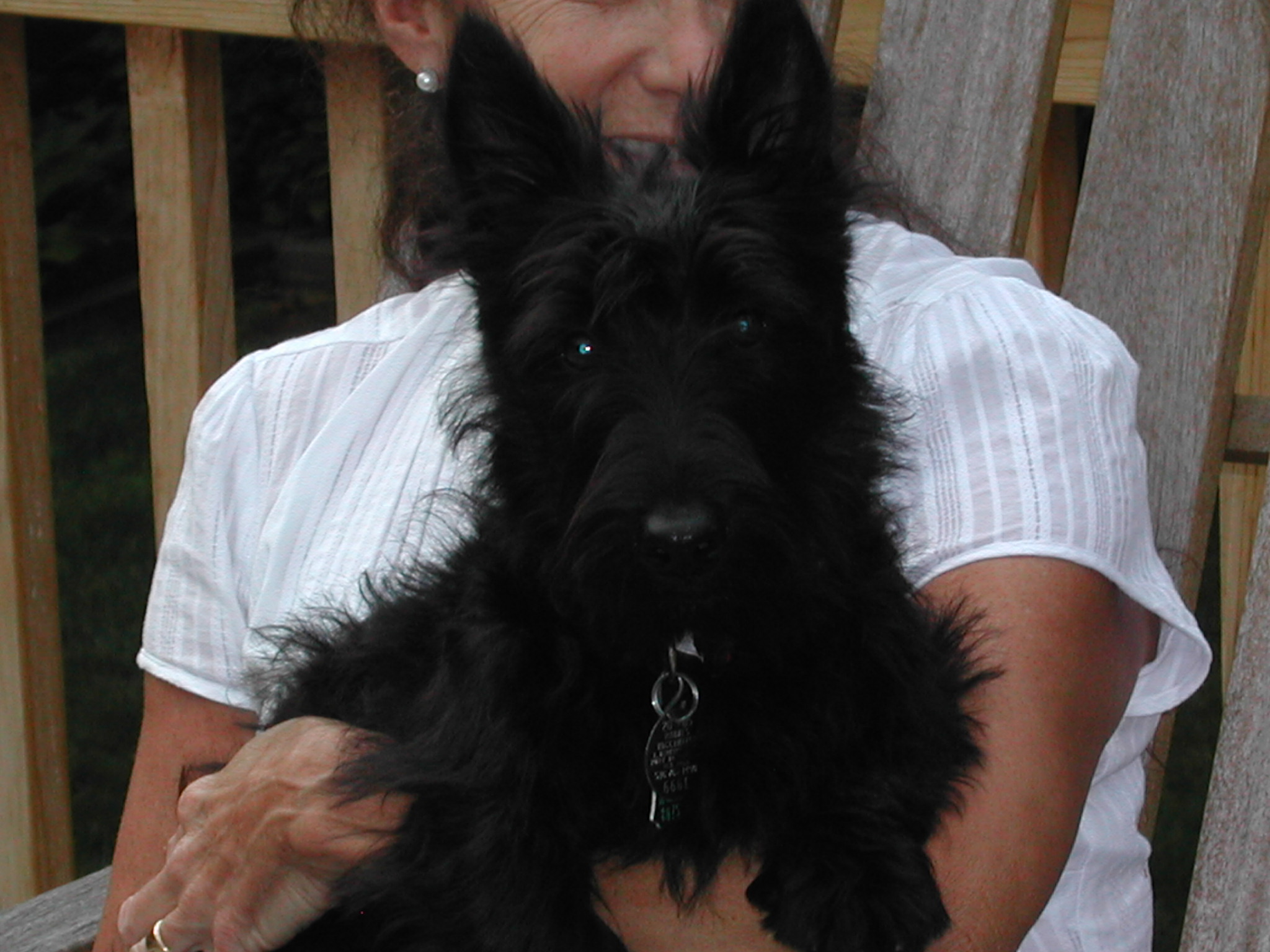 Rich and I wanted send you pictures of Harley a year later. He has been such a wonderful blessing (and I rarely use that word) in our lives. Rich has been working in Iraq for the past two years and I don't know how I would have gotten through all the lonely times without our boy. He is truly the most wonderful dog either of us has ever had. He is a "Rock Star" around the neighborhood and at his day care. ALL the dogs want to play with him. He goes a couple of times a week to doggie day camp to socialize with all of his friends and the girls there cannot believe how popular he is, they have never seen anything like it. He is the sweetest personality and loves everyone. We make a trip once a week or so to Lowes to shop and he sits in the cart with his tail wagging just waiting for someone to talk with him. He is always the hit of the store. Everywhere I go with him someone wants to know what kind of dog he is and where I found him and I always recommend your site because I know that the reason he is so good is because you gave him such a good start. We wish you a very happy holiday season! Maureen, Rich & Harley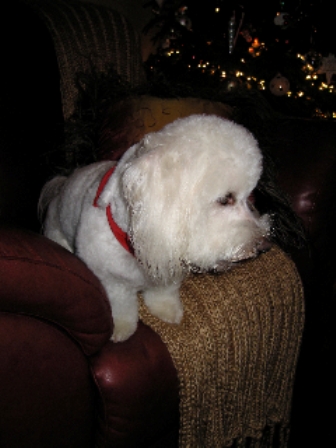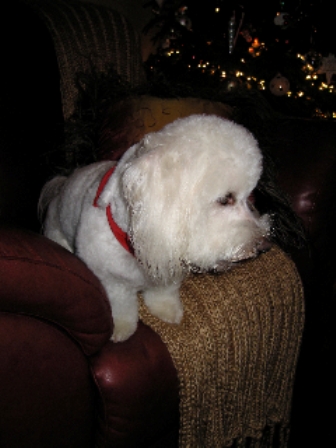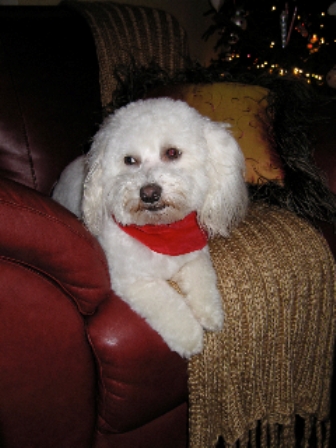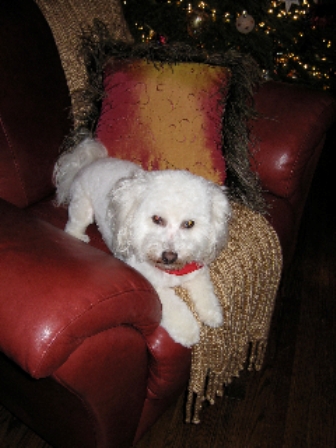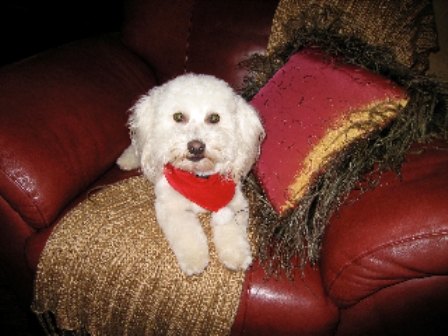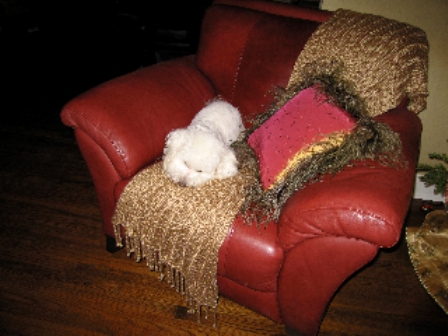 Anita, Beau (now known as Mr. "Beau" Jangles), our Shihton, is such a wonderful puppy. He is so very social and gets along great with our Shih Tzu and our 4 children. He is working hard on house training and is getting used to our routine. I can't say enough for how loving he is. When he relaxes and falls asleep in our arms, he's light as a feather and like a fuzzy little angel. He constantly gives thousands of kisses and is always so happy to see us. He 'dances' in excitement, twirling about on his hind legs (a very cute Coton trait). Thank you a million times and best wishes to you and your family. I saw that Petey is still available. What a great addition to the home he would make ; ) (But alas, our home is pleasantly full). Lots of Love, Kim, Eddie, Evan, Julie, Evan, Claire and Regan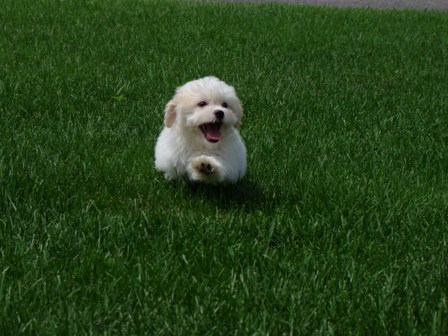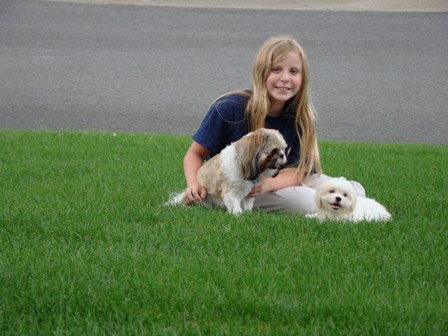 I wish I could take another little man into my life but Bailey has a healthy older brother and sister right now, I think my sister Joyce, that I live with and I would go nuts with 2 babies right now, but when the time comes I will keep you in mind and have been spreading the word about how great you have been as a breeder and an animal lover! Each day, I fall more in love with Bailey, he is such a gentle soul, he is probably other than my Maltese Chelsea(who also left us in October), the sweetest dog I have ever met! You did a really great job with this little guy, you should be very proud of what an adorable animal he is! I wish I could bring another baby into the house for him but then the flip side is, I want him to focus on us, his people! Thank you for a truly wonderful experience, I have to keep checking your site, to see what new goodies are being brought into the world! ((hugs)) Nancy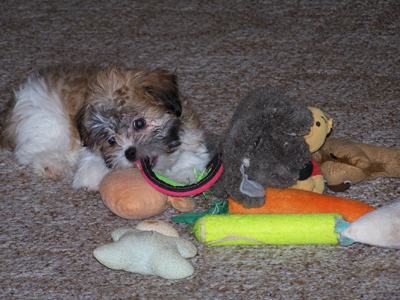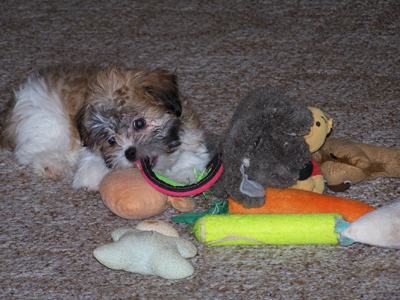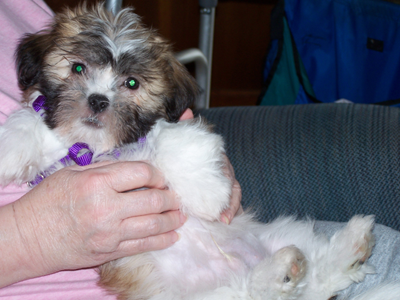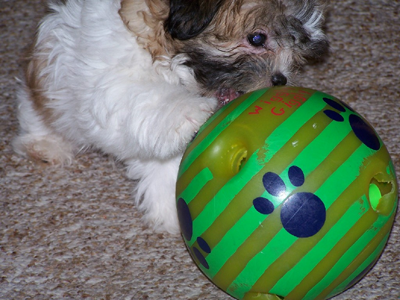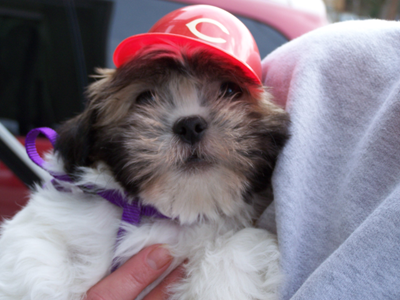 As for me I'm GREAT!!! Couldn't be HAPPIER!!!! I just wanted to tell you that I took Joey (aka Tinyman) to the Animal Doctor today and he's in EXCELLENT health. He weighs 3lbs 2 ounces. I showed him to my friends at work and they all fell in love with him. I also showed him to my landlords and they also loved him. I have him in the kitchen and I bought this open gate that I shaped into a big gigantic square. Inside I have his bowl of food and water on one corner on the other corner I have a teeny tiny sofa for him to sleep on and underneath that I have a nice fleece pad (looks like a soft sheepskin rug). On the other side I put a pee pad and on the opposite side I have a lot of chew toys for him to chew on ( cause I know he's teething ) as well as a few stuffed animals for him to play with. I have some nice soft music playing and a soft light as well as a few night lights on for him. I thought I was going to have a tough time training him to go on the pee pad but he went on it right away. Did you train him to go on there??? If you did THANK YOU :):):):) Anyhoo, I just wanted to let you know that he likes his little apartment very much. He seems very happy and hasn't cried at all so I guess that's a good sign. He's sleeping on his sofa as I'm writing you this letter. Can't wait for tomorrow so I can play with him :) Thank you again for selling him to me. He'll get LOTS OF LOVE along with PLENTY OF HUGS AND KISSES!! Take care Debbie
Good afternoon Anita, The two girls seem to be doing just fine. The bigger girl (I think we've decided on Belle for her) just loves my daughter. When we're outside Belle just runs after her. The smaller girl (Strawberry Shortcake, boy we've got to come up with a nickname) is still pretty shy, but once she sees Belle playing, she gets right in there. Sunday, they really just kind of slept and watched us all day, but by that night they were play fighting with each other. I think they are going to do just fine at our house. We're having some problems with housetraining, but we are going to stay consistent and work with them. They have an appt tomorrow morning for their next set of shots with the vet. They have some names of people they recommend to help with the housetraining. I think we will probably use one of them. We want to get them comfortable right away. And Morgan is eager to have 'sleep overs' with the puppies which has to wait until they're ready. Thank you again for helping us get the two darling little girls. Terri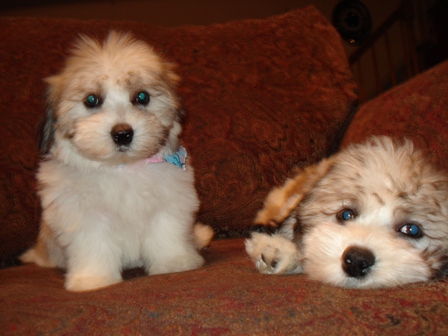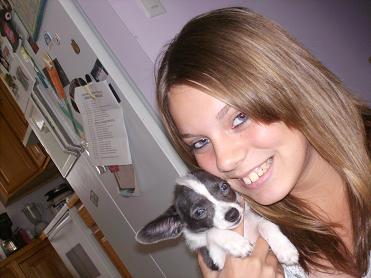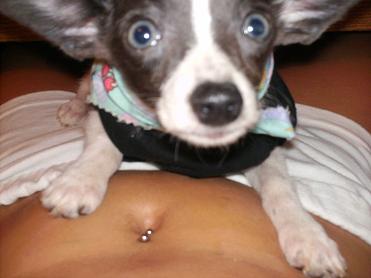 Dear Anita, these are the pictures of Cody from right now! I hope you enjoy them! Sincerely, Gabriela and Cody! =]
Btw Gidget LOVES to go in the pool, some pics attached…and she also has been going for rides in my daughters toy jeep…I think she thinks its a real car…so cute….she never ceases to amaze me..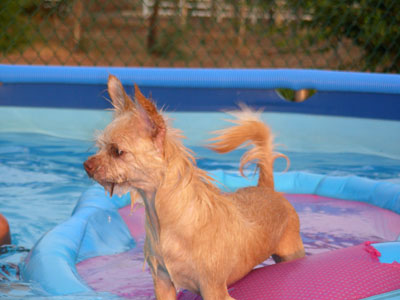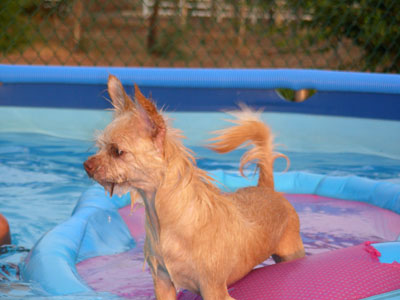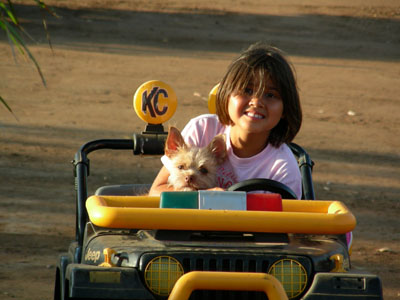 Hi Anita,
One year old. I thought you might like to see him plus his re-enactment of Washington crossing the Delaware! We love him and people stop me on the street to comment on him.
Thanks again, Priscilla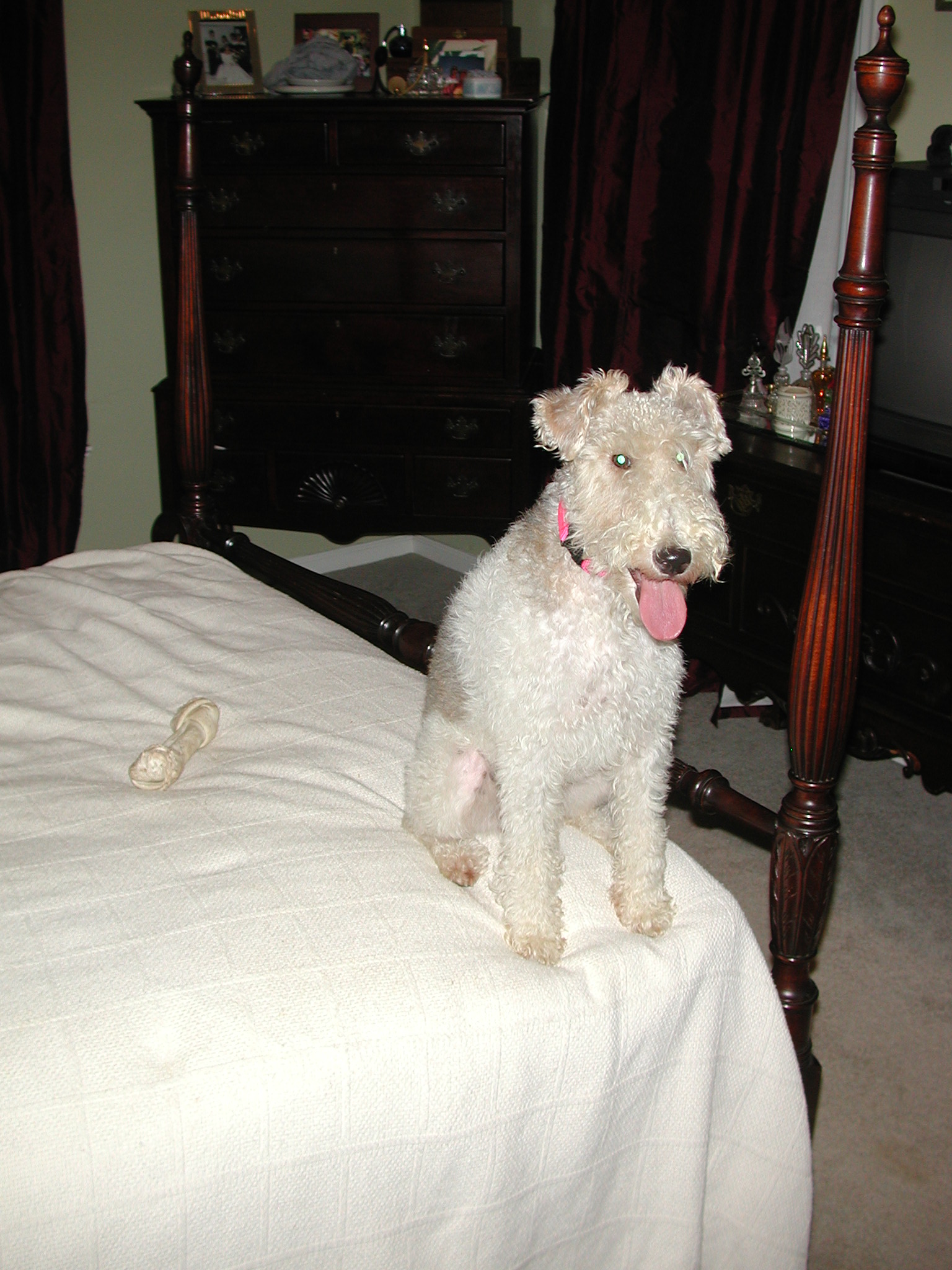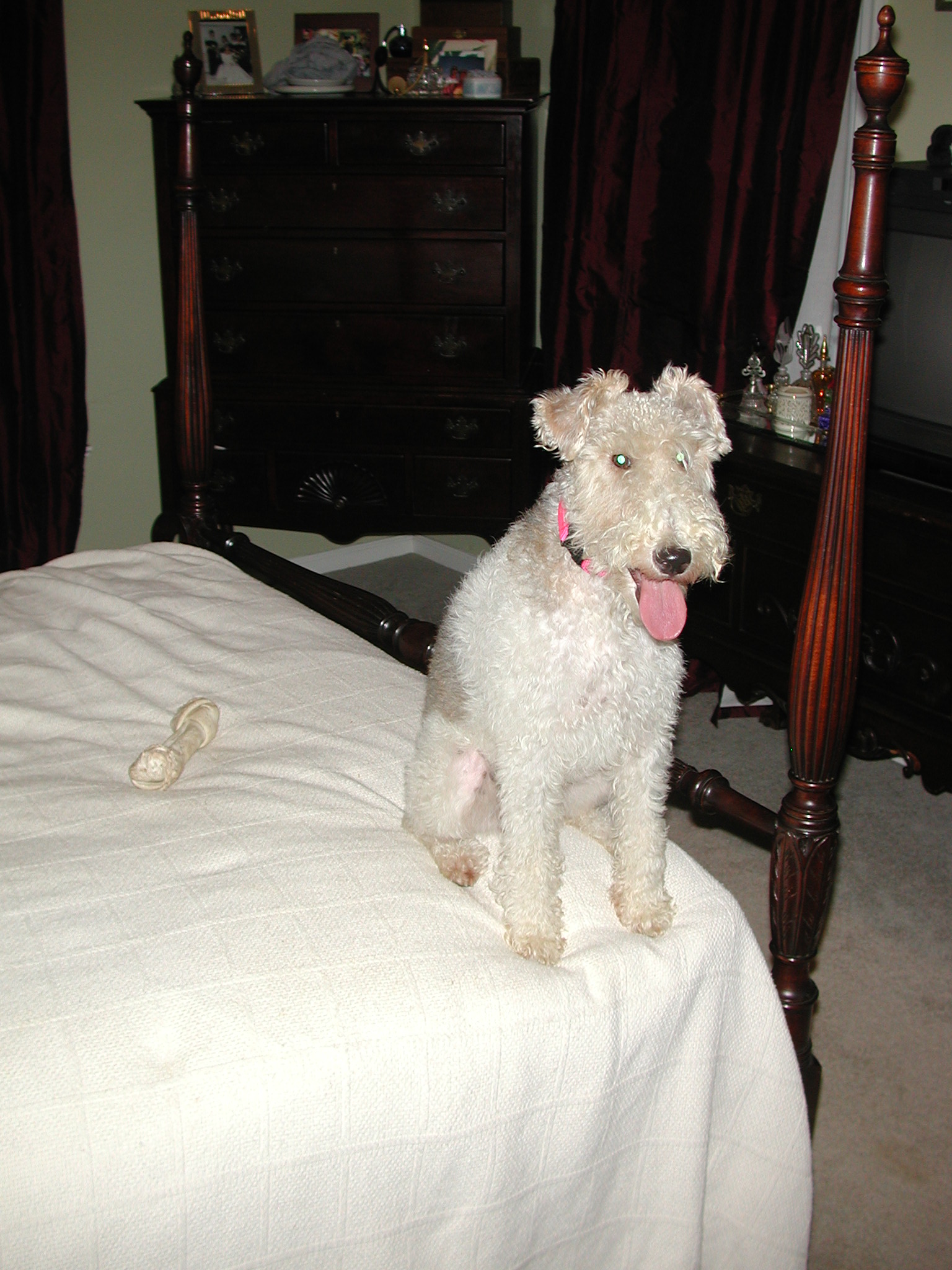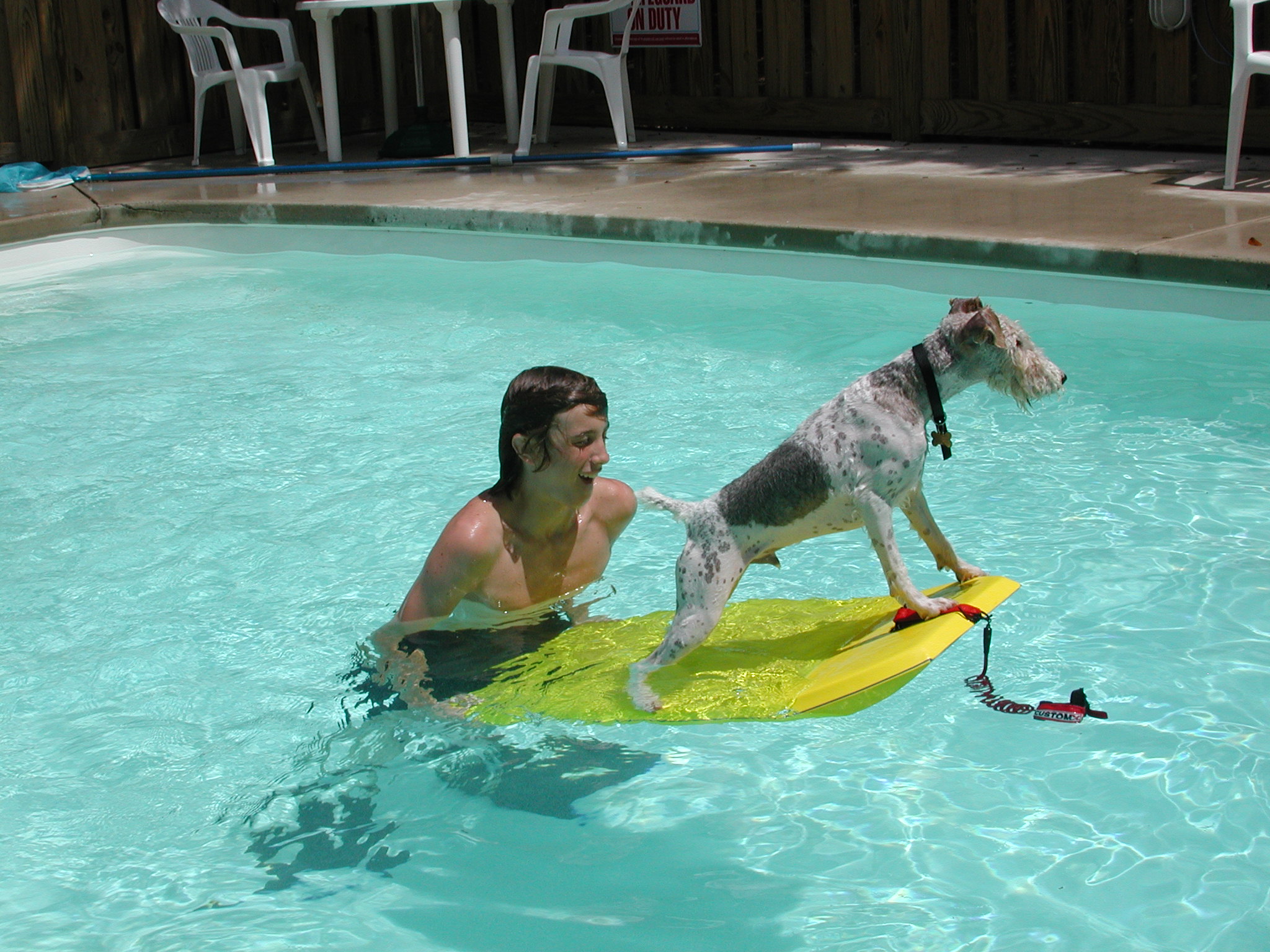 Hi Anita,
I can't stop hugging her. My 1st daughter and my husband just adore her so much, She is just too cute. I can't thank you enough for sending us such a great puppy. She loves to eat and sleep on a pillow/ towel. We gave her 4 choices of blankets to choose from. She is right away potty on the right spot. Just amazing ..... you did a great job raising her.
Here is her sleeping with our yorkie. Thank you again. I'll write you later.
Lani
Update
I just want to let you know that Basil is doing great here. So beautiful and sweet. very healthy and never make any problem. She is the best puppy I've ever got. I really would like to thank you. If I ever need another pup, I will always look for you.
PS: My sister in law also bought a new pup, and she drop her off to play with Basil twice a week. Here is their pic. The other pic. is where Basil like to play hide and seek.
I am forever grateful,
Lani and family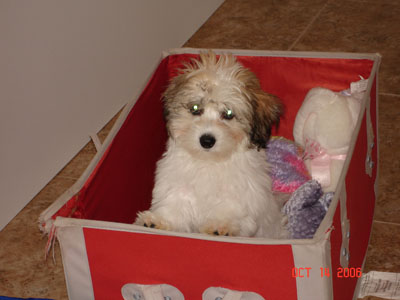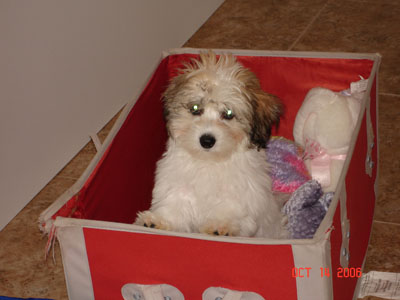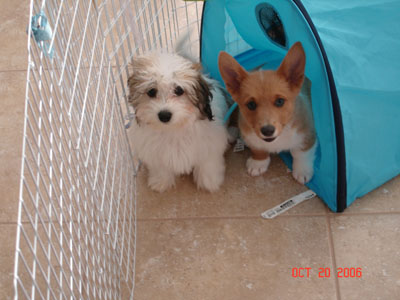 HI,
just an update, she is doing perfect. She eats lots of food everyday, plays, and poops and pees on the pee pee pad. Her and our other dog are getting along great, they play all the time. Her potty pad training is almost 100%, if she's in the other room she will run into the room with the pad and go. I take her in the car and at first she was terrified but now she loves it and has calmed down a lot. I can't take her anywhere or i get mobbed by people. If you plan on selling anymore of these breeds let me know because everyone asks to see your card and if your breeding anymore of this mix. I also tell them all how helpful and great you were to work with. If you wanted you could mail me some more of your cards and ill keep them in my wallet. thanks so much
-sarah-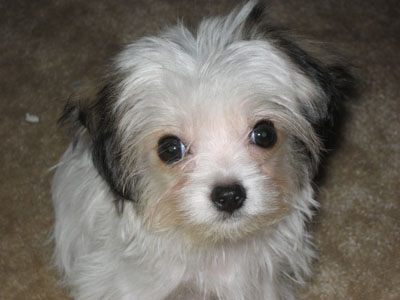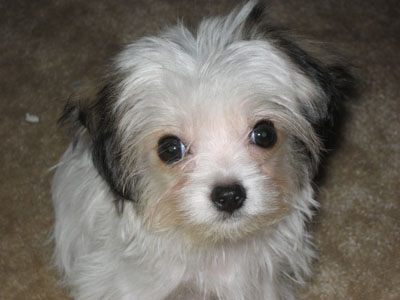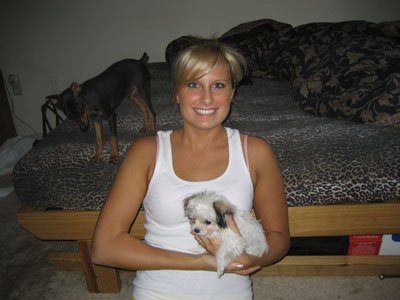 Here's some pictures of Dyce. He is such a good puppy...even potty training is going well. He has a spunky personality and makes a laugh all the time!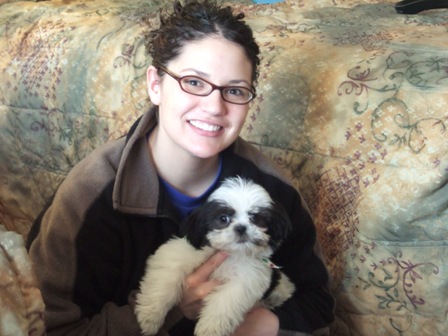 Hi Anita,
I just wanted to write and let you know that I LOVE this puppy!!! He talks to you with his eyes. Everyone who meets him just falls in love with him, including everyone at the vets! He is a true companion, even in this short time I don't know what I would do without him.
Glenna
Hi Anita
I just wanted to update you on Nicky.....He is the most adorable puppy we have ever seen. He has won the hearts of every single person that meets him. I wanted to send you a pic of him. Thank You so much for Nicky.
Mary
Update
Hi Anita,
Today is Nicky's 1st Birthday. I just wanted to update you. He is wonderful. whenever were out we get stopped because people can get over his mix. He is so laid back and fun loving. I sent some PICS so you can see how beautiful he is..I have told many people about you and given them your web site to visit. I was looking at Adriana and so is a real cutie..Thank you again for my Nicky.....He said to tell his parents he sends his love.
Mary and Nicky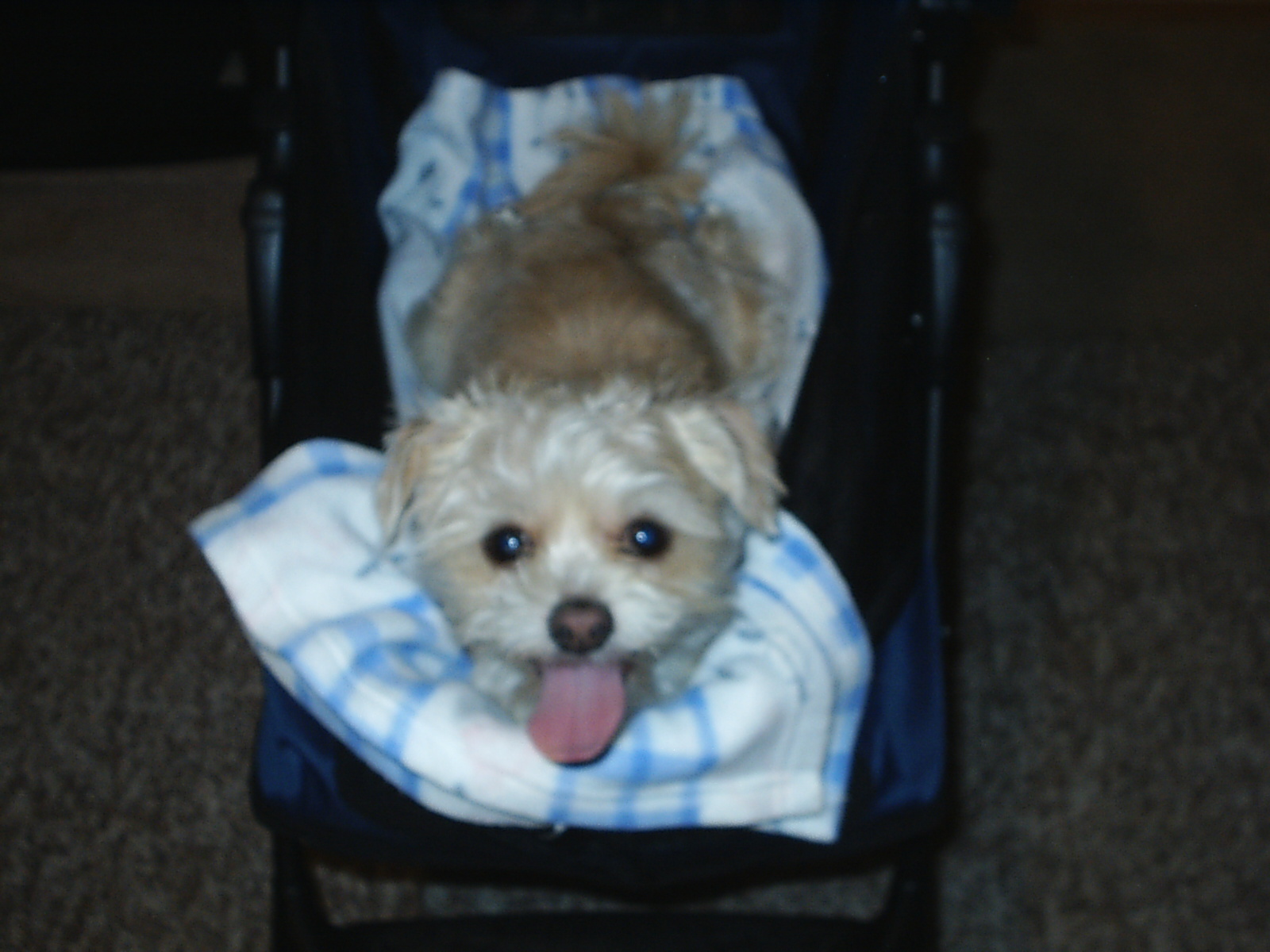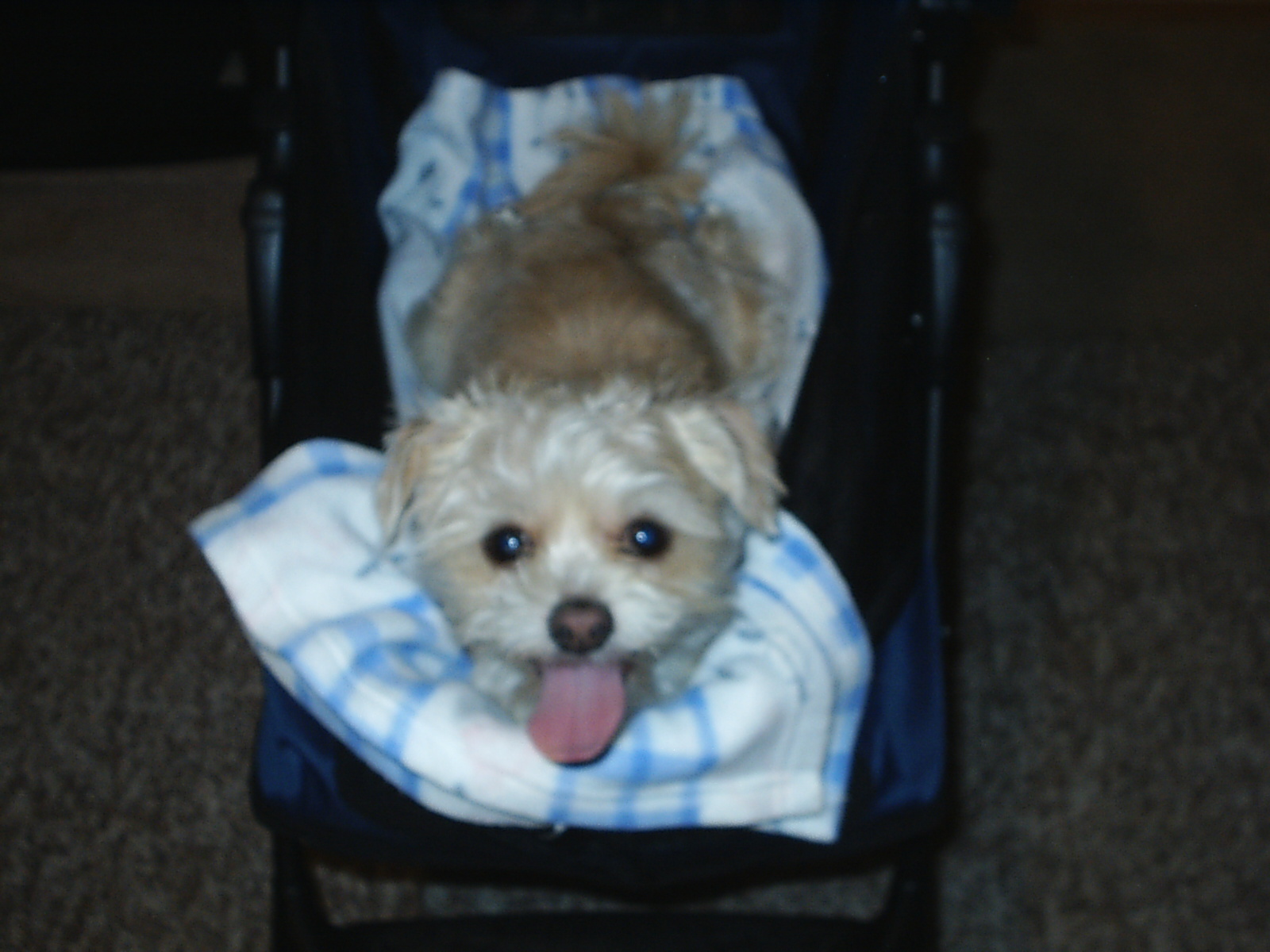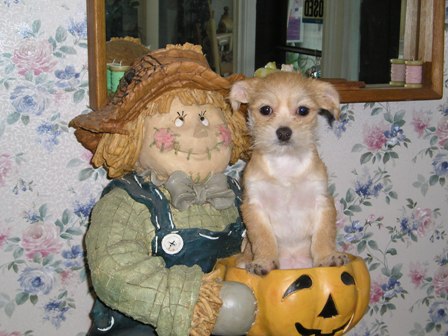 Here is my Jaxon baby at our Halloween party! Seeing as how he is from Texas I thought a little cowboy would be appropriate!
I just wanted to say thank you for letting me adopt my puppy from you. He is a great little dog. His personality is adorable and everyone loves him. Thanks again so much. I am attaching a picture for you to see how well he has adjusted.
Thanks Again,
Brandy Guthrie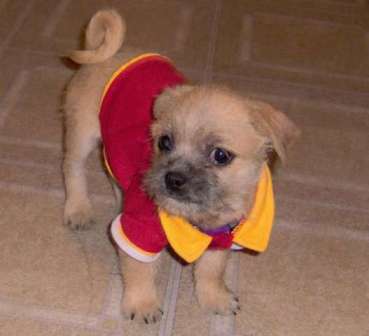 Just wanted to update you on Max known to us as Albert. He is doing very well and I have bought him several different clothing items to face the cold weather. He has bonded with our other dogs very well. He hangs with the big dog which by the way has someone acted way better with this puppy around. He has been a pleasure to have and care for. I take him to work with me and he never gets to walk. He is always carried. We love him to death. Thank you very much.
Dave and Peggy Wilson
Update
just wanted to update you on our dog you sent us. He is doing quite well and weighs 10 lbs. I think he could lose a few lbs. He has now been neutered and had to have some extra teeth pulled to let his big boy teeth come in. He hangs with our big dogs and thinks he is a 100 lb dog like they are. He lays on them and plays all the time. He has brought much joy to our lives and sometimes I just feel you need to know that you gave us a gift. So, keep putting those little dogs faces that you breed on the internet because I am sure people will fall in love with any of them who resemble him. Thank you so much.
Dave and Peggy Wilson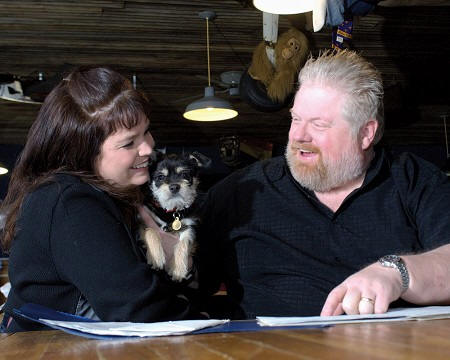 Hi Anita,
Here is a picture of Peter now know as Diego. We wanted to say thank you , Diego is a really joy to have. He has adjusted very well, and we can't wait to and a new family member again really soon. So we will be contacting you again very soon.
Thank You Troy ,Michelle,& Diego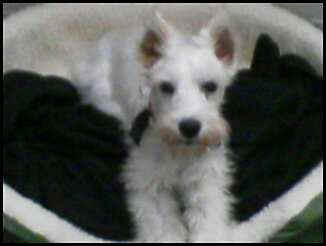 Hello,
Sorry we haven't contacted you before this. We've been busy spoiling Dalia and loving every minute of it. She is so wonderful to have here in our home. She sure has brought a lot of smiles and laughter. We will keep you informed and updated with pics when we get a bunch of new ones.
Once again thank you from all of us. Kaitlyn, Deb, & Steve
Thank You Troy ,Michelle,& Diego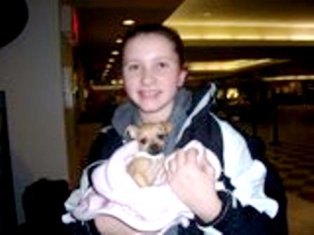 Miguel & Miguelito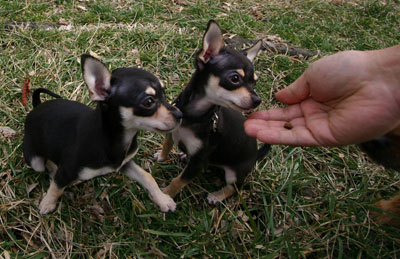 2/20/06

Father Peter Gillen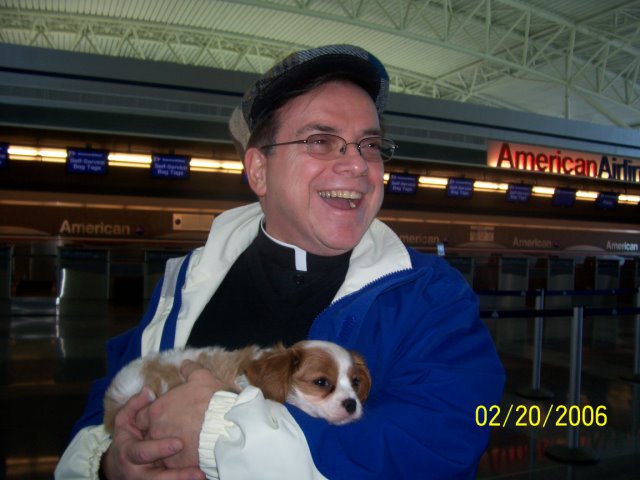 Anita,
I have had Diesel now for three months and he is the most adorable Chihuahua Shih-Tzu in the world. He is so cute and sweet. I wanted to thank you again for giving me such a great new member to my family. Here is a picture of him and his new brother and sisters.
Thanks,Brandy & Diesel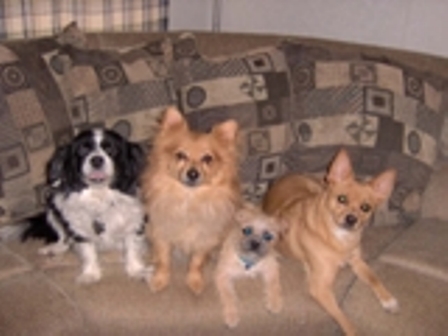 Dear Anita,
Here are some pictures of Buster. We want to thank you so much for our amazing puppy that we love so much. He is so spoiled here, we all have so much fun with him. He is getting along well with our BIG dogs and even likes our cats. He sleeps with our daughter Lily every night and is so good with our two year old. We love the breed. He is so smart and has been so easy to train.
Thank You Again, Mary Martin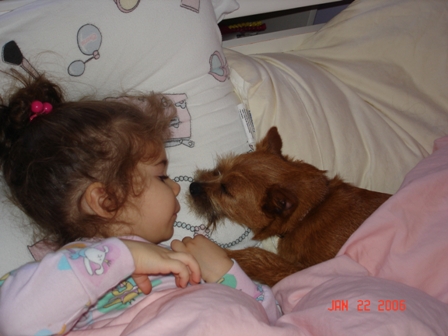 Hi! Thank you so much for a wonderful puppy! I cannot tell you how much I love her and (as you can tell in the picture) she is NOT spoiled rotten! She has a marvelous personality and puts a smile on my face every day – not to mention she melts my heart after a long day! Thank you!!!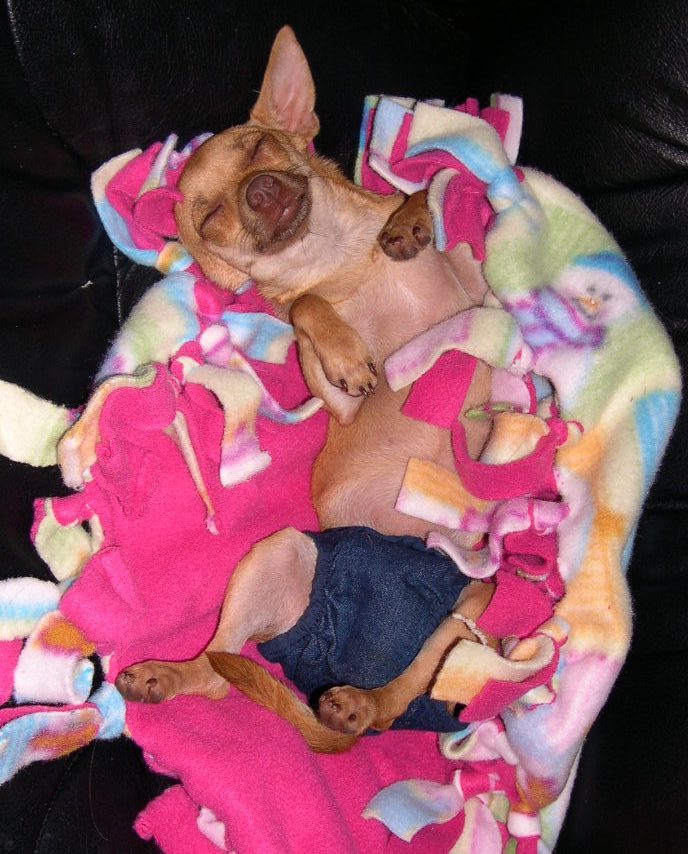 Hi Anita,
He is doing great! We see the vet in 2 weeks, but I might stop by and have them weigh him - I'm curious to see how much weight he has gained. We are working on paper training. You know how that goes - one day we do well, and the next, not so well. But he is still so young that I'm not expecting miracles. I am so happy to have him - I couldn't have asked for a better puppy. Thank you! I've included a couple of pictures I took today. (By the way, he's wearing a sock because it's kind of chilly in my house and none of the clothes I bought were small enough for him!)
Anita
Update
Chuey had his stitches taken out today - he's in great shape. I am really enjoying him. I haven't laughed so much since my kids were little!
He has such a good nature and hardly ever barks. Here's another picture.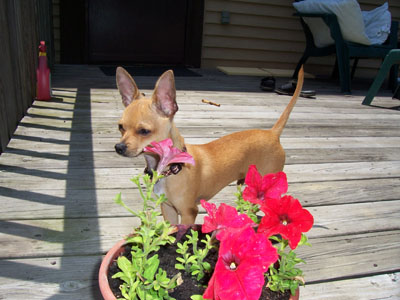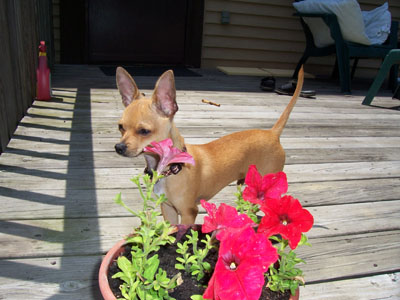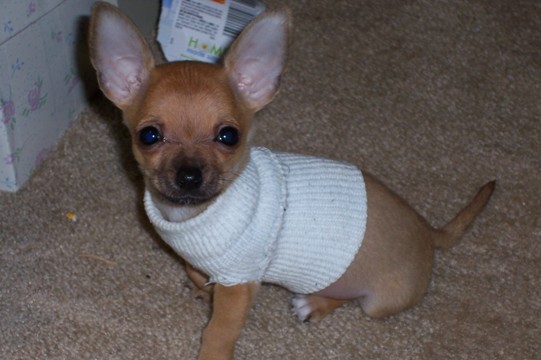 Hi Anita,
Just a few lines to let you know how much Speedy is adored. He is here with us not quite a year and no one can remember life without him. He is absolutely most adorable, very loving and a huge kisser!! He is very spoiled, (our fault), loves to eat people food.
He is always the star anywhere we go, children and adults flock to him. This summer we are taking him with us to Cape Cod. My bike is already fitted with a basket for him. We have a big yard around the house, and a window French door, which he knows to tap when he wants out. In and out all day long if we are around.
I think the weather is getting to him a bit. Very hot outside. We have central AC so he prefers to stay in sometimes.
Anyway, that's it.
Regards,
Marcia Strauss
She is here and full of stuff!!!!! Thank you so very much Anita. I will get pics asap. She is a doll. Just who we wanted. :O)
Clyde and fam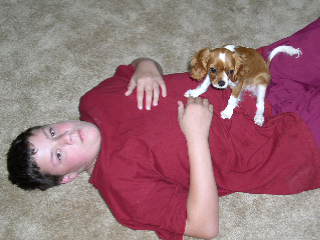 Rosie black/tan min pin
Hello Anita,
i would just like to update you on Antonio...... Antonio is doing very well in our house hold. We bring him pretty much everywhere. He is kinda crate trained right now. at night he sleeps with me. But when he has to go to the bathroom in the middle of the night he will get of the bed/couch and he will go outside on the back porch and he will go. Then when he comes in he can't get back on the couch. it is very funny because he will bark and growl. As in the pictures on the website one of his ears in down. Well after his 4 month b-day that ear went UP!!!! he is very lovable and loves his crate which is very weird. The family loves him dearly and always wants to hold him.He is a dream come true. We have kinda re-named him but when he is in trouble we call him Antonio but when we are joking around and just around the house we call him Chalupa.......very funny thank you sooooooooooooooooo much for this little boy!!!!!
he gives you kisses from here (lol-laugh out loud)
Morgan!!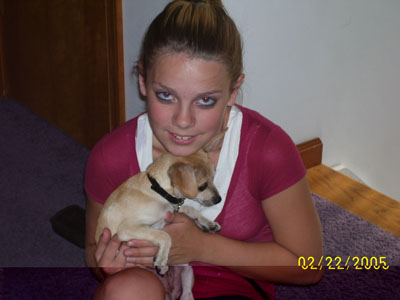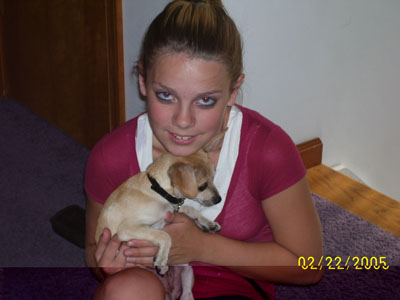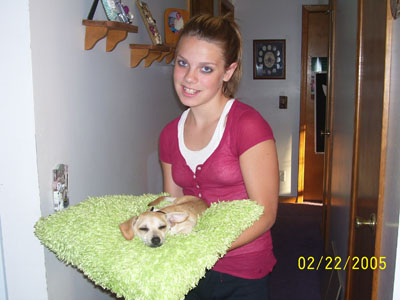 Hi Anita -

Thought I would send you a quick update on Sophie (previously known as Lucy). We absolutely love her! She is the cutest little dog! Everyone who meets her falls for her immediately. What a personality! Every day she makes us laugh. And she just loves people...a million kisses for every person she meets. She's very smart as well. We've litter box trained her and she already knows a ton of commands. She's spoiled rotten, but we wouldn't have it any other way! Thank you for a wonderful addition to our family!

Therese and Daniel Flaherty
Hello Anita this is Karina I bought Davin from you back in February of this year I just wanted to let you know that he turned out to be so much than I could have ever asked for he is so wonderful and I will be sending you pictures so you can see how he has progressed. Thank you so much again for everything.
P.K. (formerly John) is a wonderful, loving little dog who has found his niche quickly in our family. He is 100% terrier, full of energy and mischief, and very smart. He's a real find!! Our daughter, Casey, came home from college and became rather attached! Ken & Lynn Grier